Casual Clothing To Update Your Weekend Wardrobe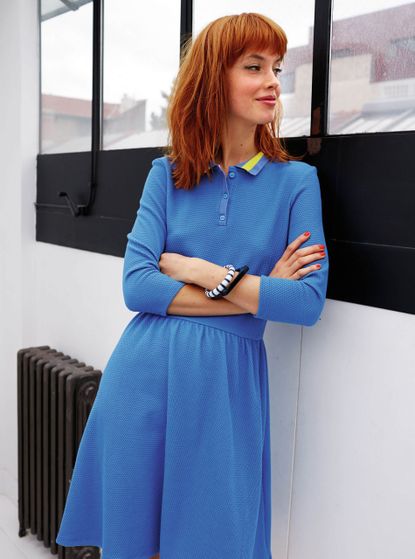 Turn your weekend wardrobe around with our pick of the best staple buys to mix and match every week...
You may have your 9-5 wardrobe nailed, but no matter how organised you are during the week, getting that weekend look just right can always be a little tricky. If you're constantly wondering how some women manage to pull of that cool off-duty style, it's probably time for a weekend wardrobe update.
Ditch the work trousers worn with comfy shoes for shopping on a Saturday or blazer over an old dress for Sunday lunch with friends, and add some key pieces to your wardrobe that you can mix and match. Whether it's a reliable dress that can be worn in the winter months with tights or in summer with a cardigan, or the denim shirt that instantly makes any outfit look cool, there are some weekend pieces that no woman should be without.
Stuck on how to 'put it together'? Styling an outfit can be one of the trickiest things about getting your weekend look just right. It's that feeling of stepping away from your reliable weekday work wardrobe that can be daunting, but you shouldn't feel defeated before you've even started.
You can start by getting to know your basics. Find the perfect pair of jeans for your figure, and stock up on them in lots of colourways. Then find a white t-shirt that's flattering and comfortable, and use it for layering with comfy cardigans, stylish shirts and reliable shoes.
Still unsure on how you can get started with that perfect collection of casual clothes? We've rounded up the very best buys to mix and match every weekend. Saturday mornings spent staring hopelessly at your wardrobe are a thing of the past...
Henrietta flats, £140, French Sole
Flats are a must for weekends, but don't just stick to boring black - a pop of colour will do wonders for the spring in your step! These French Sole ballerina flats will look equally as cool with a simple top and jeans as they do with a comfy midi dress. Invest! Henrietta flats, £140, French Sole (opens in new tab)
Shirt, £35, Very
A denim shirt is a staple piece for the weekend. Use it for layering over t-shirts, paring with skinny jeans (always in a different hue) or wearing open with a comfy T-shirt or dress underneath. Roll the sleeves up to give off that relaxed-cool vibe, and watch your style transform with this one simple addition. Shirt, £35, Very (opens in new tab)
Culottes, £35, Simply Be
Copped, wide-fit jeans will become your new weekend obsession. Not only are they comfier than their skinnier counterparts, they look great paired with trainers (so on trend this season!) and a simple top. Plus, no-one will ever know if you over-indulge on your Sunday lunch! Culottes, £35, Simply Be (opens in new tab)
Trousers, £110, Jigsaw
Before you dismiss the idea of knitted trousers, try these merino wool cropped ones from Jigsaw - when styled correctly, they can look seriously chic. Pair with ankle boots and a quality t-shirt or the matching jumper. Comfort and style - what's not to love?! Trousers, £110, Jigsaw (opens in new tab)
Tunic, £49.95, White Stuff
A tunic is a flattering option for women who don't feel confident showing their hips and thighs. Wear over skinny or loose jeans and add slip-on trainers. Tunic, £49.95, White Stuff (opens in new tab)
Top, £25.99, Zara
Bardot-style tops are still top of our wishlist for the remainder of the summer, and the best part is that they show the skin you feel confident about. Make the most of your decolletage with this monochrome striped number from high street favourite Zara. Top, £25.99, Zara (opens in new tab)
Dress, £89, East
A denim dress should be as much of a staple during the warmer months as your jeans would be. This tunic style is loose and comfortable, and the seams and pockets will help to streamline your shape. Wear over a striped long sleeve top as the weather gets cooler. Dress, £89, East (opens in new tab)
Coat, £249, The White Company
It may still feel like summer, but it's not too early to be thinking about investing in your new-season coat. If you want something classic to see you through a few years, choose an oversized boyfriend-style coat in a neutral hue like grey. This wool cover up will work with almost everything in your wardrobe. Coat, £249, The White Company (opens in new tab)
Simply Be
A comfortable t-shirt dress looks great paired with trainers and a denim jacket. This v-neck style is flattering, and wide sleeves will help to slim your arms. Dress, £24, Simply Be (opens in new tab)
Abigail Malbon is a journalist who has written for the likes of CN Traveller, Evening Standard, Red and Cosmopolitan. She likes pina coladas and exploring new places.