Cancer Research UK opens 'premium charity shopping' experience shop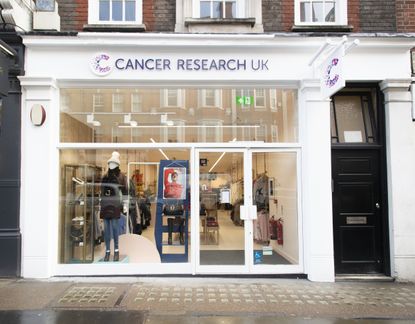 (Image credit: John Nicholson)
We're all partial to a bargain, so the news that Cancer Research UK have opened a brand new concept store filled with designer brands at a fraction of the RRP – is music to our ears.
Based in London's Marylebone, it's the first of 35 premium shops the charity has redesigned with some exciting new features and layouts. Taking the rummaging out of traditional second hand shopping, it showcases high-end fashion, vintage finds and homeware in a relaxed space.
The brain-child of renowned creative director and consultant Emma Slade Edmondson and London-based interior designer Nadia Themistocleous, the aim is to evolve people's perceptions of charity shopping.
Julie Byard, director of trading at Cancer Research UK explained, "Our Marylebone store has been designed to offer a unique shopping experience. A fabulous selection of premium quality fashion and homeware pieces are available in this store, which we hope will help to boost the growing popularity of charity shopping by showing that our shops have plenty on offer for anyone with an eye for fashion.'
"We're incredibly grateful to everyone who chooses to donate, shop or volunteer at any one of our 600 Cancer Research UK shops, giving great quality home and fashion items a new lease of life.
"We receive no government funding for our research, so rely entirely on the generous support of the public. Money raised by products that have been generously donated to us helped raise £25 million to beat cancer last year."
Taking to Instagram to promote the launch, celebrity stylist Ellis Ranson gave her followers a sneak peek onto the bargain buys being popped on the shelves. From Dolce and Gabbana bags and pointed leather Chanel boots – it almost sounds too good to be true!
So, if you want to help support Cancer Research UK's life-saving work whilst bagging yourself a bargain, head to 24 Marylebone High Street, London, W1U 4PQ. Or, to find your local shop, visit www.cancerresearchuk.org/support-us/find-a-shop.
Words by Alannah Newnham.