Amal Clooney's zebra print skirt is the most versatile style update we've seen all season
While out celebrating her 8th wedding anniversary with George Clooney, Amal Clooney wore a beautiful zebra mini-skirt that showed off her legs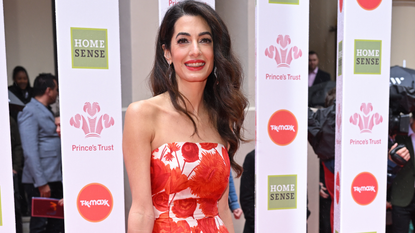 (Image credit: Karwai Tang / Contributor)
Unsurprisingly, Amal Clooney looked absolutely wonderful while out in New York City celebrating her 8th wedding anniversary alongside husband George Clooney.
Looking as chic as ever following her red carpet appearance in London during which she wore a stunning strapless dress, the 44-year-old barrister opted for a zebra-print mini-skirt that she paired with a simple black turtleneck and black Balmain booties with cutouts. The outfit's piece de resistance, though, was a zebra printed fringe handbag that looked great alongside the matching skirt.
Beauty-wise, Amal chose to wear her hair down with a pink lip. The natural look clearly went a long way: this is likely one of the barrister's most sought-after ensembles - which might also be because it perfectly complemented George's classic getup. The 61-year-old actor celebrated their anniversary wearing a black suit with matching shirt, belt and shoes. Dapper indeed.
All eyes have been on the Hollywood couple since they first tied the knot in Venice, Italy, back on September 27, 2014. Now parents to five-year-old twins Alexander and Ella, Amal and George have been candid about the realities of marriage for quite some time, with Amal opening up about what it's really like to be married to George Clooney.
"Marriage has been wonderful," Amal said to TIME (opens in new tab) back in March. "I have in my husband a partner who is incredibly inspirational and supportive, and we have a home filled with love and laughter. It is a joy beyond anything I could ever have imagined. I feel so lucky to have found a great love in my life, and to be a mother - this is how I get my balance.
---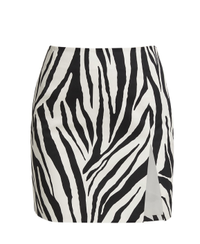 (opens in new tab)
Gioia Side Slit Mini Skirt, Andamane ($103.12 (opens in new tab)) | Saks Fifth Avenue
This playful zebra print mini skirt is made of cotton and features a side slit detail
Part of their life together has involved charitable work as well, mostly through their Clooney Foundation for Justice.
"I think we're just responding to what we see in the world, and try to use anger as a motivating force, rather than something that makes you want to bury your head in the sand," Amal said to Gayle King on CBS Mornings the morning of their anniversary outing. I also think, you know, that my mom is a journalist and she was always asking tough questions and not sort of intimidated by people who are in power, but, you know, impressed if someone's actually doing something good, and I think that has stayed with me."
Clearly, we've got loads to learn from Amal - and not just in regards to fashion.
Anna Rahmanan is a New York-based writer and editor who covers culture, entertainment, food, fashion and travel news. Anna's words have appeared on Time Out New York, the Huffington Post, Fortune, Forbes, Us Weekly, Bon Appetit and Brooklyn Magazine, among other outlets.