9 Pairs Of Knickers Every Woman Should Own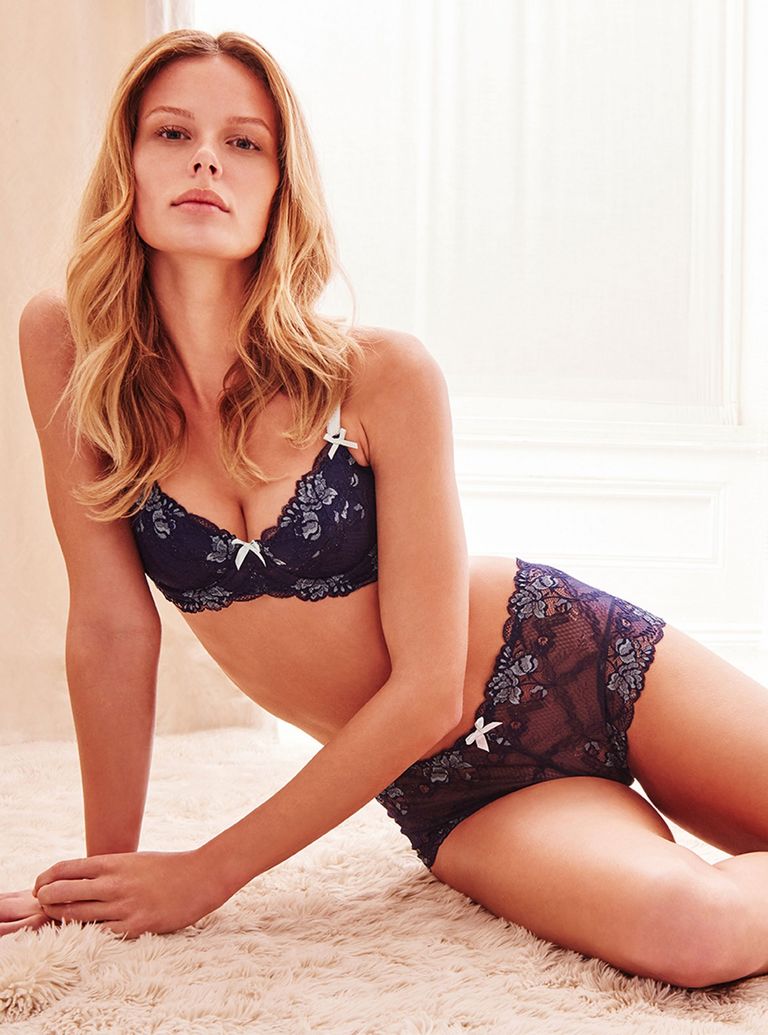 Streamline your underwear drawer today with the must-have knickers that no woman should be without
We're all the same, us women - our underwear drawers are bursting with buys that, realistically, we will never wear. Pairs of knickers that are too small but you're convinced you'll squeeze into one day, ones that you bought because they match the bra but really they're just not you, and briefs that really should have been thrown out months ago but - oh they're so comfy and do you really have to?!
But it's finally time to dig deep into that drawer and get rid of all your old styles. We think we've found the perfect formular for your knickers, and it consists of just 9 pairs. From the slimming styles that will give your the hourglass shape you've always wanted to the everyday pairs that every woman needs - no matter how 'boring' they might be - it's time to throw out and stock up. Forget the capsule wardrobe, now it's all about the capsule underwear drawer!
So where to start? With a gorgeous matching set, of course! It doesn't matter about the colour, style or shape - this one is all about getting exactly what you want. Whether that's something really beautiful and detailed or a plain set you can wear everyday, make sure that when you stock up you look at both the bra and briefs to make sure that you like the design and fit of both. Because a matching set means an ultimate confidence boost, and every woman deserves that once in a while!
We love this gorgeous Clara design from Panache, who consistently create perfectly-fitting designs up to a J cup, made for real, inspiring women. Black is a great option for a matching set, but if you're feeling adventurous why not try something a little more 'out-there'? There are plenty of designs that are bound to catch your eye.
Click through for eight more must-haves, and get ready to streamline your knicker drawer like never before...
A great shapewear garment
Whether it's a shaping vest, some tights that hold you in all day or the ever-reliable Spanx, no woman should be without these confidence-boosting wonders. Set time aside and go and try on every style you can possibly find until you get your perfect fit - there's nothing worse than taking the wrong pair home and feeling uncomfortable every time you wear them. If you're looking for a style that does pretty much everything, these Spanx high waisted shorts are the cream of the crop. The Spanx brand consistently produces shapewear to give you a gorgeous sillhouette, and most importantly - it's all so wearable! High waisted mid thigh, £51, Spanx at House of Fraser
Comfortable, everyday briefs
Choose your preferred style and stick to it for everyday wear. We love the 5 packs in M&S - they come in different colours and style to suit everyone. If your outfit doesn't require any specialist underwear, there's absolutely no reason you shouldn't turn to your reliable everyday pair and minimise the chance of feeling uncomfortable all day. We say - once you've found your perfect style, stock up! 5-pack knickers, £7, M&S
Your perfect nude pair
For days when you're wearing white, throw on a nude pair of briefs and give yourself one last thing to worry about. Most underwear brands now do different shades of nude to suit every skin type, and of course you can choose from a range of styles until you find that reliable pair that are perfect for throwing on in a rush. The Jacqueline Nude Shorts from Fantasie prove that nude doesn't have to mean unattractive - the lace detailing on the hips and soft fabric is as sexyas they come! Shorts, price depending on retailer, Fantasie
Wearable high leg styles
Sick of your underwear digging in? A high-leg style might be the perfect option for you. Not only do they generally sit slightly higher on the hips than your usual briefs, they allow for more movement - resulting in a more comfortable style for all-day wear! Sloggi knickers have long been on our list of must-have underwear thanks to their durable designs, comfort and value, so their high-leg Tai styles are a no-brainer. An elasicated waistband means none of the stiffness that you can get from cheaper brands, and supersoft cotton might just make them your favourite pair yet! Tai briefs, £24.50, Sloggi
Commando
On days when you need a little support but can't face wearing pull-me-in pants all day, a pair of briefs that sit slightly higher on the waist will give you the confidence you crave. These Commando briefs are cut from soft, weightless stretch cotton for lightweight tummy control. In versatile nude and black, they're good quality knickers that will fit and support just where you need it. Stretch cotton briefs, £65, Commando at Net-a-Porter
The no-VPL miracle workers
We've all been there - you put on your favourite pair of trousers, only to find that your knicker line is clearly visible through them. It's for this reason that no underwear drawer should be without a pair of invisible knickers. Seamless and made of a comfort stretch material, they make VPL a thing of the past. Debenhams have a great range of invisible styles, but we particularly love this high-waisted pair with some shaping support, £14. Pick up more than one pair though - you're guaranteed to need them!
A gorgeous design
Yes, practicality is important when it comes to your underwear, but every now and then you just need to buy that gorgeous pair of pants that made you swoon. Calvin Klein have a fab collection, and we particularly love this black lace style, which is versatile enough that you'll get plenty of use out of them. Lace and satin briefs, £30, Calvin Klein at Net-a-Porter
A barely-there pair
Yes, they might not be the most comfortable things in the world, but sometimes a thong or G-string is necessary to avoid giving everyone a flash of your pants. Depending on your outfit, these can be a real life-saver. Invest in some fairly comfortable ones, like these from ASOS, and you won't even notice you're wearing them - and neither will anyone else! Seam-free thongs, £10, ASOS
Abigail Malbon is a journalist who has written for the likes of CN Traveller, Evening Standard, Red and Cosmopolitan. She likes pina coladas and exploring new places.