Trinny Woodall reveals her ultimate tip for taming frizz on holiday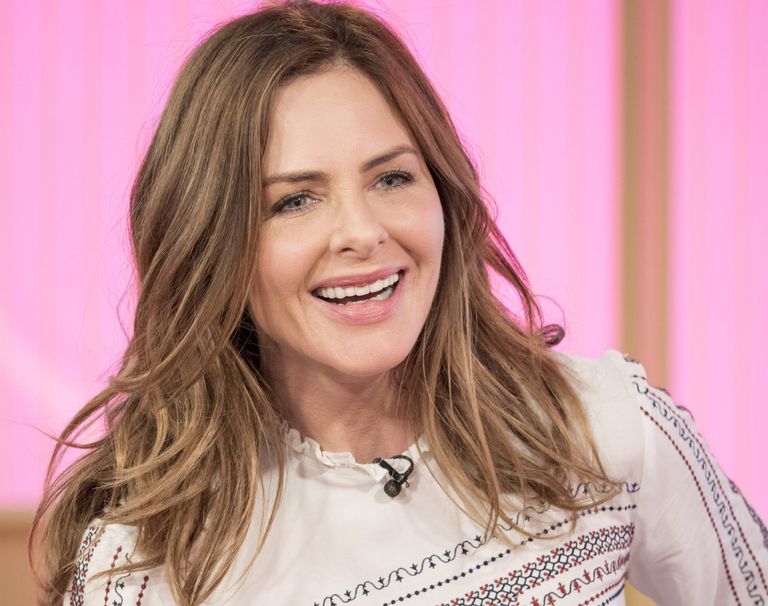 Journalist, makeover queen and founder of beauty range TRINNY LONDON, Trinny Woodall is a bonafide beauty and self-care pro. And so when she dished on her favourite products to use during her sunny holidays abroad, you can bet that we sat up and listened.
The 54-year-old presenter exclusively told W&H about the products she relies on - including everything from a £35 skin tone-evening cream, to a budget product she loves to help smooth down her frizzy holiday hair.
So what are the products she always turns to when she goes away?
Trinny revealed, "For sun protection I love Heliocare 360 Airgel SPF 50+, £28 from www.dermacaredirect.co.uk. It's a brilliant foam product. I've struggled with pigmentation in the past, but not now I use this."
She continued, "I take Dr Sebagh Pure Vitamin C Powder Cream, £79, with me to up my antioxidant protection. Either that or I also use SkinCeuticals CE Ferulic, £135.00. It's expensive, but I love it. I always avoid any glycolic or retinol based products on holiday."
So how does Trinny handle suncream on holiday? It turns out, she relies on a cream that evens skin tone, which gives her a natural glow and helps reduce the harsh effects of the sun on your skin. Trinny said, "Evening is when I tend to get burnt, so I wear my BFF Cream, £35. As well as having factor 30, it evens out your skin tone brilliantly. It's sheer - I don't ever want to look like I'm wearing make-up when I'm on holiday."
"Also, if I get a bit too glowy, I'll use my Face Finish Mattifying Balm, £25. If my nose has got a bit red I'll use my Just A Touch Foundation/Concealer, £28."
The former What Not To Wear star also revealed that she often battles frizzy hair whilst away - and luckily for us, shared exactly how she deals with it.
Trinny confessed, "I have issues with my hair on holiday, but I've worked it out! I take Aveda Be Curly Style Prep, £9 – £22.00, and smooth it through wet hair. Then I tip my head upside down and use a diffuser. This controls the frizz. Not blow-drying your hair is such a freeing thing." We'll definitely be trying this tip out!
Trinny also revealed how she takes care of her body whilst on holiday, making sure it doesn't dry out in the heat.
She said, "I wear a lot of silk clothes on holiday, so I'm wary of body moisturisers. I'd rather use a good exfoliator with hydrating properties. I love Temple Spa's Sugar Buff Body Scrub, £23. It leaves my skin feeling hydrated without having to use a cream.
"I also like to wear a fragrance oil on holiday. Diptyque Philosykos Perfume Oil Roll-on, £35 or I love Norfolk Essential Oils in Neroli, £28.60 or Sandalwood, £17.40."
For sunny summer holidays then, what are her beach essentials? For Trinny, "Hats are essential – especially when you are on a boat and the sun is everywhere. I collect them and have lots from Heidi Klein. I also love kaftans by Anokhi (anokhi.com). I buy them in Jaipur."And where can you catch Trinny on holiday? She told us, "I'll always return to Cinque Terre on the Italian Coast, sailing around Sicily, and Rhonda in Spain."
Jealous? Us? Never...