The rise of the grown-up supermodel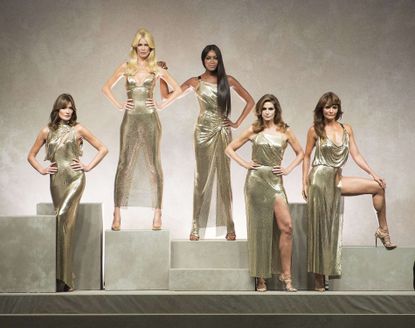 (Image credit: Pixelformula/Sipa/REX/Shuttersto)
Until recently, models our age were as rare as unicorns. But, thankfully, older women are finally 'allowed' to be beautiful, says Alice Hart Davis.
You sit there for years, decades even, increasingly irritated that the women showing off clothes for the over 40s are so very, very young, and then, thrillingly, a whole mass of fabulous older models starts to come along, all at once.
There was Isabella Rossellini, 66, at Dolce & Gabbana's recent runway show, ruling the catwalk with her grown-up son and daughter, and baby grandson in tow. Meanwhile, in Paris, Jane Birkin, 71, mesmerised audiences at Gucci.
MORE:This is why you should invest in Lush's new make-up brush range
Last year the original nineties supers – Claudia Schiffer, Naomi Campbell, Helena Christensen, Cindy Crawford and Carla Bruni –posed on the Versace catwalk 25 years on from their debut and every bit as gorgeous; and there's the increasing prevalence of grey-haired mavens such as Carmen Dell'orefice, 87, and Jan de Villeneuve, 73, in magazines too.
It seems that the fashion industry is finally catching up with the realisation that age sells, and is beginning to acknowledge this. Being an unashamedly grown-up woman is, at last, becoming the norm.
The beauty world cottoned on to this a while ago, with L'oréal snapping up Jane Fonda, 80, and Helen Mirren, 73, as ambassadors, while Tricia Cusden's Look Fabulous Forever make-up range, aimed defiantly at older women, has seen soaring sales. And not before time because it's only when you see women your age being "allowed" to be beautiful that you realise you can actually feel beautiful yourself, just as you are, without trying to look younger.
One fashion company that has long been committed to using age-appropriate models for its audience is JD Williams. "Our clothes are aimed at women aged 45 plus, so of course we want this to be reflected in our marketing campaigns," says Suzi Burns. "It's what our customers want. Our research into 'midster' attitudes to the fashion industry told us that 88% of women aged 45 and up want to see more 'real' women of their age in advertising campaigns."
Fired up by discovering that more than half the women they surveyed were unhappy with what the high street was offering, the company staged a protest against ageism in Oxford Street. "We thought this was something worth protesting about," says Suzi. "We hope other retailers wake up and take note!"
JD Williams also ran a modelling competition, the midster model search, in association with leading model agency models 1 – which has europe's largest division of 30+ models – to find models among ordinary women aged 50 and over. Uwe Herzstein, senior agent at models 1, says: "Competition is fierce as there are so many older models with brilliant back catalogues who are still working a lot, but the demand for older models is constantly increasing.
MORE:The £7 beauty product that's an integral part of Victoria Beckham & skincare routine
"For years, diversity – in size, ethnicity and age – has been highlighted in modelling. There still is some way to go but things are changing and we feel very positive."
Many of the 'supers' of the older market are as busy as ever. Yasmin Le Bon and Elle Macpherson are both 54 but look – to my eye – even better with age, and Daphne Selfe, 90, who has been modelling since 1949, continues to bring grace and elegance to every pose she strikes.
Could it be that, as the population ages, the use of older models might even become the norm?
Let's hope so, and let's do all that we can to make it happen.