The Best Travel Toiletries Sets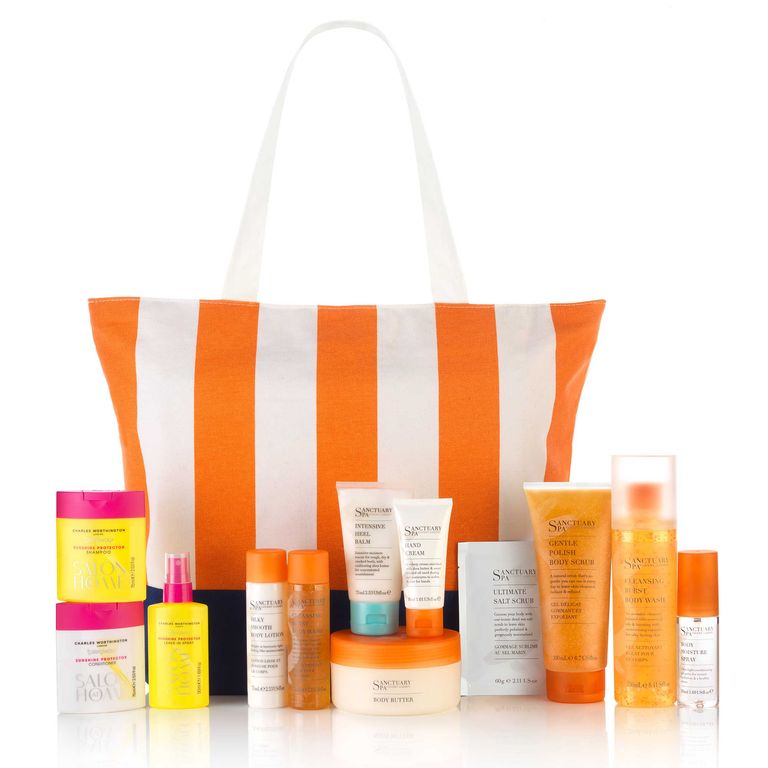 Travel light on your summer break with a handy mini beauty kit
Great for short holidays and weekend trips, travel toiletries have become quite the commodity since the price of airport hold luggage shot up and hand luggage security measures increased.
In addition to travel toiletries practicality, they also make quite nice gifts seeing as they always come in handy. However finding your favourite products in miniature can be tricky and when you do eventually locate them all it can add up to be more expensive than buying them full size.
The key to getting all your favourites for a reasonable price is to opt for a set. These pretty collections usually contain a selection of the brand's bestsellers, products you know and love and to top it off they are usually housed in a travel friendly carry case or bag which you can use to hit the beach. Bonus!
Pick one for body, face and hair and you have all your beauty bases covered. Or opt for the Sanctuary Get Ready Beach Bag. This little bag of tricks contains everything you need, body butters, scrubs, shower gel and body lotion all with the divine, distinctive Sanctuary spa aroma. Plus, Charles Worthington's sun protecting shampoo, conditioner and styling spray. Featuring full-sized products alongside more travel-friendly minatures, there's no excuse to not keep your hair and skin looking its very best when home and away.
Not only great for holidays these hero minatures are bag friendly too. Hands up who has started buying miniature skincare just because you can pop it in your handbag without it weighing it down all day? Not just us then!
We've gathered up the best travel toiletries to choose from because lets face it, you're busy enough in the run up to your holiday without having to scour the beauty shelves too....
Travel toiletries: Phyto Dry Hair Travel Kit, £19.80
Keep your hair looking its very best with Phyto Dry Hair Travel Kit. With a mini collection of sun protecting hydrating shampoo, conditioning mask and styling serum you'll be able to keep that salon-fresh shine throughout the whole summer.
Travel toiletries: Elemis Travel Set, £39
A summer break is the perfect opportunity to try a new skincare regime and this super-gentle starter set from Elemis is the one to try. Housing eight of the brand's hero products; including a cleanser, toner, moisturiser and shower cream amongst other beauty favourties, this mini skincare kit is ideally suited to extra-sensitive, delicate and hormonal skin. Forget the giant wash bag, this transparent clutch full of goodies is all you'll need this holiday!
Travel toiletries: bareMinerals In The Spotlight Collection., £34.30
Fed up with lugging your large make-up bag around with you on holiday? Then invest in this luxe set from bareMinerals which incorporates everything you need for a full face. Created with oil absorbing minerals, this gorgeous collection of foundation, blush, gloss, lipstick and mascara will stay put all day whatever the weather.
Travel toiletries: Burt's Bees Tips And Toes Kit, £12.99
Burt's Bees tips and toes kit is perfect to pop in your hand luggage. Meeting all airline regulations, the set includes a niffty lip balm, foot lotion and hand cream.
Travel toiletries: Decléor Soothing Starter Kit, £17.45
Generously packed with a calming micellar water, moisturiser, mask and night balm, Decleor's soothing starter kit is the perfect solution for sensitive skin. If you are prone to impromptu flare-ups mid flight, massage a few drops of the luxurious Aromessence D'Orient oil into your complexion before you set off, its velvety serum texture and nourishing ingredients melt into skin to provide instant relief from discomfort.
Travel toiletries: Aromatherapy Associates Essential Travel Oils, £33
Children driving you mad already? Craving a little me time? Why not create a little pampering cocoon at home or on holiday with these travel oils from Aromatherapy Associates. The four blends include the invigorating revive morning; deep relax to soothe; revive evening for a little lift; and support to help ease tension and relax.
Travel toiletries: Soap & Glory You Cube set, £10
The perfect holiday companion,the Soap & Glory You Cube set is a range of simple skincare solutions for a hectic lifestyle. The kit includes a shower gel, body butter, rich hand cream and shower puff.
Travel toiletries: Clinique Supplies for Men Essentials of Shaving, £34
Everything he needs to get a great shave and smooth skin is wrapped up in this Clinique travel pack. Featuring a scrub for prepping, to remove dead skin and oil, a cream shave to soften the hair and make the razor glide more easily and a post-shave healer to soothe after hair removal, you'll have a whole new man next holiday.