Inkey List Retinol Eye Cream review: the budget-friendly way to try retinol
Caring for your wallet and your skin, Inkey List Retinol Eye Cream is an affordable way to start using retinol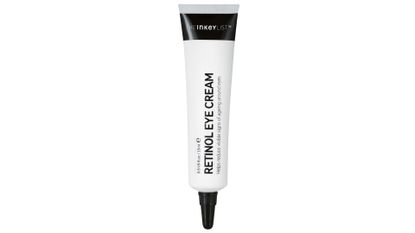 (Image credit: INKEY list )
Inkey List Retinol Eye Cream is a gentle, retinol-based eye cream at an unusually low price. It's best suited to those who want to tackle fine lines but who are concerned about irritation and using strong active ingredients around their eyes.
Reasons to buy
+

To reduce fine lines and wrinkles

+

Affordable

+

Good way to start using retinol

+

Gentle
Reasons to avoid
-

Consult your doctor if pregnant or breastfeeding

-

Won't work right away
Want the best eye cream (opens in new tab) to reduce fine lines and wrinkles? Inkey List Retinol Eye Cream could be what you're looking for.
When it comes to helping the skin produce more collagen and encourage cell turnover, retinol is a wonder ingredient that, in time, helps reduce the signs of ageing. Usually found in pricey face creams, it has strong capabilities that can improve skin texture and tone, meaning it is a smart inclusion in the best eye creams for wrinkles (opens in new tab). However, we were a little nervous about using such a strong active ingredient on our skin's most delicate area.
We thought we'd see some irritation, but we didn't, and the formulation is extremely gentle and hydrating. With all retinol-based products, it can take a long time to see results, and that is usually why people give up on them.
We tested it for a month and had no complaints or irritation, but we didn't see much of a difference to our fine lines – it could be that we needed to use it for a bit longer, or that a higher potency was more suitable for us. If you're thinking about using a retinol-based eye cream and you're nervous that it might cause irritation, we believe this gentle formula is a great place to start.
Inkey List Retinol Eye Cream Formulation
We loved Inkey List Retinol Eye Cream's nourishing formula that uses skin-loving shea butter alongside seed oil and olivate to protect the skin barrier from harmful aggressors such as pollution.
As well as that all-important retinol, this cream helps to keep the skin hydrated with moisture-loving glycerin, which aids water levels on the skin's outer layers and keeps the eye area looking more youthful and plumped. Caring ingredients that help support the skin's structure sit alongside a 3% Vitalease stabilized retinol compound that is a slow-release formula that gently helps the cell turnover process and encourages collagen production, without creating irritation or redness.
Plus, the formula is also fragrance-free, so suitable for more sensitive complexions.
Texture and Immediate effects
We liked to keep it by our bed, so that we remembered to apply it once we'd finished cleansing our skin and we were ready to snooze. You only need a small amount of the cream, as it spreads nicely over the skin and transforms into a water-like consistency that quickly sinks in.
We found that using our ring finger was the best way to gently pat and smooth the cream on. There were no real immediate effects, but the area definitely looked more hydrated, the skin felt softer and it became a lovely ritual for just before we slept.
Some online reviews talk about a strange texture, but we didn't find this an issue. We are not sure what conditions these other testers used the cream in but we applied it in winter, which could suggest that hotter weather might cause separation to happen. To prevent this just make sure you store it in a cool, dark place
Who should buy Inkey List Retinol Eye Cream?
If you're hesitant to try retinol around your eyes and you don't want to spend a lot of money on a product that irritates your skin, then this is a great place to start. The formula is gentle, hydrating and will edge you into using this powerhouse ingredient.
With such a low price tag, this could be one of the best cheap eye creams we've found and is well worth a try. Even if the retinol doesn't have a major effect, at the very least you've helped to protect your skin with some nurturing ingredients overnight.
All about beauty, Lydia House has been writing about creams and complexions for over a decade. Contributing to titles such as Women's Health, Grazia, Stylist and The Evening Standard, Lydia also uses her vast knowledge of the industry to consult leading health and beauty brands like Rituals, Tisserand and The Inkey List. Spending her working life obsessing over ingredients and formulas, Lydia believes that feeding your skin from within is just, if not more important, than the lotions you slather on. And even with a busy life and work schedule, she will always find the time to fit in a pampering session (or two).