The Best Serums For Younger-Looking Skin While You Sleep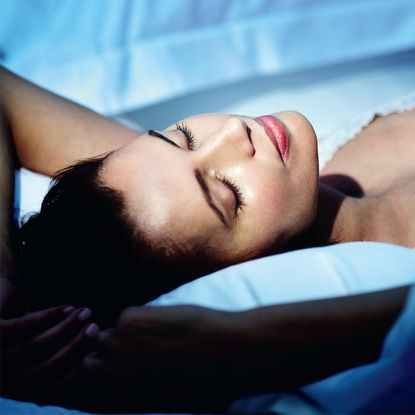 woman&home newsletter
Sign up to our free daily email for the latest royal and entertainment news, interesting opinion, expert advice on styling and beauty trends, and no-nonsense guides to the health and wellness questions you want answered.
Thank you for signing up to . You will receive a verification email shortly.
There was a problem. Please refresh the page and try again.
We pick the best, most powerful anti-ageing serums to fight lines, dryness, pigmentation and more
Who doesn't want fresher, younger skin? If, like the rest of us you want to fight back against lines, dull or pigmented skin, then you need a serum in your skincare regime. Never used one before? Yes, it's an extra step, but a 10-second one at the very most, and the benefits will far outweigh such a negligible stitch in time. So why are serums such an essential beauty must-have?
The difference between your usual moisturising cream and an anti-ageing serum is vast: serums are more concentrated and generally have smaller molecules, meaning not only are the ingredients super potent, they are far more easily and deeply absorbed by your skin. This makes them ideal for targeting specific problems, be it wrinkles, pigmentation, dry patches and uneven skintone. This also means that a little goes a long way! So although some of the products below aren't cheap, a couple of tiny blobs massaged in before bed will get you well on the way to better skin. It's important to use a moisturiser too, which will nourish your skin, make it feel comfortable and create a barrier of protection - just think of serums as your targeted treatment.
But now that you know the importance of a good serum, how do you pick the right one for you? Skincare technology is always advancing, and, with it ever more exciting results can be found. Read on to discover the most groundbreaking new formulas, as well as discover the smart serum that customises its ingredients to your skin's needs and the £40 super collagen-booster.
Click through to discover the serums that have everyone talking...
No 7 Lift & Luminate TRIPLE ACTION Serum, £27
You probably already know No7's hero serums. Whether you remember that 2007 frenzy after a BBC Horizon documentary proved Protect & Perfect's wrinkle-busting powers, or last year's Intense Advanced formula, the brand's latest launch may have you crowding the aisles of Boots once again.
The just-launched No7 Lift & Luminate TRIPLE ACTION serum contains the same Matrixyl 3000 ingredient of Protect & Perfect for wrinkle reduction, plus claims to firm skin and even out tone into the bargain - and they've got the proof to back it up! In a 24 week trial, 91% of subjects showed a clinical improvement in skin firmness when using the new serum.
Stats aside, how does the product feel? I've been testing it for five days now and love the silky, easily absorbed texture and clean, unobtrusive scent that No7 do so well, plus my skin certainly feels soft and smooth (that'll be the hyaluronic acid) I'll have to wait a little longer for any long-term changes, but as 87% of 1,500 women trialled agreed their skin looked younger after two weeks, I have high hopes this could be my next favourite beauty bargain. Watch this face!
Botanics 100% Organic Facial Oil, £11.49.jpg
Remember Botanics? Boots has recently relaunched its nature-inspired range to include some very impressive organic offerings - very 2017 - and this beautiful treatment is my favourite. Made with a combination of natural oils including sweet almond and every Beauty Editor's favourite, rosehip, it's packed with omega fatty acids (excellent for plumping and nourishing dry skin) has a silky texture that absorbs quickly enough to use day and night, and comes housed in a very chic little glass pipette that you'd be proud to display in your bathroom. Even better, it costs less then £12, making it a total bargain whether you're a fan of organic beauty or, like me, just a fan of great skincare. Buy Botanics 100% Organic Facial Oil, £11.49 at Boots.com (opens in new tab)
Beauty Pie Uber Youth Super Serum, £7.79 (members)
You might already have heard of Beauty Pie, the game-changing beauty club by genius Marcia Kilgore (of Bliss and Soap & Glory entrepreneurial fame) Members pay a monthly fee and in return can buy excellent cosmetics, made in the same European factories as every luxury brand you can think of, but at ridiculously low cost prices. So, for example a lipstick is £20 to non-members, but only £2.24 if you join. It started with make up, which went so well we now get nine skincare products too, including this serum. The white lotion feels fairly thick when pumped out, then melts away into skin making it feel immediately comfortable and hydrated. Long-term, the technology is unfaultable, with antioxidant peptides to protect from environmental damage, hyaluronic acid to hydrate and brightening plant extracts. We hear this range shares a Swiss skincare lab with a very chi-chi brand, you certainly won't find a better serum for under £10, or, you could argue, under the £85 non-members price either. Beauty Pie Uber Youth Super Serum, £7.79, Beautypie.com (opens in new tab)
Elizabeth Arden Advanced Cermide Capsules Daily Youth Renewing Serum, £39 for 30
Very clever, these little capsules; if you're a fan of the originals you'll know how amazingly silky and skin-quenching the serum inside is, and now they've been supercharged. Contained within is a triple-powered ceramide complex (the building blocks of healthy, youthful skin) smoothing omega-rick tsubaki oil and firming retinyl palmate too. The cute capsules mean every ingredient is perfectly preserved at it's most potent and are very handy for travel or to give your skin a boost whenever your ready. Buy Elizabeth Arden Advanced Cermide Capsules Daily Youth Renewing Serum, £39 for 30, at Elizabetharden.co.uk (opens in new tab)
The Ordinary Vitamin C Suspension 23% + HA Spheres 2%, £4.90
Rich in skin-smoothing Vitamin C (in the right amount too, any less than 20% is ineffective) plus hydrating Hyaluronic Acid and brightening L-Ascorbic Acid, Deciem Vitamin C Suspension 23% + HA Spheres 2% can reverse multiple signs of ageing - giving more expensive brands a run for their money. Better still, a little goes a long way. Apply at bedtime for optimum results.
SuperFacialist Retinol+, £16
If you don't already have a Retinol product in your regime, get involved, stat! This vitamin A derivative is the gold standard of anti-ageing ingredients, and is proven to work on skin tone, texture and reverse the signs of sun damage (that's lines, pigmentation and more) Be mindful that Retinol is so potent it can cause irritation in sudden doses, so build up slowly, alternating a retinol product with your regular serum every second night until your skin becomes accustomed (this usually takes a few weeks). Initially, Retinol was only found in seriously expensive skincare, but as always with ingredients, that technology has now filtered down to the affordable end of the market, including this serum from the reliably-excellent Superfacialist brand. It also contains hyaluronic acid, and antioxidant-packed naturals like apricot and white tea extract so skin is soothed and protected as well as seriously worked-on. Buy SuperFacialist Retinol+, £16, at Superfacialist.co.uk (opens in new tab)
Supermood Youth Glo Radiance Serum, £46
If dull skin tone or visible are pores your biggest skin bugbears, this will be right up your street. The texture is fairly watery and sinks in fast, but don't be fooled - there's a lot going on in that light liquid. It's got lightly-exfoliating AHAs to smooth off dullness-causing dead skin, rich seed oils to give skin a happy, plumped glow plus an instant radiance fix in the form of tiny, light-diffusing particles that perk up tone and have a glowy blurring effect when smoothed on under make up (not sparkly, mind, just fresh and lit-from-within) Buy Supermood Youth Glo Radiance Serum, £46, from SpaceNK.com (opens in new tab)
Aromatherapy Associates Inner Strength Soothing Serum, £40
Firstly, the smell: Beautiful, natural essential oils, soothing but not overpowering, as you'd expect from Aromatherapy Associates (opens in new tab). Next, the texture: Silky, slinky and a bit looser than you might expect, but that's a good thing, giving you plenty of 'slip' to work the product into your face before it disappears. Finally; the results. Calming and comforting, especially on sensitive skin that gets all tight and unhappy in the winter months. Beautiful stuff, for the skin and the soul.
Clinique Smart Repair Serum, £48
Using Clinique's unique precision repair technology, Smart Custom Serum (opens in new tab) works hard to repair the signs of sun damage, reducing dark spots and even preventing the effects of ageing that you can't even see yet. This clever product draws on the specific ingredients your skin needs, holding back on the ones you don't until your skin's needs change again. Pretty impressive, no?
Skyn Iceland Arctic Elixir, £40
Did you know stress can cause ageing? The unique peptides in the Skyn Iceland Arctic Elixir (opens in new tab) can repair damaged cells, reducing wrinkles by up to 50% and wiping out the signs of a stressful lifestyle. Another key ingredient is raspberry extract, full of antioxidants and anti-inflammatory goodness that will soothe stressed-out skin, eradicating inflammation and redness.
Estée Lauder Night Repair Synchronized Recovery Complex, £49
This night serum by Estée Lauder (opens in new tab) is a classic with good reason - it just works. Developed to encourage renewal of skin cells as you sleep (when regeneration is at it's highest) It also contains protective antioxidants that help to repair the damage caused to your skin by smoke and environmental pollutants. The thin orangy liquid looks like it might feel a little sticky, but a second of tackiness is all you'll experience, after which the serum sits nicely under cream or oil.
Ren Clearcalm Replenishing Gel Cream, £22
It may be more decades that you would care to admit since your teenage years, but if breakouts aren't a thing of the past, you are not alone. Ren's Clearcalm Replenishing Gel Cream (opens in new tab) contains liquorice extract to control sebum production, and an essential oil complex designed to calm flare-ups overnight without stripping the face of essential oils.
Skinceuticals HA Intensifier, £88
It's not every day (or month) that SkinCeuticals launch a new product, so when they do the beauty world takes notice. The latest innovation is this slick, silky serum, and it's all about hydration. As well as containing 1.3% Hyaluronic Acid - skin and line plumper extraordinaire - it's got Proxylane, which supports skin's own natural HA function, and Licorice Root extract. Like all SkinCeuticals products, there's no unnecessary guff; no dyes or artificial fragrance. It smells neither lovely nor unpleasant, has a fairly viscose texture and slips into skin in an instant, so sits well with whatever else you want to layer it with. Expect lines to look shallower and skin to look jucier. Buy Skinceuticals HA Intensifier, £88, from Zestbeauty.com (opens in new tab)
MZ Skin Lift & Lustre Golden Antioxidant Serum, £210
Let's get this out the way: Yes, It's over £200. Clearly MZ Skin Lift & Lustre Golden Antioxidant Serum (opens in new tab) is for a particular genre of customer, but if you live and die by skincare and love a serious brand from a doc who knows her stuff, step this way...
Those in the know call Dr Maryam Zamani THE eye doctor, although all facial aesthetics are her forte. MZ Skin bridges the gap between cosmeceutical and luxury skincare, so it does the job but also looks and smells pretty. This is the hero product, it's rammed with active ingredients like exfoliating lactic acid, blemish-clearing azalaic acid and protective antioxidants, plus golden soft-focus minerals make skin appear instantly brighter and bouncier in minutes. Beautiful stuff.
Bobbi Brown Extra Repair Serum, £63.50
A skin super-softener that the W&H team has fallen for is Bobbi Brown's Extra Repair Serum (opens in new tab). Perfect for dehydrated skin, this is like a comfort blanket for tight, dry complexion. Ingredients include meadow foam seed oil to soften and Vitamin C to reduce fine lines.