The Best Foundation For Combination Skin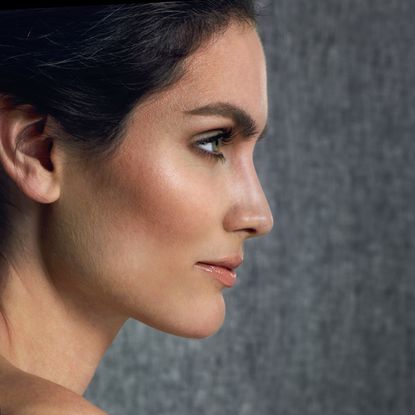 A little bit oily, a little bit dry? We pick the best new foundation for combination skin
What skin type do you have?
If the answer to this question doesn't immediately spring to mind, then the chances are like many people you're a combination of several. Combination skin can be dry in places, oily in others and perfectly peachy elsewhere, which makes picking the best foundation for combination skin a tough job.
Normally, a high-coverage, oil-free matte formula would suit oily skin types, staying put throughout the day, while powder-based formulas can be particularly good at keeping shine at bay and disguising large pores. The exact opposite is true for dry skin, here you want to add in moisture, plumpness and shine at every opportunity, which means nourishing oils, light-reflecting and glow-inducing formulas are best. So what should you do when you have a little bit of both issues going on and need to find the best foundation for combination skin?
Luckily for us, we live in an age of smart, adaptable make-up formulas, which can react to your skin's every need, even if it changes throughout the day. Think about where your issues with your complexion lie - whether that's an oily nose with dehydrated cheeks, or dry skin with blemish-prone or adult acne areas around the jaw. There is a low, medium or high coverage foundation for combination skin out there for everyone, and we've scoured the best beauty brands at every price point to find the one that will suit you.
We've tried and tested the best of the beauty world's smart foundation formulas to pick the best foundations for combination skin that truly cover all bases. Once you've picked your favourite from our hotlist, it's all about trying and testing yourself! Try several different shades on your jawlineunder good lighting and ask a friend to help you pick, once you've found your perfect match, there'll be no looking back!
Keep clicking for the best foundation for combination skin...
Eizabeth Arden Flawless Finish Perfectly Satin 24hr, £29
If you find foundation sits well on your cheeks but melts off your T-Zone by lunch, Flawless Finish Perfectly Satin 24hr Foundation (opens in new tab) could be the one for you. The high-coverage matte formula stays put perfectly on oily bits, gives a classy polished look to your base yet feels comfortable on dehydrated zones too.
Smashbox Photo Filter Creamy Powder Foundation, £29
Powder foundations seem a little retro, but Photo Filter Creamy Powder Foundation (opens in new tab) is a very modern formula which won't streak, smear or go cakey as it dries. The light-to-medium coverage powder feels instantly creamy on dry skin and won't sink into lines, plus touch ups on your T-zone are a breeze with the mirrored compact and sponge.
Nars All Day Luminous Weightless Foundation, £32
Luminous Weightless Foundation (opens in new tab) is a bit of a contradiction - it lasts all day long (and we mean all day, ours was still in tact at 8pm) but you'll be tempted to keep checking as it feels like you've got absolutely nothing on your skin. The formula is oil-free so perfect for balancing out combination skin, yet the finish is so juicy and glowy you'll wonder how this is possible. Top marks to Nars as always for offering plenty of choice for darker skintones too.
Rimmel Match Perfection Light Perfecting Radiance Foundation, £6.99
A real bargain that does what it says on the tin, Match Perfection Light Perfecting Radiance Foundation (opens in new tab) is a light, comfortable base that would suit anyone who's generally confident with their skin. The coverage is like a sheer veil, subtly covering imperfections, but feels as comfortable as moisturiser so is perfect for dehydrated/normal combinations. If oil is a big problem for you, you'll need some powder too - but I'm sure you wouldn't dream of going without anyway!
Kiko Unlimited Foundation, £14.90
Kiko Milano are one of our favourite players on the budget beauty scene, and Unlimited Foundation (opens in new tab) punches well above it's weight for performance. This formula feels a little watery on first inspection, but sinks immediately into skin then stays put pretty much all day. My oily nose showed no signs of shine by dinner, while dry patches looked bright and bouncy - just remember to blend this well as the coverage verges on full.
RMK Creamy Foundation, £36
This little pot of super-light gel foundation gives one of the most luscious, healthy finishes we've seen in a long time. If your skin sits closer to dry and dehydrated than oily then Creamy Foundation (opens in new tab) is your perfect match. it covers redness or any other colours you don't want in your complexion (purple, we mean you!) gives a luminous glow to skin but also contains microscopic powder particles to subtly subdue shine. Stunning.
Dr Hauschka Foundation, £30
Natural beauties: this one's for you! Dr Hauschka Foundation (opens in new tab) is 100% natural in fact, with hydrating pomegranate essence, coconut oil and mineral pigments for a nourishing base that won't clog pores or dehydrate dry patches. The coverage is pretty sheer, so is best for those just want a hand to even everything out. It's worth nothing that it smells fabulous too!
Shiseido Future Solution LX Total Radiance Foundation, £65
Such a sweet little jar! But what's inside is serious. Total Radiance Foundation (opens in new tab) contains smart ingredients Skingenecell 1P and 4MSK, which counteract loss of radiance and firmness while hydrating and making pores disappear to the eye. It's not cheap but, it feels as luxurious as you would expect on skin and blends beautifully so a little goes a very long way.
Oxygenetix Oxygenating Foundation, £45.jpg
If you have 'problem skin', which can include anything from adult acne, to scarring or areas of pigmentation, Oxygenetix (opens in new tab) is a godsend. It's super-high coverage, so camouflages whatever you don't to show, but is genuinely breathable, doesn't clog pores and actually boosts collagen cell production and helps repair skin. It does feel a little bit thick, so if you prefer sheer coverage, mix it with a little moisturiser to your liking.
Cargo HD Picture Perfect Liquid Foundation, £27
Picture Perfect Liquid Foundation (opens in new tab) looks a little full-on with it's thick consistency, but once heartily blended (we love beautyblender (opens in new tab)) you'll be rewarded with an almost soft-focus velvety skin finish. This is thanks to the oil-free formula and light-diffusing pigments, which make it the perfect choice to even out areas of dryness, pigmentation, shine and just about anything else.
Beauty Editor, womanandhome.com
As woman&home's Beauty Channel Editor, Fiona Mckim has tried more products than she's had hot dinners and nothing makes her happier than raving about brilliant finds on womanandhome.com or her instagram grid (@fionamckim if you like hair experiments and cute shih-tzus). Fiona joined woman&home as Assistant Beauty Editor in 2013 under industry legend Jo GB, who taught her everything she needed to know (learn about ingredients and employ extreme cynicism). She has since covered every corner of the industry, from interviewing dermatologists and celebrities to reporting backstage at Fashion Week and judging the w&h Beauty Awards.