BIAB vs acrylic nails: Which nail treatment is best for you?
Weighing up BIAB vs acrylic nails? Experts explain the benefits of both, as well as their differences, to help you decide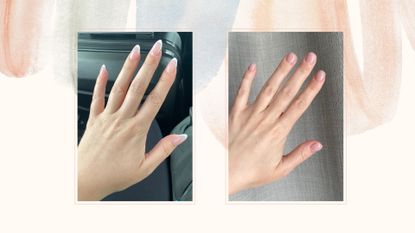 (Image credit: Lucy Abbersteen)
woman&home newsletter
Sign up to our free daily email for the latest royal and entertainment news, interesting opinion, expert advice on styling and beauty trends, and no-nonsense guides to the health and wellness questions you want answered.
Thank you for signing up to Woman & Home. You will receive a verification email shortly.
There was a problem. Please refresh the page and try again.
Today, there are so many brilliant manicure options to choose from that we wouldn't blame you for being a little overwhelmed by the appointment booking page. That's why we're comparing several options in our dedicated guides, focusing on BIAB vs acrylic nails in this particular feature.
While acrylic nails have been around for decades, builder gels like BIAB nails are a fairly new category – and though both nail treatments are known for their durability, there are a few key ways that they differ.
To help you decide which is the best treatment for you, we spoke to three nail technicians to provide you with detailed guides to both BIAB and acrylics. Ahead, we've broken down the key differences as well as the pros and cons of both of these gel manicure alternatives so that you can weigh them up for yourself. We've also got a dedicated guide on BIAB vs gel nails if you're considering switching up your gel mani.
BIAB vs acrylic nails: Our expert guide
What are BIAB and acrylic nails?
"Builder gel, often called BIAB™ or Builder in a Bottle™, is a strengthening gel product that is applied to the natural nail," explains manicurist Alex Philamond. Like gel polish, builder gels have to be cured under a lamp, but they are quite different. "The thicker viscosity of builder gel creates a strong and durable enhancement that protects your nails for longer than a regular gel manicure can. One might opt for a builder gel manicure if they are trying to grow their nails, as the strength of the gel prevents your nails from snapping."
Acrylic nails, on the other hand, involve overlaying the nails with a liquid and powder blend, which then hardens. They can be combined with a tip to add as much length as is desired, or simply over the top of your natural nails.
BIAB vs acrylic nails: Key differences
Application: Builder gels like BIAB have to be cured under a nail lamp, while acrylic hardens on its own (unless gel polish is applied over the top).
Appointment length: This will vary depending on the salon or nail technician, but BIAB usually requires more time to sculpt and cure if colour is then applied over the top. Allow just over an hour for a full set of acrylics, and up to an hour and a half for a BIAB nails appointment.
Extensions: Acrylic is the better of the two options for extensions, working well with all lengths from short to long, while BIAB is only recommended for shorter extensions or to protect natural nails.
Price: Again, pricing will vary depending on the location of your salon or manicurist of choice, but acrylic nails can be the cheaper option by 10 dollars or so.
Is BIAB better than acrylic?
"Acrylic has had a tricky history of being applied and removed incorrectly, which has tarnished it with a reputation as being 'damaging for your nails' – which isn't true," explains Philamond. "In some cases, certain acrylic formulas and brands cannot be soaked off, and so they require an entire removal with an e-file – which can risk the natural nail being damaged. However, builder gel can always be soaked off, which is kinder to the natural nail. Either way, it's so important that you are receiving treatment from a manicurist that is adequately experienced in safely working with whichever system."
So it's not that BIAB is "better", more that the two are very different products. However, Aussie Parnell-Raghnal, nail technician at Duck & File Mayfair, does note that: "It isn't as heavy [as acrylics] on your natural nails, which helps them grow and protects their health."
Is BIAB as strong as acrylic?
Expert opinions differ a little as to which system is stronger, but the general consensus is that there's not much in it. "Both acrylic and builder gel are similar in terms of their versatility, the strength they can provide your nails, and how long-lasting they are proven to be, but the application and removal techniques differ greatly," says Philamond.
"It's entirely down to personal preference – some people are just longstanding acrylic devotees, but if you're curious, find your local builder gel specialist and treat yourself to a manicure to decide for yourself!"
Are there any downsides to BIAB vs acrylic nails?
Builder gel options like BIAB tend to be more expensive than acrylic nails. As builder gel is relatively new, it does tend to be available in fewer color options, though your choice of gel or regular polish can be used over the top of a clear or neutral base color instead.
Lastly, although it's a great protective choice if you want to grow your natural nails, Parnell-Raghnal notes: "BIAB is generally not recommended for creating nail extensions." So if you're hoping to add significant length to natural nails, you may be better booking in for acrylic or dip powder nails.
BIAB vs acrylic nails: the woman&home verdict
BIAB and acrylic nails do have a fair bit in common. Both are very durable manicure options, and both can be infilled to prolong the life of the initial appointment. So, which to go for?
For those who want instant added length along with their hard-wearing manicure, acrylic might be the more suitable choice, and the treatment does tend to be slightly cheaper. But there's no arguing with BIAB's popularity at the moment, and its ability to protect natural nails for incredible growth is undeniable. It's ideal for those who are happy to play the long game and want to grow their natural nails.
Sign up to our free daily email for the latest royal and entertainment news, interesting opinion, expert advice on styling and beauty trends, and no-nonsense guides to the health and wellness questions you want answered.
Lucy is a UK-based beauty journalist who has written for the likes of Marie Claire, Cosmopolitan, OK!, Women's Health and more, as well as contributing to woman&home. Her work covers everything from expert skin and haircare tips to the latest product launches and the show-stopping beauty looks spotted backstage at London Fashion Week. During her career she's interviewed some seriously famous faces, from Little Mix to Drag Race royalty The Vivienne, as well as chatting to the industry's leading hairdressers, dermatologists and make-up artists.