The Body Shop launches amazing ginger scalp serum that promises to prevent dandruff and boost hair growth
Ginger's not just a remedy for a sore throat – it also works wonders when it comes to stimulating hair growth.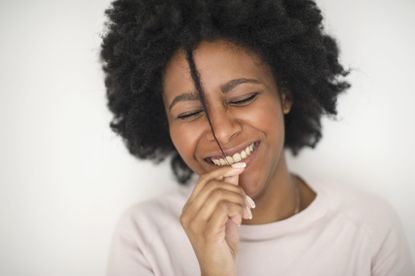 (Image credit: Getty Images/Tetra images RF)
The Body Shop have added another must-have product to our haircare routine. And be warned, it's not a step worth skipping. A scalp serum is a vital step of your styling routine (before you apply heat protector and use the best hair dryer for damage limitation) if you want shiner, healthier locks.
The Body Shop are going from strength to strength these days. And now following on the success of their ginger anti-dandruff shampoo and nourishing conditioner, the brand have launched a hydrating ginger scalp serum that could help prevent hair thinning with regular use.
The nourishing serum, which promises "stronger, healthier-feeling hair", is enriched with ginger essential oil – a wonder ingredient when it comes to boosting natural hair growth (plus, it smells amazing!)
The Body Shop Ginger Scalp Serum
How does ginger stimulate hair growth?
If you've used any ginger hair product before, chances are you've felt the warm tingly feeling it gives when massaged into the scalp.
Ginger contains circulatory agents that stimulate the scalp's blood flow (hence the tingling) and triggers the hair follicles into new growth.
Where other moisturising products can cause buildup on the scalp, ginger contains a natural antiseptic that balances the scalp and helps to prevent dandruff. It is also filled with essential fatty acids that nourish the hair and prevent thinning.
So it's no wonder that customers are already raving about The Body Shop's latest offering.
Priced at £15 for a 50ml pipette bottle, the serum takes just a few drops to soothe and rebalance the scalp between washes. It's also non-oily, meaning no premature grease before your next wash day.
Customers have praised the product for its lightness and quick absorption, with one writing, 'When you first put it on it almost feels like a gel? But once it tries you can't see / feel it! Very soothing on my flakey scalp.'
Another applauded the serum's ability to soothe her scalp psoriasis.
'Having scalp psoriasis for the last 33 years I've tried every trick in the book. My scalp is dry, itchy and scaly, which is very uncomfortable,' she wrote. 'I use the BS ginger shampoo and conditioner so that my scalp is not irritated by daily washing. I have given the serum a try and although it will not cure my psoriasis is does ease the itch and softens the scales... if you suffer with it, you will know what I mean! It's easy to apply, goes a long way, absorbs quickly and doesn't feel or make my hair greasy.'
How to use The Body Shop Ginger Scalp Serum
Wash hair with The Body Shop's Ginger Anti Dandruff shampoo, massaging gently into the scalp with fingertips before rinsing.
Follow with the range's Ginger Scalp Care conditioner, allowing the product to works its way into the hair for a few minutes before rinsing.
Apply the Ginger Scalp Serum to dry hair, either directly following a wash, or between washes when you feel the scalp tightening or becoming itchy. Repeat.
Kate is a freelance contributor to woman&home, covering everything she loves most: fashion, fiction, and fancy face cream. If she's not working, she's probably reading, feeding her online shopping addiction, or judging the taste level of celebrity houses (10/10 for Dakota Johnson, 2/10 for Tan France).

She graduated from Central Saint Martins in 2020 with a BA in fashion journalism, and her byline has also appeared in British Vogue, The Times, and Marie Claire.