The popular beauty treatments that are more expensive post-lockdown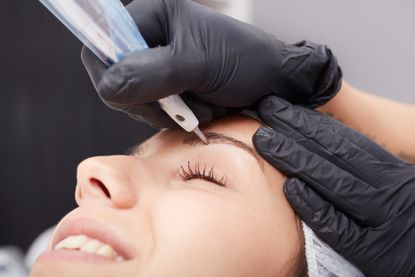 (Image credit: Getty Images/EyeEm)
Salons prices have increased by an average of 26 per cent since March –– owing to the costs of PPE, fewer clients and no-show appointments, new research shows.
From the 1st of August, salons across the UK will be able to offer their full menu of treatments - including facial treatments - for the first time since March. But you might notice something significantly different when you get your card out to pay for your next massage or manicure.
According to research by Treatwell, Europe's largest beauty bookings website, costs of hair and beauty treatments have shot up 26.2 per cent compared to what they were pre-lockdown.
Certain areas, like hair colouring treatments, saw a greater increase than others; while the only service that was reported to have slightly decreased in price was men's haircuts – which are now 2.1 per cent cheaper than they were.
READ MORE: Duchess Meghan Markle sparks new hair trend as demand jumps 170%
There are, of course, very valid grounds for the hikes – as salons now must pay for PPE, accept fewer clients and insert longer intervals between appointments allowing for cleaning. Not to mention that many salons went months without receiving any revenue, with many small businesses being forced to close as a result.
Having banned walk-in customers, salons are operating on an appointment only basis.
But with this brings the issue of 'no-show' customers, who block out a salon worker's time and then fail to turn – or pay – for their appointment.
The study's findings reflect this, showing that time consuming and labour intensive hair colouring treatments like highlights and balayage have seen the greatest price hike.
Hairdressers were among the first beauty businesses to reopen after lockdown, welcoming their first customers on 4th July.
Beauty salons followed not long after on 13th July, but certain close-contact treatments, such as eyebrow threading and lash extensions, were not permitted.
However, all treatments – including those that are most up close and personal – will be permitted from this Saturday, 1st August.
This comes after reports that the hairdressing industry suffered a staggering loss of around £1.7billion in turnover because of the Covid-19 lockdown.
By how much has the price of your favourite beauty treatment increased post-lockdown?
Balayage: Prices up35.5 per cent Highlights: Prices up28.6 per cent Manicures: Prices up 24.4 per cent Sugaring: Prices up 21.3 per cent Massage: Prices up 9.4 per cent Pedicures: Prices up 8.4 per cent
Kate is a freelance contributor to woman&home, covering everything she loves most: fashion, fiction, and fancy face cream. If she's not working, she's probably reading, feeding her online shopping addiction, or judging the taste level of celebrity houses (10/10 for Dakota Johnson, 2/10 for Tan France).

She graduated from Central Saint Martins in 2020 with a BA in fashion journalism, and her byline has also appeared in British Vogue, The Times, and Marie Claire.