Online sales of these Maybelline makeup products have rocketed during lockdown (including our Beauty Eds favourite £8.99 mascara)
Could Maybelline New York be Britain's favourite drug store makeup brand?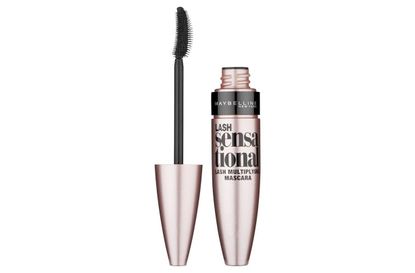 Ever since that iconic pink and lime green tube of Great Lash Mascara finally arrived on our shores, Maybelline has launched a steady stream of smash hit products.
This is a brand that knows what women want and how to get it to them at a ridiculously fair price, often with a ridiculously sassy name that somehow just adds to the appeal.
Clearly isolation has not dulled our collective love of Maybelline makeup as proven by huge spikes in demand for five of their hero products during lockdown, and the list makes for very interesting reading.
Want to know which drug store favourites savvy beauty shoppers are stocking up on online? Read on to discover the top five Maybelline makeup products experiencing a surge in demand now...
Maybelline's bestselling makeup products
Maybelline New York Superstay Foundation, £9.99
I'm not surprised women are stocking up on this medium-coverage matte foundation.
Many of us are forgoing more obvious-looking makeup at the minute (see you later smoky eye), but a good foundation that simply makes your skin look even and healthy is still a priority.
This regularly crops up on Beauty Editor's favourite bargain lists and has such long wear you really only need to apply once a day.
SHOP NOW: Maybelline Superstay Foundation, £9.99, Lookfantastic.com
MaybellineNew YorkTattoo Brow Peel Off Tint, £12.99
This is an absolutely genius product for anyone who is missing regular eyebrow tints, or just wants a bit more definition without having to faff around with makeup every day.
Just paint on the scarily dark looking liquid, leave it for between 20 minutes and two hours (start small if you're nervous) peel to reveal, et voila!
Enjoy up to three days worth of subtly deepened shade and a filled-out effect on those fine brow hairs that are usually invisible.
SHOP NOW: Maybelline Tattoo Brow Peel Off Tint, £12.99, Amazon.co.uk
Maybelline New YorkSuperstay 7 Days Gel Nail Colour, £4.49
You've probably noticed a pattern here – Maybelline products that replace salon treatments are in particularly high demand.
Of course, no paint on polish can truly rival the staying power of UV baked-on gels, but this gives a very nice approximation of that plump glossy finish and you'll definitely get a few extra days out of it.
Bonus points for the firm curved brush shape, that's more important than you think for neat DIY painting.
SHOP NOW: Maybelline Superstay 7 Days Gel nail Colour, £4.49, Lookfantastic.com
MaybellineNew YorkLash Sensational Mascara, £8.99
This mascara is an absolute mega-seller at any time, but is absolutely flying during lockdown.
It also happens to be one of my top three all-time favourite mascaras thanks to its fluttery, non-spidery lash lengthening powers.
The curved brush picks up every tiny little hair right into the corners, fans them out and gently coats them in a glossy formula that won't clump or go all dry or chalky.
It's also remarkably smudge-proof considering how much length it adds – no smeary upper lids here.
SHOP NOW: Maybelline Lash Sensational Mascara, £8.99, Amazon.co.uk
MaybellineNew YorkTattoo Brow Waterproof Gel, £11.99
Clearly, we're all focused on our eyebrows at the minute.
I think this boils down to the same logic as foundation – products that enhance our natural features feel more relevant just now than dramatic makeup 'looks'.
This is a paint-on gel that gives a defined shape and ultra waterproof colour to brows.
The shades tend to come up dark, so I'd recommend going one lighter than usual. You can always build it up if you prefer a stronger look.
SHOP NOW: Maybelline Tattoo Brow Waterproof Gel, £11.99, Amazon.co.uk
All you need for your next virtual quiz night!
Beauty Editor, womanandhome.com
As woman&home's Beauty Channel Editor, Fiona Mckim has tried more products than she's had hot dinners and nothing makes her happier than raving about brilliant finds on womanandhome.com or her instagram grid (@fionamckim if you like hair experiments and cute shih-tzus). Fiona joined woman&home as Assistant Beauty Editor in 2013 under industry legend Jo GB, who taught her everything she needed to know (learn about ingredients and employ extreme cynicism). She has since covered every corner of the industry, from interviewing dermatologists and celebrities to reporting backstage at Fashion Week and judging the w&h Beauty Awards.