This limited edition Chanel No5 just went to the top of our wishlist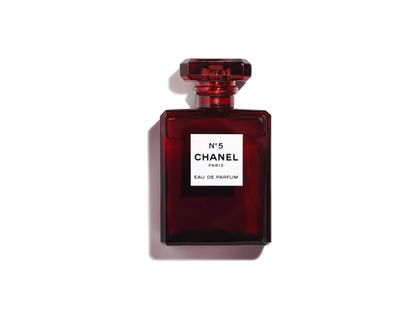 In my line of work, and especially at this time of year, it's not uncommon for me to be cornered by the men in my life, desperate to know what to buy for their other half/sister/daughter. And do you know what I usually tell them? Chanel.
Essentially, you just can't go wrong with those two little C's under the tree.
I'm yet to meet a woman who wouldn't love to receive a classic Rouge Coco Lipstick (opens in new tab), perfectly moody Rouge Noir Le Vernis (opens in new tab) or, most thrillingly of all, a whopping great 100ml No5 Eau De Parfum in limited-edition red bottle.
That's right, the world's most wished-for fragrance has been souped-up for the season in a very sexy red glass flacon, inspired by Gabrielle Chanel's favourite colour.
The limited edition is available now at Chanel.com, (opens in new tab) and although it sits on the indulgent end of the price spectrum at £130, I'd say the timelessness of this fragrance and the sheer jaw-dropping beauty of it's collectible design more than justify the investment. Feel free to repeat that verbatim to whoever gets your wish list this year.
You probably don't need any more persuasion to be excited by this very special launch, but Chanel being Chanel, the French house has added an extra touch of glamour to the launch by creating five larger-than-life giant red bottles, which will be popping up over London in the run up to Christmas.
If you fancy paying a visit (and I can personally confirm their excellent selfie potential) the dates and locations are: 16th November–3rd Jan: New Bond Street Boutique26th November–27th December: Spitalfields3rd–16th December: Duke of York Square9th–23rd December: Covent Garden
If you can't make it down, I have no doubt a 'shelfie' featuring the limited edition bottle would be every bit as gratifying. If you're reading this Santa…