Kate Somerville Goat Milk Cleanser is the ultimate pre-winter skin saviour - and it's just launched at John Lewis!
This cult US cleanser could be the answer to your seasonal skin woes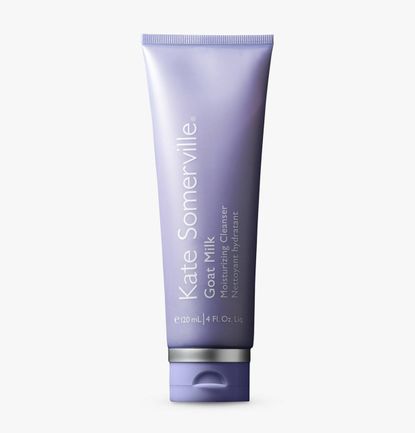 Of all the products you'd expect to be recommended for dry skin, cleanser is probably quite far down the list.
Moisturisers for dry skin, yes, face masks, sure. But why on earth would I suggest Kate Somerville Goat Milk cleanser as a pre-emptive strike against dryness? Because I have a theory that bad cleansing is a sneaky skin sapper.
Do you know that bit at the end of Scooby Doo where dashing Fred pulls the culprit's mask off to 'see who's really behind' the ghost at the old amusement park? Tug on the mask of persistent dehydration or sensitivity and you may well discover harsh cleansing habits lurking underneath.
How can Kate Somerville Goat Milk Cleanser improve skin?
Because cleansing too aggressively disrupts your skin's barrier function. This is the outer layer that protects your skin from irritants and keeps all the good stuff, like natural moisture, in.
Your barrier is everything when it comes to maintaining happy healthy skin. Especially on the approach to winter with environmental changes and drying central heating give it plenty to contend with. Harsh cleansing products can strip away the barrier, leaving your skin wide open for dehydration, irritation and even conditions like rosacea.
Long story short: Bad cleansing is bad news and good products - like Kate Somerville Goat Milk Cleanser- helpkeep everything tickety-boo. This moisturising facial wash is designed with sensitive, dry skin in mind and is packed with ingredients that support, cushion and cosset your skin.
Kate Somerville Goat Milk Moisturising Cleanser
SHOP NOW:Kate Somerville Goat Milk Moisturising Cleanser, £32, Johnlewis.com
What's special about this cleanser?
This is a her product from a US skincare brand founded by expert facialist, Somerville.With John Lewis now stocking Kate Somerville skincare, now's the perfect time to discover more about this cult product.
Your first question is probably something like 'Goat milk. What the…?.' It's true you don't see this ingredient crop up much in mainstream skincare. In all honesty it tends to be used by what you might call 'woo-woo' natural brands.
But here's where woo-woo wins because goat milk is an excellent ingredient. It's incredibly soothing and moisturising, so much so that the unadulterated stuff is a natural eczema remedy. It's also packed with helpful nutrients like Vitamins A, E, B6 and B12.
Crucially, goat milk also has a very similar PH to your skin, which is key in maintaining a healthy barrier. Plus it contains lactic acid. This very mild natural exfoliator will shift dry old skin cells without the irritation troubles of a glycolic or salicylic acid wash.
Kate Somerville goat Milk Cleanser also includes nourishing natural oils like jojoba and avocado, soothing Manuka honey and hydrating aloe leaf juice. It's sulphate-free, which is good news as those lathering surfactants are - you guessed it - bad for the skin barrier.
What does it feel like to use?
It feels incredibly creamy, more like a body lotion than a face wash. When mixed with water it dissolves into an oil-like consistency, which is excellent at cleaning without being all foamy and barrier-stripping. It also smells lovely, lightly warming and sweet without being overpowering.
Thanks to that gentleness this makes an excellent morning cleanser or second step in a double cleanse routine. I like to have a tube on standby in my bathroom to wash with when my skin feels parched, a bit sensitive or my mild rosacea is flaring up (which tends to be fairly often at the back end of the year)
With every wash I'm reminded just how peachy clean, soft and soothed it makes skin feel. And what could be better than a softly-softly approach to strong skin as we stare down the barrel of a pretty bleak winter?
Come at me freezing winds! I'm ready.
Beauty Editor, womanandhome.com
As woman&home's Beauty Channel Editor, Fiona Mckim has tried more products than she's had hot dinners and nothing makes her happier than raving about brilliant finds on womanandhome.com or her instagram grid (@fionamckim if you like hair experiments and cute shih-tzus). Fiona joined woman&home as Assistant Beauty Editor in 2013 under industry legend Jo GB, who taught her everything she needed to know (learn about ingredients and employ extreme cynicism). She has since covered every corner of the industry, from interviewing dermatologists and celebrities to reporting backstage at Fashion Week and judging the w&h Beauty Awards.