Jo Malone has launched 2019 advent calendar - and just wait until you see inside!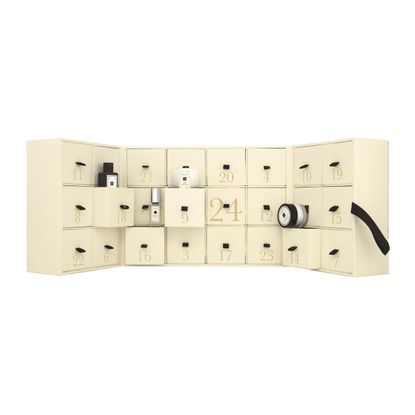 (Image credit: Jo Malone)
Every year Jo Malone fans go wild over the sweet smelling festive treats inside Jo Malone's advent calendar.
The gorgeous dolls-house inspired beauty advent calendar has launched online and in store on October 1st and we have feeling everyone will want to get their hands on one.
Jo Malone's advent calendar has 24 beautifully-crafted doors to open that reveal wonderful bath and body miniatures to make each day of December that little bit more exciting.
This advent calendar includes a mixture of sweet-smelling fragrances, bath and body products, as well as beautiful scents for your home.
Much-loved Christmas treats inside will include English Pear & Freesia in body crème form and Blackberry & Bay Cologne.
Other signature gems include the Basil & Neroli Cologne, Myrrh and Tonka Body Crème and the Pine & Eucalyptus Candle.
The Jo Malone advent calendar this year will feature some new goodies to make your home smell fabulous including Bronze Wood and Leather Cologne Intense.
Can't wait to find out what you'll get in the rest of the calendar? Here is each product inside the festive chest:
1. Basil & Neroli Cologne 2. Wild Bluebell Body & Hand Wash 3. Oud & Bergamot Cologne Intense 4. Sweet Almond & Macaroon Mini Candle 5. Blackberry & Bay Cologne 6. English Pear & Freesia Body Crème 7. Tuberose Angelica Cologne Intense 8. Black Cedarwood & Juniper Cologne 9. Velvet Rose & Oud Shower Oil 10. Amber & Lavender Cologne 11. Incense & Embers Mini Candle 12. Dark Amber & Ginger Lily Cologne Intense 13. Early Grey & Cucumber Cologne 14. Myrrh & Tonka Body Creme 15. Orris & Sandalwood Cologne Intense 16. Nectarine Blossom & Honey Cologne 17. Peony & Blush Suede Bath Oil 18. 154 Cologne 19. Jasmine Sambac & Marigold Cologne Intense 20. Mimosa & Cardamom Cologne 21. Pine & Eucalyptus Mini Candle 22. Bronze Wood & Leather Cologne Intense 23. Honeysuckle & Davana Cologne 24. Red Roses Mini Soap
Priced at £320, it's definitely one of the most indulgent calendars on the market but the luxurious scented products inside are a favourite with Jo Malone fans.
You can get your hands on this beautifully crafted calendar online and in selected boutique stores.
If you want to countdown to Christmas in spectacular style, you better be hurry as last year this popular calendar sold out nationwide and online extremely quickly.
Sibelle Mehmet started as a junior digital writer at GoodtoKnow and Woman and Home in April 2019.
Prior to landing her first job as a digital writer, Sibelle completed an MA in Magazine Journalism at City, University of London and is also a graduate of the University of Edinburgh with an MA in English Literature and History.
As well as writing extensively about the latest celebrity, showbiz and royal news, Sibelle also covered a wide range of topics from trending beauty products to have on your radar, to the latest fashion styles compounded on the catwalk.