GHD launches gorgeous new hairdryer for important cause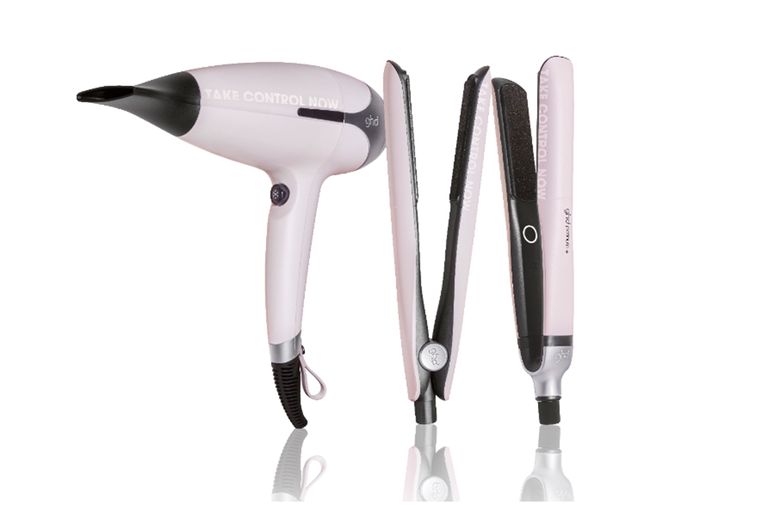 After creating some of the best hair straighteners on the market, GHD has launched a gorgeous new hairdryer to promote an important cause.
The cult hair tool brand, that has historically created some of the hottest hair tools and best hair dryers available,  has launched a gorgeous new range to raise awareness for breast cancer and encourage women to prioritise checking their breasts.
The brand has partnered up with charity Breast Cancer Now for their new Pink Collection, which features three of the brand's bestselling tools in a beautiful powder pink shade.
Each tool is brandished with the slogan 'Take Control Now', to encourage women to stay aware of their breasts and keep up with regular checks to pick out any lesser known breast cancer symptoms.
And for every product sold from the collection, the brand will donate £10 to global breast cancer charities to try and fight the cause.
The gorgeous range is not their only new launch, as the brand just unveiled their new GHD Rise hot air brush - which has already been met with rave reviews.
And if you have any friends or family who are still eligible for a student discount, the GHD student discount has currently been boosted to 20 per cent off, so it's the perfect time to splash out and invest in a new pink GHD hair dryer or straightener.
Here's everything you need to know about the new collection...
GHD Pink hair tools: What's available in the new collection?
GHD Gold Hair Straightener
This bestselling tool is a sleeker version of the classic straightener, with technology to maintain a 185 degree heat to leave hair smooth and straight.
Contoured plates also ensure that the tool glides through lengths without snagging, leaving a sleek and shiny finish.
GHD Platinum+ Hair Straightener
The brand's most advanced hair straightener, the Platinum+ has sensors in the plates to ensure that an optimum styling temperature is maintained throughout use, as it is able to respond to the thickness of your hair and speed of styling.
The rounded body also allows for different types of styling, so you can create a loose wave or bouncy curl without even touching a curling tong.
GHD Helios Professional Hair Dryer
This powerful pink GHD hair dryer will take all the trouble out of how to blow dry hair at home,with a contoured nozzle to give you greater control when styling your hair.
Plus the strong cool shot is perfect for setting your style...and getting a bit of extra air on sweltering days like this!
This gorgeous pink colour may just be our favourite yet!