Dyson hair dryer: save £60 with this good as new refurbished Supersonic model
You can now get the hair dryer everyone's talking about for £60 off.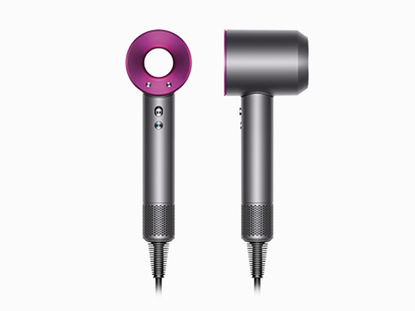 The Dyson Supersonic has come to be known as one of the best hair dryers (opens in new tab) on the market – and for good reason. The Dyson hairdryer slashes drying time in half, reduces heat damage and delivers smooth, frizz free results every time.
And while the Supersonic falls on the more expensive end of the hair dryer scale, Dyson are offering customers the chance to save £60 on the game changing hair dryer in the form of a refurbished model. (opens in new tab)
DEAL IN FULL: Refurbished Dyson Supersonic hair dryer – £239.99, saving £60 on price of new model (opens in new tab)
Customers can now get the Dyson Supersonic, which has been refurbished to good as new by Dyson engineers using genuine parts, for just £239.99. That's an amazing saving of £60.00 on the £299.99 price tag of a new model.
When we say that the refurbished Dyson Supersonic is like new, we really mean it. The award-winning hair dryer has been meticulously tested by the same engineers who work on the brand's new machines, and where any replacements have been needed, genuine Dyson replacement parts have been used.
And if that's not enough to convince you, Dyson offer a one-year guarantee on their refurbished machines.
VIEW DEAL HERE (opens in new tab)
The refurbished Dyson Supersonic comes with all the added parts of a newly manufactured model, including the styling concentrator for full control over your blow-dry, as well as the smoothing nozzle for salon-worthy results. Or if it's bouncy curls you're after, the Dyson diffuser attachment disperses air evenly around each of your ringlets, for gorgeous, frizz free styles.
It's hardly surprising that the Dyson Supersonic is as much a favourite with customers as it is with beauty editors.
'I was bought this for my birthday and i have got to say its by far the best hairdryer i have used/owned,' wrote one customer. 'I have frizzy hair that I dread drying but with this it looks smooth and shiny and it is so so quick. Cannot recommend enough!!' wrote one customer.
'Dyson is perfect, it does my hair soft, it does amaizing curls in just a few minutes. Very happy with my purchase,' wrote another.
So if you've been dying to give the Dyson Supersonic a go, this amazing £60 saving on a refurbished model is your chance. Shop the Refurbished Dyson Supersonic hair dryer here (opens in new tab).
Say goodbye to bad hair days.
Kate is a freelance contributor to woman&home, covering everything she loves most: fashion, fiction, and fancy face cream. If she's not working, she's probably reading, feeding her online shopping addiction, or judging the taste level of celebrity houses (10/10 for Dakota Johnson, 2/10 for Tan France).

She graduated from Central Saint Martins in 2020 with a BA in fashion journalism, and her byline has also appeared in British Vogue, The Times, and Marie Claire.