Debenhams launches £45 beauty advent calendar with £190 worth of goodies
What a bargain!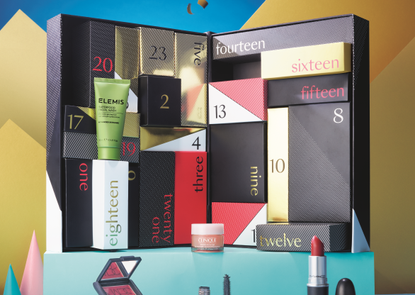 Form jewellery to gin, this year's advent calendar offering is eclectic to say the least and there are a fair few bargains to be had.
Debenhams has launched its 2019 beauty advent calendar for £45 - a price that usually is the same as one or two luxurious products.
What makes the calendar even more of a bargain is the fact that all the products inside add up to more than £190, which guarantees a minimum saving £145.
But there is a catch.
The special price only applies if something else from the Debenhams beauty range is purchased as well. If not, the calendar stands at its original price of £90.
Popular skin and hair brands such as Clinique, Rituals, L'Occitane, Clarins and Philip Kingsley all feature in the 24-door calendar.
Makeup highlights include a mini Benefit They're Real mascara and a full-size MAC lipstick in the shade Ruby Woo - which is usually priced at £17.50, on its own.
NARS, NYX and Kat Von D are a few other big-name beauty brands with products in the festive calendar.
It's also worth noting that one of the advent windows contains a £5 gift card - so if there are any products that tickle your fancy, you can buy them again at a discount.
The advent calendar will be available to buy on Thursday 26th October, both in store and online, but you can sign up for it in advance on the Debenhams website.
If you want the contents to be a surprise this advent, best not to read the below...
Debenhams beauty advent calendar in-full
1. Kat Von D Mascara, 2.5g
2. Clinique Moisture Surge 15ml
3. Oh K! Mini Masks
4. Watermelon Burst Hydrating Primer, 5ml
5. Philosophy Purity Cleanser, 30ml
6. Filorga Time Filler, 15ml
7. NARS Orgasm blusher, 3.5g
8. Oh K! Masks
9. Handmade Soap Company, 160g
10. Murad Cleanser
11. Noble Isle Body Lotion
12. They're Real Mascara, 3g
13. £5 gift card
14. Buxom Lip Liner
15. Philip Kingsley Shampoo, 60ml
16. NYX Warm Neutrals Eyeshadow palette
17. Seche Vite Mini, 3.6ml, 0.125oz
18. Superfood Facial Wash, 30ml
19. Pretty Filter Waterful Glow Cream, 5ml
20. Clarins Lip Oil, 2.8ml
21. Rituals Body Cream, 70ml
22. L'Occitane Shower Oil, 35ml
23. Parks Orange, Cedarwood and Clove Candle, 30cl
24. MAC Lipstick, full size Ruby Woo
Lizzie Thomson is a regular contributor to woman&home, and also contributes to Metro.co.uk, Ideal Home, Culture Trip, and Evening Standard, covering all things lifestyle.