Psoriasis and allergy suffers will LOVE this new Clarins sun cream
We used it all summer with no flare ups and high protection!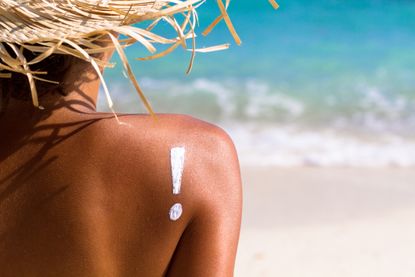 (Image credit: Martin Benik)
Woman&Home lifestyle Director Jayne Marsden has sensitive skin and is very particular about her sun creams. But a new launch by Clarins meets her fastidious standards...
It's been a funny old summer – heatwave right at the beginning when we least expected it, a pretty gloomy August, and here's hoping that September brings sunshine. Whether you are waiting, like me, for more a later summer, or planning a winter sun getaway, I want to tell you about my latest beauty discovery: the Clarins sun cream I used on this year is fantastic.
Why so special? I have suffered with skin problems since I was a teenager, Psoriasis on my scalp and parts of my body. I am also am allergic to certain things and having spent many a night in A&E in need of urgent antihistamines, as my face literally swells up, I have difficulty breathing, the works. So trying new products can be a challenge and when I find something I love, like this new Clarins sun cream, I like to spread the word, because other sufferers, like me, may find it helpful.
This summer saw the launch of a brand new Clarins sun cream collection. I tried it and I liked it at work, the fragrance and the application was good – I tried both the gel that changes to oil as you apply, as well as creams. Then on my family holiday I was able to put them through their paces, including the after sun. Actually, I don't usually use after sun, preferring to use moisturiser recommended by my doctor, but I gave it a go and weeks after returning from holiday I am still using it because I love it or, more importantly, my skin seems to love it. No itchy bits, no flare ups with any of the products I used. So, here's what Clarins sun creams I tried and loved and what I'll be packing again next year:
SHOP NOW: Dry Touch Sun Care Cream for the face, Factor 30 £20 (opens in new tab)
SHOP NOW: Sun care gel-to-oil for the body, Factor 30, £22 (opens in new tab)
SHOP NOW: Sun Care Cream for the body, Factor 30, £22 (opens in new tab)
SHOP NOW: After Sun Balm, £22 (opens in new tab)
Have you tried this range of new Clarins sun creams? Let us know what you think on Facebook or Twitter...