Aldi Lacura launches new eco-friendly beauty range and we're very impressed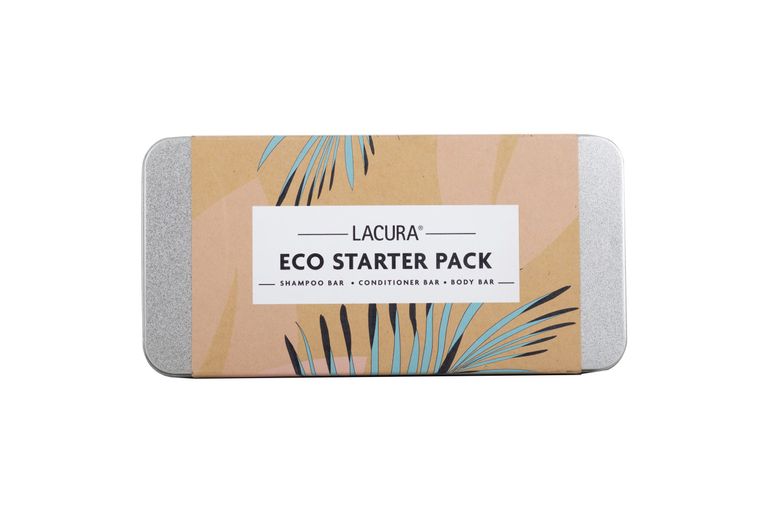 Aldi Lacura is launching eco-friendly beauty sets online – and they cost just £5.99!
We're always interested to see what Aldi Lacura beauty is going to do next.
From brilliant clinically-proven skincare to bargain designer dupes, Aldi's in-house brand is always on the money when it comes to predicting what beauty fans want. And their latest launch – an eco-friendly range of two sustainable beauty kits at £5.99 each - is destined to become another sell out hit.
What's in the new Aldi Lacura beauty range?
The collection, which drops online April 12th, consists of two environmentally friendly sets - the Lacura Eco Starter Pack, and Lacura Eco Thoughtful Brush Set. Both are created to be kinder to the environment, reduce packaging, perform beautifully and of course, look fabulously eco-chic in your bathroom.
Lacura Eco Starter Pack
This reusable tin contains three solid bars for hair and skin - a honey shampoo, cherry blossom conditioner and zingy ginger and lime body bar. Each is wrapped in paper, so you can enjoy an entirely plastic-free shower experience.
Solid bars of soap, body and hair products have seen a huge spike in popularity lately, as we all try to do our bit to help the environment.
The idea of washing your hair with a bar may take a little getting used to, and you need to put in a little extra effort to get a good lather going. However, once you get going, it feels pleasingly creamy and there is something satisfyingly honest-feeling about using a good old bar and your hands to wash, rather than squeezing synthetic from a plastic bottle that's destined for landfill.
Lacura Eco Thoughtful Brush Set
This beautiful brush set is made with a biodegradable material and vegan bristles, plus it comes housed in a very sweet cotton and plant-based pouch. It includes a firm Angled Liner Brush, All-Over Shadow Brush, Powder Brush and Angled Blush Brush.
Each brush can be used a number of different ways and on different areas of the face, and look really lovely with their sleek cream handles and metallic detail.
These two sets may be Lacura's only foray into eco-friendly beauty, but seeing how beautifully considered the products are and knowing Aldi's zeitgeist-capturing prowess, I'd say watch this space. This may well be the beginning of a new eco era for everyone's favourite supermarket skincare.
Both products are launching online on April 12th.
As woman&home's Beauty Channel Editor, Fiona Mckim has tried more beauty products than she's had hot dinners and nothing makes her happier than raving about a brilliant find on womanandhome.com or her instagram grid (@fionamckim if you like hair experiments and cute shih-tzus)

Fiona joined woman&home as Assistant Beauty Editor in 2013, working under industry legend Jo GB, who taught her everything she needed to know (clue: learn about ingredients and employ extreme cynicism).
In a previous life, Fiona studied journalism back home in bonnie Scotland and honed her skills as a features writer at publications including Junior and Prima Baby, with a brief and terrifying stint on the showbiz pages of a tabloid newspaper in between. She's a skincare fanatic who can't resist adding an extra step to her routine, adores fragrance, has fun with makeup and never turns down the chance to test a new hair tool. Basically, she loves it all.

When not slathering herself in self tan or peering at a tiny ingredients list on a moisturiser, you'll probably find Fiona enjoying something to do with food - cooking it, eating it, cajoling her friends into trekking across London to try a hyped pop-up in a dirty car park.
Come to think of it, the hot dinners and beauty products are probably about even.