Aldi's £5.99 mud to foam cleanser has made a return - and delighted fans are giving it 5 star reviews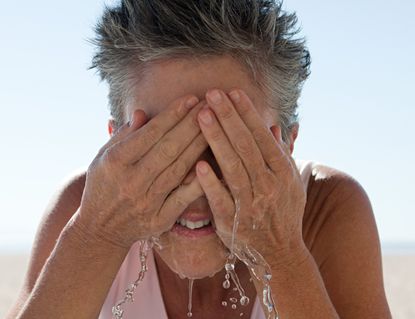 Aldi's Lacura mud to foam cleanser has returned to stock after proving incredibly popular with customers.
Unlike many popular cleansers out there, Aldi's Lacura mud to foam cleanser is very affordable costing only £5.99.
Once again, bargain store Aldi is proving we don't necessarily have to splash out on beauty products to find one with positive results.
MORE:Aldi to re-launch their popular three-wick Jo Malone dupe candle
Aldi's affordable facial cleanser promises to help reduce the appearance of imperfections whilst removing excess oils, make-up and dead skin cells.
The Lacura mud to foam cleanser, which has been formulated with clay and charcoal, is a gentle exfoliator.
Customers are going wild for the cleanser, with several people requesting the product becomes part of Aldi's regular stock rather than being in their Specialbuys range.
The product has received plenty of 5 star reviews online with customers describing the cleanser as 'fantastic'.
One happy customer said, 'This product has worked wonders on my congested, open pores. About six weeks in and there is a noticeable improvement in clarity and texture of my skin. Great value and just the job for melting away heavy coverage foundation. Just desperately trying to get my hands on some more.'
Another person said, 'This is by far the best cleanser I have ever used! It leaves your face feeling silky smooth and is thorough in removing all makeup! I didn't find the application messy as it is packaged in a gorgeous pump action dispenser! Please make this a standard product Aldi!'
It certainly is tempting!
One customer, who will be very happy to know the product has returned, said, 'PLEASE BRING THIS BACK MY SKIN HAS NEVER LOOKED SO GOOD AND I WORK IN THE INDUSTRY!'
A final reviewer who saw immediate results said, 'All I can say is this one of the best products I have ever tried! My skin feels amazing after only a few days. Love it so much that I have bought 2 more and recommended it to friends and family. Please keep in stock as a standard item...'
After such incredible reviews, and at such an affordable price- this cleanser is hard to resist!
A 150ml bottle only costs £5.99, and you can buy it from here (opens in new tab).
We can't afford to hang around though, as we know these popular items get snapped up!
Rachel Howatson is a digital writer who works across a range of publications. Whatever your passion, whether it's hillwalking, cooking, gardening, running, socialising or even sleeping, she'll likely have written about it.