Beauty calendars have saved me hundreds on Christmas presents - and they could do the same for you!
BIG savings can be made...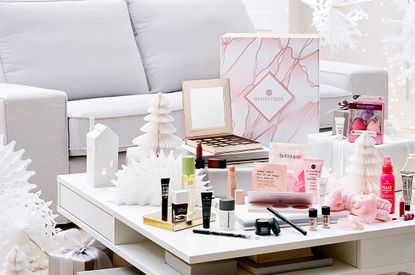 Forget chocolate, the countdown to Christmas is ALL about the best beauty advent calendars. Some of them may seem pricey at first but when you break it all down you can make HUGE savings.
I discovered this money-saving tactic a couple of years ago and I've never looked back. The key is to snap up the calendars with the biggest savings and the most full-sized products to get more bang for your buck.
Once I've bought these cost-saving calendars, I then open them up all at once (sorry Santa!) and divide all the products into individual presents for my friends and family. Even some of the miniature bottles can be clubbed together to make cute gifts. But you've got to be quick, the fastest-selling beauty advent calendars alwaysfly off the shelves within days.
I don't have to be stuck with gifting just one brand or range either. Many of the high street giants have calendars that are crammed full of products from different beauty brands. From sought-after skincare to hair heroes to soothing candles, there's something to cater for even the fussiest family members. Calendars from the likes of John Lewis, LookFantastic, Glossybox and Fortnum and Mason are brimming with cult buys and bestsellers from big brands such as Nars, Charlotte Tilbury and Estee Lauder, which if purchased separately would set me back loads more.
So which calendars have the biggest savings?
I've studied the offerings this year and I've clocked some frontrunners that are going to save me the big bucks in the long run. And as a bonus, it means all my Christmas shopping will be done and dusted way before the 1stDecember. Yes, I can be one of those people.
The John Lewis Beauty Advent Calendar contains £375 worth of luxury products for just £150 – with eight being full sized. Some of the full-sized products include the Dermalogica BioLumin-C Eye Serum, 15ml, worth £63 individually and the Neom Perfect Night's Sleep Pillow Mist, 30ml, worth £20 on its own. The pillow mist in particular would make a gorgeous gift for someone looking to unwind before bed and get a good nights kip.
The Glossybox Advent Calendar also get an A+ for its full-sized offering – with 14 out of the 25 surprises being full-sized. It's £80 for subscribers and £99 for non-subscribers. And there's some killer savings to be made too. The Avant Skincare 3-1 Hyaluron-Filler Collagen Eye Formula comes in full-size and if bought individually it would cost me £99 – that's the price of the whole calendar itself! This pretty pink calendar also contains the Pixi Glow Mist (worth £!6) Zoeva Screen Queen Highlighting Palette (worth £15) and Fenty Beauty Match Stix Shimmer Stick (worth £21).
For a wide-range of products, LookFantastic's Advent Calendar is another must-have. It comes in at £85, but with £460 worth of goodies inside. Big savings include the Elemis Pro-Collagen Oxygenating Night Cream (worth £63), Rodial Dragon's Blood Cleansing Water (worth £17) and Anastasia Beverly Hills Lash Brag Volumising Mascara (worth £14).
For an added dose of indulgence, Fortnum and Mason's offering is worth £800 and costs just £195, with 13 full-sized products, from some of the most premium beauty brands such as Sisley, Guerlain and Chantecaille.
There are a few surprises to look out for too. The Feel Unique 25 Day Beauty Advent Calendar contains a golden gift card, hidden inside one super special calendar, worth up to £1000 each for you and a family member to spend at FeelUnique. The Cult Beauty Advent Calendar also has a Willy-Wonka-style golden ticket worth £1000 Cult Beauty pounds hidden in one lucky calendar. Coming in at £199 but worth £930, the Cult Beauty calendar is one of the most generous of the bunch, containing extra delights behind the 25thdoor so a total edit of 32 products overall. Full-sized treats include the Charlotte Tilbury K.I.S.S.I.N.G Lipstick in Stoned Rose (worth £25), the Huda Beauty Topaz Obsessions Palette (worth £25) and the Oskia Liquid Mask Lactic Acid Micro-Peel (worth £65).
Stockpiling the essentials
As well as offering up generous gifts, beauty advent calendars can also help me stock up on my beauty basics too. We've got to treat ourselves too right? I love the Elemis Pro-Collagen Marine Cream. A 50ml bottle has me forking out £87 but this full-size cream is also featured in the Elemis 25 Days of Spectacular Skin Beauty Advent Calendar. The calendar costs £175 but its contents are worth £403.50, saving a massive £228.50! So as well as bagging the essentials, I've got £316.50 worth of presents to dish out too. I'm no mathematician but that seems like a pretty sweet deal to me.
And don't forget a lot of these calendars come in snazzy packaging too that I can reuse every year to really get my money's worth. They also make great storage units for my makeup or jewellery. The Glossybox pink and metallic drawers will look particularly chic on my dressing table.
Buying a couple of calendars may cost a few hundred quid upfront but it can save me three times that amount in the long run. If you, like me, have got a lot of presents to buy or need to stock up your own beauty cupboard, I would definitely advise snapping up one of these festive treats pronto!
Charlie is the Deputy Fashion Editor at Future plc across multiple women's magazines including Woman & Home, Woman and Woman's Own.
She bagged her first magazine job in 2009 and has previously written for titles including Stylist, Closer and Dare. Over the years Charlie has embraced anything that was thrown at her from styling celebrities to testing out the best jeans on the high street to writing about must-have beauty buys.
With a weakness for a printed midi dress, Charlie is on a mission to shop more sustainably and loves finding new ethical brands and second-hand buys.