Chinese Recipes
says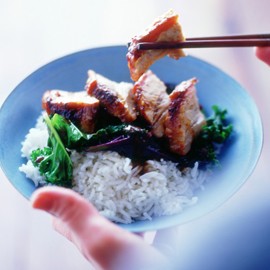 Chinese recipes include favourite and familiar takeaway dishes such as sweet and sour pork, crispy duck pancakes and bang bang chicken as well stir-fries and salads with a healthy twist. Chinese recipes always pack a flavour punch and are ideal for quick family meals as well as easy entertaining when friends pop round.
Most supermarkets now stock a wide range of authentic sauces and ingredients so it's never been easier to create Chinese recipes in your own kitchen. With a few key flavourings in your store cupboard such as soy sauce, hoisin sauce – a dark sweetened mixture of soy, red chilli and garlic, Chinese rice wine (Shaoxing), toasted sesame oil, chilli sauce, oyster sauce, Sichuan peppercorns and five-spice powder, you can whizz up tasty Chinese recipes whenever you fancy.
When you can't think what to have for dinner, a stir-fry ticks all the boxes – it's quick, healthy, tasty and a good way to use up any vegetables you have. Courgettes, peppers, spring onions, carrots, broccoli, kale all stir-fry really well and make a colourful meal packed with vitamins and healthy antioxidants. Chinese prawn and kale stir-fry, fried sichuan chicken, fresh stir-fried noodles, and ginger and beef stir-fry are just some of the delicious stir-fry recipes you can have on the table in 30 minutes or less.
When it comes to entertaining there are plenty of Chinese recipes to make cooking for friends easy and fun. Why not try our crispy duck salad with hoisin dressing, or the Hairy Biker's clay pot duck, a recipe they discovered on their Asian adventure. Gordon Ramsay's roast goose with five-spice and honey or Gok Wan's brown rice treasure hunt – a zingy gingery rice and edamame salad are also great options as well as filo wrapped oriental style salmon or Chinese crispy pork belly.
Chinese recipes are not just savoury, there are some great puds too. Phil Vickery's apple bananas with toffee sauce will satisfy any sweet tooth but for a lighter option our lychee and lime sorbet is fragrant and refreshing.
Delicious Chinese recipes