You'll Never Believe What You Can Do with Brown Wrapping Paper...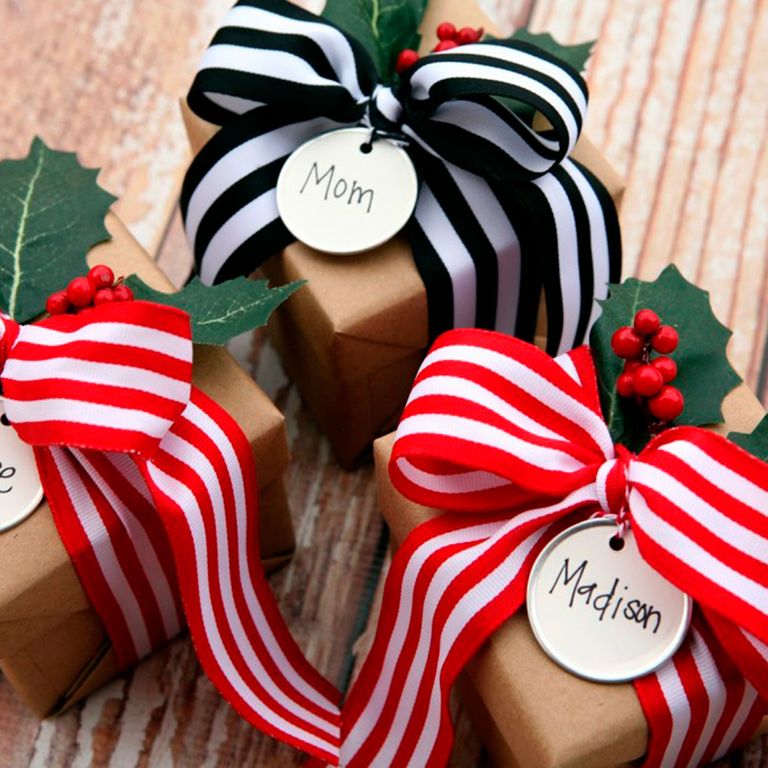 You'll never guess the new trend that's been cropping up everywhere. That's right, brown wrapping paper. There's a reason why DIY-devotees have been choosing it over more expensive options. Brown wrapping paper is highly affordable, easy to find and saves you the trouble of buying rolls and rolls of differently patterned paper - and you will still end up with gorgeous personalised gifts. Trust us, you'll want to make a run to the craft store after looking at these fabulous ideas.
Tip: It's even available at the post office!
Consider this idea from Eighteen25, which makes the most out of brown wrapping paper with oversized candy-stripe ribbons, holly and hand-written tags. There is no limit to how creative you can get with hand-drawn designs, glitter, baubles, pompoms and more. We've chosen some of our favourites from the top brown paper wrapping ideas to get you inspired.
Emphasize the 'green' in Christmas with herbs and sprigs of pine. Blue Purple and Scarlett adds a feminine touch with an elegant white doily with instructions and other green gift ideas on their website. We've also seen presents decorated with twigs and berries, like from Artifact Rising - just be sure to keep it neat, or use faux berries so you don't end up with a berry messy present.
This one is great to do with children. As explained on Burlap and Blue, wrap your present neatly in brown paper and then draw a long curling line over a flat surface on the gift. Have the children dip a finger into colourful non-toxic paint and firmly press along the line drawn before to make little light bulbs.
Tip: With different colours, no two gifts will be exactly alike, adding to the personal feel.
These snowflakes from Giochi di Carta are surprisingly easy to make. Just take a piece of rectangular paper and fold it accordion style then tie a piece of string around the middle and cut out an intricate design. This creates one half of the snowflake. Repeat steps with another piece of paper, and try to maintain the same design. When finished, glue each side of the snowflake together to create one whole snowflake and attach it to the present.
Live Laugh Rowe uses blue painter's tape in a very innovative way, which is especially helpful for those of us who aren't the best DIY-ers. After covering presents with brown wrapping paper, take painter's tape and wind it around the gift in a straight line. Add more tape parallel to the first piece and use a sponge or brush to cover the open space created. When everything has dried, carefully peel off the tape and you'll be left with a chic minimalist design.
Tip: Try working in small sections with clear-drying glue, add a heavy amount of glitter each time and shake off any excess. When that's ready, let the glue dry for a few minutes and then take off the tape. You'll have gorgeous glittering gifts to give away!
With this one, you can actually sew your own design into the paper. Since Kraft paper is thin but very durable, it will allow a needle to pass through without any messy ripping. Little Empty Room provides a modern example with a combination of red, white and black X's and a red Christmas tree silhouette.
This one from Odessa May Society is high on our list of favourites. Print out old black and white photos of favourite memories on cardstock and secure with your choice of ribbon or twine.We love that these gifts have a mixture of gingham ribbon, twine and a pine sprig.
Tip: This idea works best when it's a vintage image of the recipient, which doubles as a substitute for gift tags.
No pattern? No problem. Here's an easy one from Wit and Whistle. Think of the paper as a blank canvas and create your own repeating pattern with crayons or markers lying around the house. This can work either way with the design being drawn on before or after the present is wrapped.
Tip: Don't worry about the design being perfect. Accidental mistakes will give it more character.
Letter tags and embellishments have been big - literally - in many of the ideas we've seen. Older and Wisor's unique take on this trend features a bright polka dot ribbon with a handmade distressed text tag. You can also use a variety of 3D letter ornaments secured with twine or glue on letters cut out from interesting paper, like music sheets, maps and even wrapping paper (seen on Bugs and Fishes).