Tearful Prince Charles leads Royal Family at Remembrance Sunday—fans online say they are 'making us all very proud'
Prince Charles led the Royal Party at Remembrance Sunday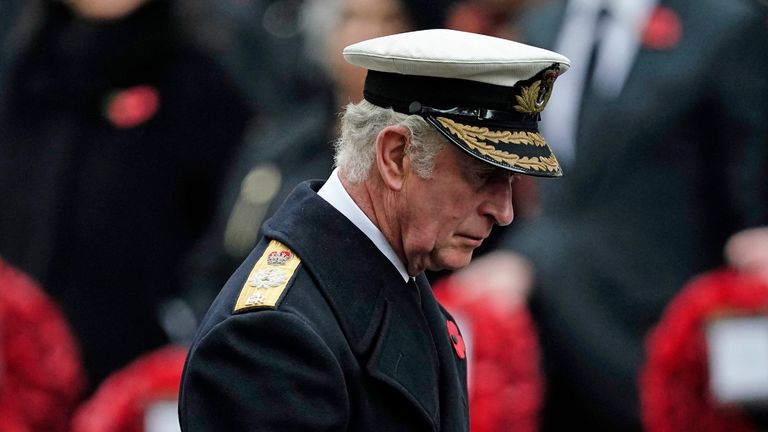 (Image credit: AARON CHOWN/POOL/AFP via Getty Images)
While the Queen was "disappointed" to withdraw from the Remembrance Sunday memorial service after spraining her back, Prince Charles led the royal party. Joined by Prince William, Kate Middleton, Camilla Parker-Bowles, the Duke of Kent and Princess Alexandra, Charles was visibly emotional as he laid his wreath.
A teary-eyed Prince Charles led the royal party at the Remembrance Sunday memorial service.
Charles laid a wreath for his mother, the absent Queen Elizabeth II, who had to miss the service after spraining her back.
---
Prince Charles along with wife, Camilla and the Duke and Duchess of Cambridge, led the United Kingdom in honoring fallen soldiers on Remembrance Sunday after the Queen was forced to cancel her appearance.
Millions fell silent at 11am to remember the sacrifices made in the two world wars and other conflicts as Charles led the royal party attending the memorial in central London's Cenotaph.
The two-minute silence marks the exact moment the armistice was signed between the Allies and Germany in 1918 which brought the First World to an end.
William and Kate attended the annual ceremony at the Cenotaph alongside other royals including the Queen's cousins, Princess Alexandra and Prince Edward, the Duke of Kent.
Charles laid two wreaths during the ceremony—one for himself and one for the Queen, who could not attend. While laying the wreaths, Charles was sombre and visibly teary eyed.
In the absence of the Queen, fans have been quick to support and praise Charles, William et al online.
One Twitter fan wrote, "they're making us all very proud" whereas another hailed the father and son pair as "so regal."
Watching Remembrance Sunday @theCenotaph so sad HMTQ has not been able to attend. She has sprained her back 😢 Prince William & Prince Charles are looking so Regal. Noting the mass of multi faiths in attendance, this is our beloved U.K. ❤️ pic.twitter.com/7AnktkP1lXNovember 14, 2021
See more
Lovely to see William and Charles leading the Royals this Remembrance Sunday. They're making us all very proud. Shame The Queen can't be there but what a day.November 14, 2021
See more
Watching from a balcony of the Foreign, Commonwealth and Development Office building were Camilla, Duchess of Cornwall and Kate, Duchess of Cambridge who were joined by Sophie, Countess of Wessex.
The Queen, who lived through World War Two as a teenager, remains the head of the armed forces.
She has only missed the Remembrance Sunday service six times in her 69 year reign due to pregnancy or overseas travel.
Her injury is understood to be a recent sprain that sparked concerns over the impact of a car journey and a period of standing. Her sprain comes not long after she stayed in hospital overnight for the first time in eight years.