Prince William and Kate Middleton set to make big trip to USA with 'no time' for visiting Harry and Meghan
Prince William and Kate Middleton's are predicted to make a big trip to the USA for something special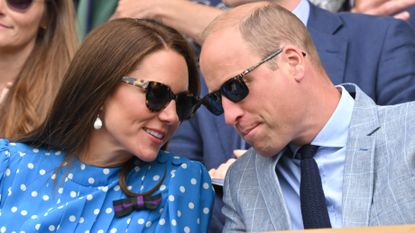 (Image credit: Getty Images)
Prince William and Kate Middleton are set to make a big trip across the pond in light of the news that the 2022 Earthshot Prize ceremony will be held in Boston, Massachusetts.
Prince William has confirmed that the Earthshot Prize 2022 ceremony will be held in Boston in the USA, with him and Kate Middleton predicted to fly overseas for the big event.
While this will be the Cambridges' first trip to the USA since they visited New York in 2014, it's been claimed they will have 'no time' to see Prince Harry and Meghan while they're in America.
---
Taking to social media today, Prince William confirmed the news that the 2022 Earthshot Prize awards ceremony will be held in Boston.
In a video of the future King, he can be heard speaking about the big occasion, which will be held in December of this year, with the Earthshot prize 2021 having taken place in London.
"In 2022, we're back and bringing the Earthshot to the USA where we'll award the next five winners of the prize. We will be doing it right here in Boston," Prince William says in the clip.
"The @EarthshotPrize is back and this year, we're heading to Boston! Five more winners. Game-changing solutions. More potential to save our planet. Boston, we'll see you in December #EarthshotBoston2022," a caption beside the Instagram upload reads.
It's unknown if Prince George, Princess Charlotte and Prince Louis will jet to Boston for the event, but it's thought that the Duke and Duchess will fly over to attend the ceremony for the cause close to Prince William's heart.
The Earthshot prize was launched by William and The Royal Foundation in October 2020 in a bid to celebrate those helping to work towards protecting and restoring nature, fixing our climate, cleaning our air and oceans and creating a waste-free planet.
Prince William and Kate Middleton's trip to the USA could pose an opportunity to pay a visit to Prince Harry and Meghan Markle, who moved to California after stepping away from royal life in 2020.
However, it's thought that there will be no time for private affairs on the important trip.
In a YouTube video shared to his channel, royal expert Neil Sean predicted that the Boston trip would not allow for a scheduled meet with the Sussex family.
According to the Express (opens in new tab), Neil explained, "When you think about it, both in the same country and away from prying eyes, it's a little bit easier to get away from the media over there because it's such a vast place. You can arrange to meet anywhere but sadly that will not be possible."
He added, "They're planning a packed schedule with no private time for visits. Very nice and regally put."