Kate Middleton's 'significant placement' at Remembrance service proves new position in the royal family
Kate Middleton's 'significant placement' has caused a stir as some claim she is taking over for the Queen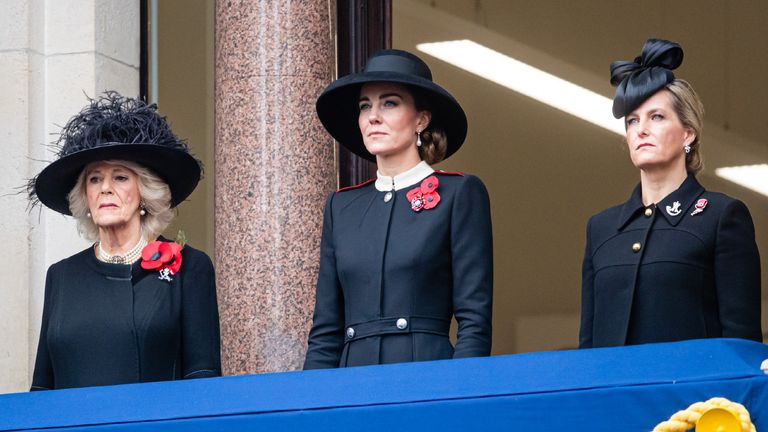 (Image credit: Samir Hussein / Contributor / Getty Images)
By Laura Harman
Kate Middleton's position at the National Service of Remembrance has suggested that she is ready to take on a new position in the royal family.
Members of the royal family gathered at the Cenotaph to pay their respects to those who have served in the royal armed forces.
Kate Middleton stood in a key position with the Countess of Wessex and the Duchess of Cornwall which demonstrated her new position in the royal family.
---
The royal family attends a remembrance service at the Cenotaph every year in order to pay their respect to those in the royal armed forces.
However, images posted on the royal's social media accounts demonstrate the new position that the Duchess of Cambridge is taking on.
An image from the Duke and Duchess of Cambridge showed that Kate Middleton took center stage and stood in between the Countess of Wessex and the Duchess of Cornwall while they paid their respects at the service.
This is considered to be the position that the Queen typically takes and has indicated Kate's role as the future Queen.
Royal fans have commented on the images posted by the royal family and have suggested the significance of Kate Middleton's central placement on the balcony.
"The Duchess takes Queen's place at the center of the balcony," said one fan suggesting the Duchess was taking over for the Queen.
"Are we looking at the next Queen of England in the middle? Significant placement," said another.
"Why is Kate in the center when the senior wife there is Camila? Royals never do anything without a precedent or reason, so what's the reasoning with that?" said yet another fan on Twitter who was also confused by this placement.
In previous years, the Queen has stood at the center of the balcony and has been flanked by the next two highest-ranking women in the royal family.
In 2019, this was the Duchess of Cornwall and the Duchess of Cambridge on either side of the Queen. On other occasions, the Countess of Wessex and Princess Alexandra, The Honourable Lady Ogilvy, have also stood by the Queen on the balcony.
The Queen was unable to attend the royal engagement. Reportedly The Queen was 'disappointed' to be missing Remembrance Sunday after spraining her back but fans were in full support of Her Majesty and wished her well on her way to recovery.
Taking over for his mother the Queen, Prince Charles led the Royal Family at Remembrance Sunday as he laid a wreath on behalf of his family at the cenotaph.