Why is the Queen not at Ascot? The potential reason Her Majesty could skip the event this year
The Queen was notably absent from the first few days of the Royal Ascot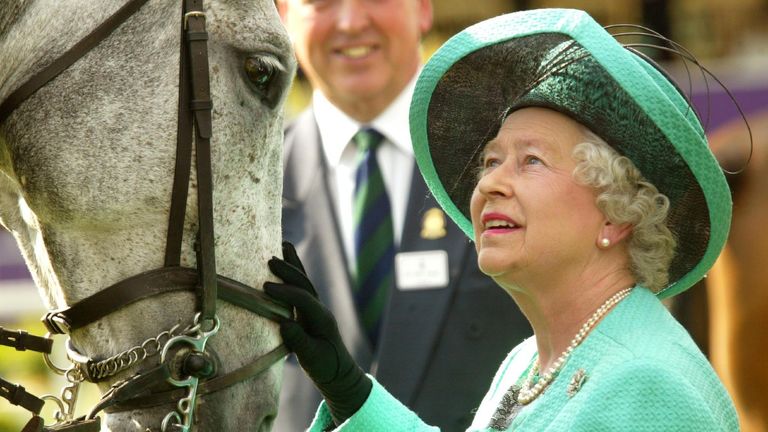 (Image credit: Carl De Souza / Stringer/ Getty Images)
Why is the Queen not at Ascot? The Queen has chosen to watch the first few days of Royal Ascot from home this year, but will she be attending the event at all?
The Queen is an avid racing fan and has attended the event for 70 years.
Royal Ascot 2021 is a scaled-back version of the event following Covid-19 guidelines, with 12,000 racegoers allowed daily.
---
Royal Ascot 2021 kicked off with hundreds of guests dressed to the nines to flock to the famous racecourse for the annual event. Among the attendees were Princess Anne, who is fifteenth in line to the throne, heir to the throne Prince Charles, and his wife, the Duchess of Cornwall. Zara Phillips and her husband Mike Tindall were also in attendance.
Royal fans are obsessed with Zara Tindall's Royal Ascot look and many noticed that the royal women co-ordinated their looks as Princess Anne, Camilla, and Zara Tindall's hats at Royal Ascot complemented one another perfectly.
But one familiar face that hasn't been spotted at the annual event yet is the Queen, whose husband Prince Philip sadly passed away last month.
It's no secret that the 95-year-old—the UK's longest-serving Monarch—is an avid fan of horses and racing, with some of her own horses running at this year's event.
Her Majesty has only ever missed one Royal Ascot during her time as Queen—in 2020, when Royal Ascot was held without an audience due to Covid-19.
Why is the Queen not at Ascot?
As of this week, the Queen has also missed a significant portion of Royal Ascot 2021, but there is still time for the monarch to attend the races.
Royal Ascot 2021 runs until Saturday, June 19, so there is still time for the Queen to make an appearance.
It has been widely reported that Her Majesty is likely to enjoy at least some of the event, so we could expect to see her there in the next few days.
Why might the Queen not attend Royal Ascot?
Attending a big event like Royal Ascot is a big step for the Queen, who spent much of last year in 'HMS Bubble' at Windsor Castle—forcing her to change her annual Christmas tradition, among others, due to the global pandemic.
And she is still mourning the death of her husband, Prince Philip.
She has only recently returned to normal duties after having her Covid-19 vaccination and joined world leaders at the G7 summit in Cornwall before hosting President Joe Biden for afternoon tea just last weekend.
Has the Queen missed other events like this?
Less than two weeks ago, the Queen decided to miss the Epsom Derby, an iconic event that the Queen has attended for the last 75 years.
It is thought that the Queen made this decision to ensure that she remained safe during these events that are now open to the public but have Covid-19 safety precautions in place.
A royal insider told The Telegraph at the time, "It's a Derby but it's not a traditional Derby Day. It's not going to be what it normally is so the Queen has decided she would rather watch it at home."
It could be that the Queen has also decided to continue watching Royal Ascot from the safety of her own home.
But, with the Duchess of Cornwall having described the Queen's equestrian interests her "passion in life", we've no doubt the Queen is itching to get back to Royal Ascot.
Camilla told ITV Racing, "Well I think this is her passion in life and she loves it, and you can tell how much she loves it.
"She could tell you every horse she's bred and owned from the very beginning—she doesn't forget anything. I can hardly remember what I bred a year ago but she's encyclopedic about her knowledge."
The Queen's admiration for horses was also displayed in a sweet unseen photo shared by the Queen to mark her 95th birthday.
On the occasion of Her Majesty The Queen's 95th Birthday, the Committee and show office would like to send Her Majesty their best wishes. pic.twitter.com/5m77hji4WbApril 21, 2021
See more
Although the Queen's official birthday is celebrated in June, in April the Royal Family's social media shared an unseen image of the Queen looking happy while holding the reigns of two horses.
Some may find it surprising given how old Queen Elizabeth is—96 years on her next birthday to be precise— that she still enjoys such active pursuits as horse riding. But it's clear that horse riding—and horse racing— are still great passions of Her Majesty.
Georgia studied Print Journalism at university in Nottingham, England before going on to work on several leading celebrity magazines, as well as freelance writing for international magazine Grazia Middle East. An enthusiastic, hard-working and ambitious writer, Georgia recently launched her own communications consultancy, farq media. As Director and Founder, Georgia helps businesses with their Public Relations strategy, as well as influencer and celebrity marketing. She also represents several influencers of her own. She lives with this motto in mind; "if your dreams don't scare you, they aren't big enough."