Harry and Meghan could still appear on Jubilee balcony despite Queen's ban
The Sussexes could still appear on the balcony alongside other royals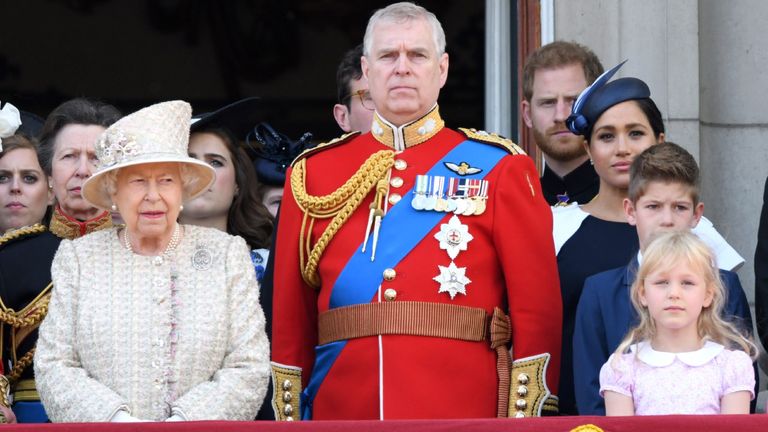 (Image credit: Getty)
Prince Harry and Meghan Markle could still appear on the Jubilee Balcony next month despite the Queen banning them.
In a statement released from by Buckingham Palace yesterday, it was confirmed that Harry and Meghan won't be allowed on the balcony after "after careful consideration."
However, sources have since revealed that the couple may still be present on the balcony despite the ban.
This follows royal news that Kate Middleton has spoken out on a "lonely and overwhelming time."
---
Yesterday's statement revealed that Meghan and Harry - along with Prince Andrew - would not be invited onto the balcony for Trooping the Colour, the start of the long weekend of celebrations of the Queen's Platinum Jubilee.
It read, "After careful consideration, The Queen has decided this year's traditional Trooping the Colour balcony appearance on June 2 will be limited to Her Majesty and those members of the Royal Family who are currently undertaking official public duties on behalf of the Queen."
The news means that we will see the Queen joined by Prince William, Kate Middleton, Prince Charles, Duchess Camilla, Sophie Wessex, Prince Edward, and Princess Anne appear next to the monarch - but not Harry and Meghan.
However, according to the MailOnline, palace sources have suggested the couple could make a starring appearance at the pageant finale alongside other senior royals, possibly even as part of a second balcony appearance.
There was some uncertainty over whether Harry and Meghan would make the trip back for the Jubilee celebrations at all with baby Lilibet and son Archie, due to their worries surrounding their security in the UK.
However, a spokesperson for the family has now confirmed that they will be involved in the much-anticipated Jubilee weekend, saying, "Prince Harry and Meghan, The Duke and Duchess of Sussex are excited and honoured to attend The Queen's Platinum Jubilee celebrations this June with their children."
There has been building tension between the Sussexes and the Royal Family since they moved to the US in 2020 - particularly between once-close brothers William and Harry.
But sources told the MailOnline that they would put their feelings to one side for the sake of the monarch.
One said, 'At the end of the day it is about celebrating the historic achievement of a truly remarkable woman. No one would want to disrespect the Queen by continuing hostilities in public,' said one.
While another added, 'Despite what has happened in recent years and what may be yet to come given that Harry's memoirs have yet to come out, family members will accept the Queen's olive branch in the spirit it was extended. The body language will be fascinating, mind you.'
Robyn is a celebrity and entertainment journalist and editor with over eight years experience in the industry. As well as contributing regular to woman&home, she also often writes for Woman, Woman's Own, Woman's Weekly and The Sun.