Prince Harry fears he's 'not safe' in the UK because of 'inherited risk' as he takes action over lack of protection
Prince Harry shared his concern for his family's safety in a statement released by his lawyers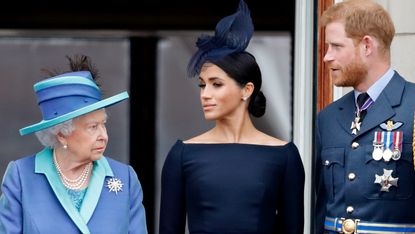 (Image credit: Photo by Max Mumby/Indigo/Getty Images)
Prince Harry has filed a claim for the Home Office to review the decision to not allow the Sussexes to pay for their own sufficient police protection while they're in the UK.
Prince Harry's legal representatives have shared a statement to say that he and his family do not feel it's safe to return to the UK without sufficient police protection.
His lawyers claim that his safety was "compromised" when he last returned to the UK to unveil Princess Diana's memorial statue, adding that Harry "inherited a security risk for life" by being born into the royal family.
This royal news comes after Prince Harry and Meghan Markle's intimate phone call with Kate Middleton was revealed.
---
Prince Harry's legal team have confirmed that the Duke of Sussex is seeking a judicial review of the Home Office's refusal to let him and Meghan Markle pay for their own sufficient police protection while they are in the UK.
While Harry and Meghan fund their own security across the pond in LA, it's been claimed that the US protection team does not have the necessary power or access to enough intelligence information to be able to fully shield the Sussex family from danger when they return to England.
Having lost the privilege of taxpayer-funded security when they stepped back from royal duties and moved to America in 2020, Harry and Meghan are now hoping to be allowed to self-fund appropriate UK police protection, so that they can return to Harry's home nation for visits.
Harry and Meghan are thought to have cleared their diaries in order to return to the UK to attend the Queen's Platinum Jubilee celebrations this summer, however the pair feel it is currently unsafe for them to return, especially with children Archie and Lilibet in tow.
Harry's plea follows reports that he was chased in his car by photographers when he last returned home to unveil Princess Diana's memorial statue at Kensington Palace with his brother, Prince William.
A statement shared on behalf of Prince Harry says, "Prince Harry inherited a security risk at birth, for life.
"He remains sixth in line to the throne, served two tours of combat duty in Afghanistan, and in recent years his family has been subjected to well-documented neo-Nazi and extremist threats.
""While his role within the institution has changed, his profile as a member of the royal family has not. Nor has the threat to him and his family," it adds.
"The duke first offered to pay personally for UK police protection for himself and his family in January of 2020 at Sandringham. That offer was dismissed. He remains willing to cover the cost of security, as not to impose on the British taxpayer.
"The UK will always be Prince Harry's home and a country he wants his wife and children to be safe in. With the lack of police protection, comes too great a personal risk.
"As is widely known, others who have left public office and have an inherent threat risk receive police protection at no cost to them. The goal for Prince Harry has been simple - to ensure the safety of himself and his family while in the UK so his children can know his home country." the announcement continues, highlighting Harry's desire for the UK to be a part of his family's life.