Meghan Markle and Prince Harry's 'diaries free' for Queen's Jubilee as they prep for big return to UK
Meghan and Harry are set to come back to the UK for the Queen's Jubilee this year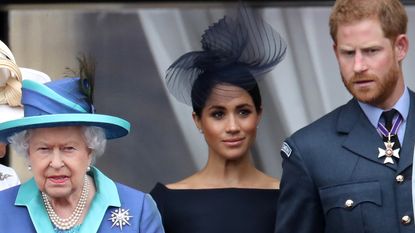 (Image credit: Photo by Chris Jackson/Getty Images)
Prince Harry and Meghan Markle are said to be keeping their diaries clear for the Queen's Jubilee weekend this year, with hopes they will be able to make their long-awaited return to the UK for the milestone event.
The Queen's Platinum Jubilee falls this year and it's set to mark Prince Harry and Meghan Markle's big visit to the UK.
Her Majesty's milestone achievement will treat the country to a four-day weekend from June 2nd to June 5th—and the Duke and Duchess of Sussex are said to have cleared their calendars for the special celebration.
This royal news comes after Prince Charles offered an olive branch to Prince Harry amid their ongoing tensions.
---
A royal expert has claimed that the Queen's grandson, Prince Harry, and Meghan Markle are planning a big visit to the UK for the monarch's Platinum Jubilee, having swapped royal life and their Frogmore Cottage home near Windsor Castle for celeb status in LA back in 2020.
Monarchy insider Neil Sean says that Harry and Meghan's "diaries are remaining free" for the big weekend, but warned that their presence could overshadow the Queen on her pivotal weekend.
"I'm sure that her gracious Majesty the Queen would have enough people helping to serve the teas and possibly clearing up at Windsor Great park, who knows," the royal commentator said on his YouTube channel.
"You can only imagine what on earth they could possibly offer. I don't mean that in a cruel way but you know it's going to be very difficult for Her Majesty the Queen and of course, His Royal Highness Prince Charles and Princess Anne," he added.
"What could they offer? That would take away a lot of focus away from the Queen," Mr Sean continued, expressing concern that Meghan and Harry could take the spotlight away from Her Majesty on one of the most important few days of her reign.
"What I'm suspecting is there will be some kind of banquet, perhaps low-key, that they possibly could get invited to. What we do know, however, is their diaries are remaining free."