Netflix's Bridgerton happened thanks to a vacation packing fail
Netflix's Bridgerton creator Shonda Rhimes found out about the books totally by accident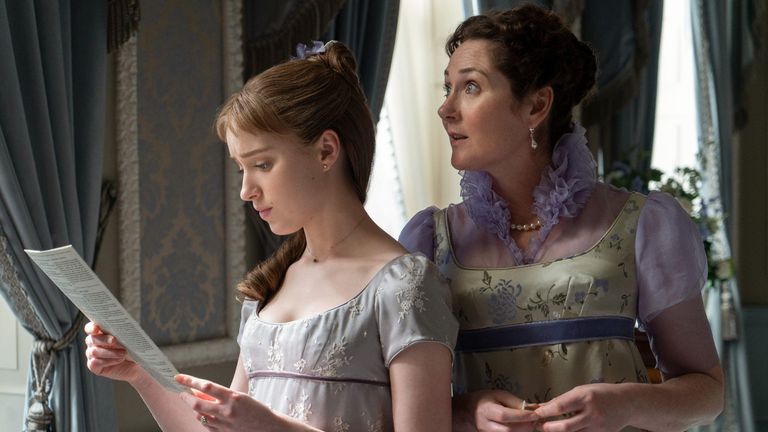 (Image credit: photo: Liam Daniel / ©Netflix / Courtesy Everett Collection/Alamy)
By Emma Dooney published
Bridgerton, Netflix's latest hit series, came to us courtesy of a deal with executive producer Shonda Rhimes, who is known for creating Grey's Anatomy, Scandal, and many other beloved TV series.
Shonda, who is one of Hollywood's most prolific creative masterminds, has been heralded for turning Julia Quinn's Brigerton romance novel series into the year's biggest TV success — and giving us all some much-needed escapism in lockdown.
What many fans don't know, though, is the story behind how Shonda found Bridgerton. Or, more like, almost didn't find it.
In an interview with Tamron Hill, Julia revealed the unlikely sequence of events that landed the Bridgerton books in the TV mogul's hands.
More from woman&home:
"The way I understand it, Shonda ran out of books to read on vacation and somehow stumbled on one of mine," Julia explained.
Yes, you read that right: the hit Netflix show all started with some poor packing. Shonda didn't anticipate she'd go through all the novels in her suitcase and, as an avid bookworm, was quick to find more reading material.
"It's crazy to think that my life is forever changed because Shonda didn't bring enough reading material on vacation, but that's honestly what happened," Julia said.
In October, Shonda revealed her excitement at the prospect of turning the books into a TV program. "I remember I was almost scaring people, like, 'We have to get these crazy romance novels. They're hot and they're sexy and they're really interesting," she told the Hollywood Reporter.
Bridgerton may be the first of Shonda's endeavors for Netflix, but it looks like the talented producer isn't leaving the streaming service anytime soon. With Bridgerton's second season confirmed to go ahead, the sky's the limit for the trailblazing producer.
As for Julia, she never expected her books to play out on the small screen. She was floored by the news of Shonda's interest, which was delivered to her while she was having coffee in Starbucks. "I practically fell off the stool cause nobody was adapting romance novels," she said.
Julia was even invited to give her insight during the show's filming, reading over scripts, and visiting the sets. The author-turned-consultant said the experience has been "amazing" and strongly praised Shonda's adaptation of the novels. And her favorite moment so far? The news that Julie Andrews was cast to voice Lady Whistledown.
"I started hyperventilating," she revealed to Entertainment Weekly. "I stopped breathing basically. I wasn't breathing for so long I legitimately should have died."
We'd always known there were perks to packing light, but we've never been so sold.
Emma is a news writer for woman&home and My Imperfect Life. She covers the Royal Family and the entertainment world, as well as the occasional health or lifestyle story. When she's not reporting on the British monarchy and A-list celebs, you can find her whipping up vegan treats and running the roads to cheesy '90s pop music...but not at the same time, obviously.