Jeopardy! hosts Mayim Bialik and Ken Jennings have only met in person once, here is why...
Mayim Bialik and Ken Jennings, who will continue sharing co-hosting duties on Jeopardy! moving forward, have only seen each other in the flesh once before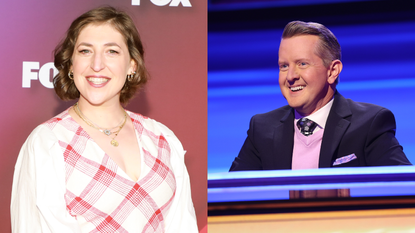 (Image credit: Jason Mendez / Stringer and Raymond Liu / Contributor)
While discussing the latest developments in Jeopardy!'s hosting saga, Mayim Bialik revealed that she has actually only met her co-host Ken Jennings once since taking turns leading the show back in September.
The actor and neurologist spoke about the recent announcement confirming that Jeopardy! hosts Mayim Bialik and Ken Jennings will continue sharing the coveted role during an interview on the Life is Short with Justin Long podcast.
Specifically, Justin asked Mayim how her and Ken get along, at which point the co-host simply answered, "We've met once." The reason why? COVID-19, of course.
The 46-year-old game show host explained that the show's producers "are very strict about who's there. When he's there, he's there. When I'm there, I'm there."
The two personalities did meet in person once, though, when, she said, "they dedicated the stage" to Alex Trebek, the show's long-lasting host who passed from pancreatic cancer in 2020.
Funnily enough, back then, the two had yet to lock in their current jobs on the production as, at the time, producer Mike Richards was tapped as the new host. Mayim was to lead a few primetime specials and potential spinoffs while Ken was a consulting producer. That all changed when Mike came under fire for past sexist remarks and eventually stepped down as Jeopardy! host.
Given the guidelines that dominate all industries at the moment, Mayim's revelations aren't that surprising. While on the podcast, the star did, however, acknowledge her excitement connected to recent developments. She also said, "I look forward to getting to [spend] more time with [Ken]. He's obviously a legend and an icon and incredibly significant in the history of Jeopardy!"
Following the announcement of the permanent co-hosting duties, the Internet was abuzz with folks commenting on the happening. Some argued that, to keep up with its legacy, producers should select a single host, while others celebrated the decision as pleasantly progressive. Others yet offered new scenarios in which neither one of the picks was selected as host and, instead, entirely new personalities would take control of the coveted stage.
Whatever the case may be, we have one hope: that we will soon be treated to a Jeopardy! episode hosted by both hosts simultaneously. One can dream, right?
Anna Rahmanan is a New York-based writer and editor who covers culture, entertainment, food, fashion and travel news. Anna's words have appeared on Time Out New York, the Huffington Post, Fortune, Forbes, Us Weekly, Bon Appetit and Brooklyn Magazine, among other outlets.