New Jeopardy! host Mike Richards comes under fire for past sexist remarks
Episodes from Mike Richard's old podcast have surfaced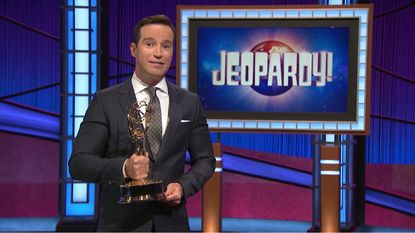 (Image credit: Daytime Emmy Awards 2021 via Getty Images)
Newly appointed Jeopardy! host Mike Richards has issued an apology after past offensive comments about women and body weight were unearthed.
After Richards and Mayim Bialik were announced as new Jeopardy co-hosts, The Ringer, (opens in new tab) has since discovered controversial comments made by Richards about women and their bodies.
On his old podcast, The Randumb Show, Richards made remarks that have been labelled misogynist, anti-Semitic, and fatphobic.
The podcast episodes with "vulgar" comments have since been deleted by Richards.
Launched in 2013, Richards co-hosted the podcast with his former assistant Beth Triffon and producer Jen Bisgrove. The podcast was described as a deeper look into The Price is Right and Let's Make a Deal (both of which Richards was an executive producer for at the time).
The Ringer went through all 41 episodes of the show and discovered some disturbing commentary from the host, especially about women's bodies.
In one episode from September 14, 2014, the hosts were discussing the iCloud photo hack of various female celebrities. At one point, Richards asked his co-host if she'd ever taken any nude photos before.
"When his co-host said that she had sometimes taken photos of herself when she thought she looked cute, Richards responded, 'Like booby pictures? What are we looking at?'" reported The Ringer. "Later, he asked to go through her phone; when she declined to share an image with him, he asked whether it was 'of (her) boobies.'"
A later episode also catches the new host of Jeopardy! describing women who wear one-piece bathing suits as "frumpy and overweight" looking.
In another 2014 episode, he made comments about Haitian and Jewish women who work booths at conventions (including his podcast co-host who had done so in the past). He referred to her as a "booth ho," a "booth slut," and a "boothstitute."
Richards has since issued an apology regarding his derogatory remarks in an official statement.
"Even with the passage of time, it's more than clear that my attempts to be funny and provocative were not acceptable, and I have removed the episodes," he said in a statement. "My responsibilities today as a father, husband, and a public personality who speaks to many people through my role on television means I have substantial and serious obligations as a role model, and I intend to live up to them."
Sony has yet to comment on The Ringer story, but the media outlet has claimed that a source from Sony told them that the studio was unaware of the podcast's existence until they were asked for a comment.
This isn't the first time Richards has been under fire for past offensive behavior. During his time working as an executive producer on The Price is Right and Let's Make a Deal, multiple lawsuits pertaining to the mistreatment of female employees were filed to the Price is Right. Richards was named a defendant for one suit, but the court eventually dismissed him as a defendant and a month later the case was settled.
When the Jeopardy! creators were still determining who would replace Alex Trebek as a permanent host, Richards knew he was being considered. He issued a statement to employees on the show regarding the past lawsuits explaining that "these comments [do] not reflect the reality of who I am or how we worked together," which has since been shared on Twitter.
Mike Richards sent the following statement to the Jeopardy! staff today: pic.twitter.com/hDTmXCFThPAugust 9, 2021
See more
Rylee is a U.S. news writer who previously worked for woman&home and My Imperfect Life covering lifestyle, celebrity, and fashion news. Before joining woman&home and My Imperfect Life, Rylee studied journalism at Hofstra University where she explored her interests in world politics and magazine writing. From there, she dabbled in freelance writing covering fashion and beauty e-commerce for outlets such as the TODAY show, American Spa Magazine, First for Women, and Woman's World.