Energy crisis—why it's happening and how you can save money this winter
The energy crisis—as we slip into the harsher winter months, experts explain how to ensure you're not hit too hard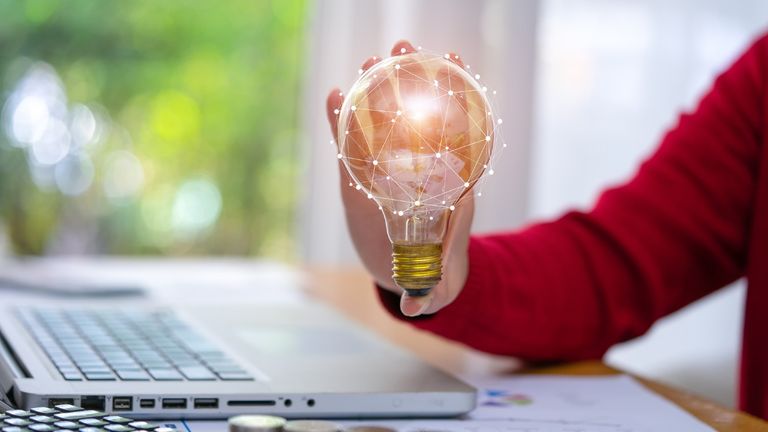 (Image credit: manusapon kasosod/Getty Images)
The energy crisis and concerns surrounding how the UK will cope, during the winter months, are certainly worth worrying about. In light of recent reports regarding the crisis, woman&home reached out to experts to find out why the crisis is happening and how to avoid getting hit with massive bills.
It might feel like we're still clinging onto those summer days, but as the autumn equinox has just passed, from today onwards days are officially getting shorter.
Recent reports pertaining to energy shortages and price increases have left many people living in the UK very concerned and, according to the experts, their concerns aren't unwarranted.
PM Boris Johnson has admitted that the current energy crisis could last for months. Owing to the UK's energy regulator Ofgem increasing the Energy Price Cap, millions of households were already bracing themselves for a massive hike in energy bills from October 1, 2021.
However, owing to, "an almost perfect storm of events," prices could potentially soar higher than expected, says Alex Troth, Commercial Director at Seaglass Cloud Technology.
---
Why is there an energy crisis?
Alex explains that after a surge in demands for natural gas, the UK is struggling to keep up. This has added to what he calls the 'perfect storm' contributing to the energy crisis.
"There has been a shortage of gas across Europe, and the UK has less gas storage capacity than in previous years, " he says.
He's not wrong, as the Guardian reports that gas prices in the UK have, "more than quadrupled over the last year to highs of 180 pence per therm, from around 40p/th this time last year. In the last month alone, prices have climbed by 70%."
The gas situation isn't our only issue, adds Alex.
"Wind generation has been low; high interconnector capacity costs after Brexit and price decoupling from the larger European pool that could act as a price stabilizer; and some generators sitting out the wholesale market to get higher prices in the balancing mechanism."
As if these problems weren't compound enough, a recent blaze at a key cross-Channel interconnector in Kent has heaped extra pressure on wholesale power prices.
"If you then consider the fire at the French interconnector last week – that will be offline for a week and at half capacity for 6 months—we can expect a volatile winter, especially if it is cold."
Why are UK energy companies failing?
"Four suppliers have exited the market in the last week, which means we expect the UK consumers under their remit will be allocated back to a larger supplier," says Alex.
Ofgem commits to protecting those who're affected by their suppliers going bust, assuring customers they'll assign them to a different company. Alex says this also has its own issues.
"Two sets of customers have already been assigned to British Gas, and it is likely that other suppliers will fail. Additionally, Ofgem's price cap is stopping suppliers from increasing their prices above a certain level, which means they may have to sell power at a loss."
He adds, "Ultimately, this means that there will be fewer suppliers in the market and fewer new entrants, which will lead to less competition in the market and a potential return to the domination of larger suppliers."
The price cap, which exists to stop consumers being burdened with unmanageable bills, means that consumers will not see their price go above the price cap.
Alex says, "However, due to expected supplier losses under this price cap, we would expect to see more suppliers fail. This would result in less competition and innovation across the market, which means that there will likely be fewer opportunities for future savings to be made."
How to avoid high bills during the energy crisis
"It's a worrying time for many, especially as we head into the colder months of the year," says Mark Abrams, from money and bills website www.askbill.org.uk .
"And whilst we all know that we can help to reduce bills by wearing an extra layer and turning off lightbulbs, there are other lesser-known ways to help bring down costs this autumn."
Woman&home reached out to Mark, seeking advice on managing bills in the tough months ahead.
"A few tips to reduce bills include fitting a thermostat," he says. "It could save in the region of £70 a year according to the Energy Savings Trust. By turning down the thermostat by 1 degree, you could save 10% on your heating bill, up to £80 a year."
Our homes consume so much energy that it's easy to lose track of what could be costing you extra money.
"Unplug electronic devices when not in use, this could even include microwaves and ovens which have electronic clocks," says Mark.
"By moving furniture away from your radiator, you can help the heat circulate more effectively. Regularly bleeding radiators too is a great way save you tears as it releases any trapped air and increases the heat they create and shop around on money advice and price comparison websites."
As with many issues in life, preparation is key and Mark says that if you're feeling stressed about the impact increased bills might have—you should chat to your new supplier.
"For those who are worried about their bills," he says. "They should speak to their new supplier as soon as possible to ask for help in managing payments and ask about the support available."
Aoife is Junior News Editor at woman&home.
She's an Irish journalist and writer with over 1500 bylines and a background in creative writing, comedy and TV production.
Formerly Aoife was a contributing writer at Bustle and her words can be found in the Metro, Huffpost, Delicious, Imperica, EVOKE and her poetry features in the soon-to-be-published Queer Life, Queer Love anthology.
Outside of work you might bump into her at a garden center, charity shop, hot yoga studio, lifting heavy weights or (most likely) supping/eating some sort of delicious drink/meal.