Eamonn Holmes reveals surprising secrets about his marriage to Ruth Langsford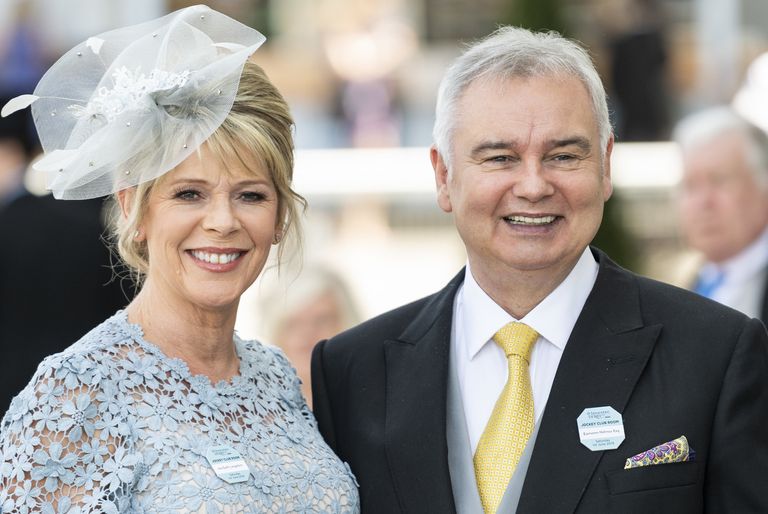 (Image credit: UK Press via Getty Images)
This Morning star Eamonn Holmes has spoken candidly about his relationship with wife Ruth Langsford.
The TV presenter, 59, opened up about the pair's marriage in a recent podcast, revealing Ruth can be "difficult" at times. He said, "She calls me her poet, I wouldn't hold back on how much I would tell her I love her. She's a very difficult person to live with because she's illogical with a lot of things."
Eamonn then recalled a row they had over his driving, saying, "She is a complete panic merchant, I can't panic people, although I love and adore her, she's like a racehorse. You don't know if you go up to it whether it will kick you, or bite the sugar lump out of your hand. You have no idea of what it will happen – it's the adventure."
He also discussed his marriage proposal, which saw him pop the question while the pair were enjoying a day at Cheltenham races.
The This Morning host admitted he got jealous by the other men in their box talking to Ruth.
MORE: Holly Willoughby heaps praise on her glamorous mum as they enjoy beach break
Speaking on the White Wine Question Time podcast with Kate Thornton, he said, "I was in this box at Cheltenham, and basically say there are 12 people in this box, well 11 are men, and they are all talking, all guys of a certain age, all in their 50s I would have thought, all very confident and all very well fueled with alcohol, and they are all around my wife – who's not my wife at this point.
"She's loving it, and I thought 'why isn't she my wife?' I just suddenly thought 'why have I not got that tied up, this suddenly really annoys me.'"
Eamonn went on, "The thing about me, is that I would say that I love Ruth far more than she loves me, but she would say, 'how do you know how a person feels?'
"She's more English, she's not like me, I am from a very emotional, very sentimental family, she's more stiff upper lip, she comes from an army family, but I totally believe that she loves me and adores me, but I would still think that I love her and adore her more. So anyway, I went outside, and started six pages of text to her, telling her how much I love and adore her."
However, Ruth didn't read the text message until they were well on their way home.
Eamonn continued, "She finally read it and looks at this phone, and I can see this tear coming down her eye, and she texted me back saying 'yes'".
The TV partners wed in June 2010in the 19th century grand Hampshire hotel The Elvetham. They have one son, 17-year-old Jack, together.