Margaret Thatcher's "humanity" not captured in The Crown claims biographer
The Crown Season 4 saw Gillian Anderson play this key role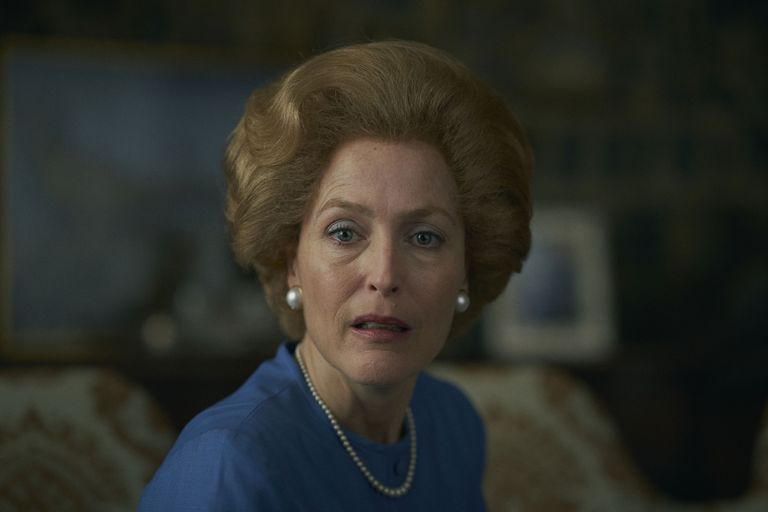 (Image credit: Des Willie/Netflix)
Margaret Thatcher may be one of the most divisive British political figures to this day. But that hasn't stopped many fans of The Crown being fascinated by new cast member Gillian Anderson's portrayal of the woman dubbed the "Iron Lady". Anderson stepped into the role in The Crown Season 4 which covered the years 1977-1990. 
Now even Margaret Thatcher's biographer Charles Moore has praised Anderson's ability to portray the late Prime Minister's "incredible determination". However he is less impressed with the way he feels The Crown fails to capture Margaret Thatcher's "humanity". 
Moore has also spoken out about the way the hit Neftlix drama's scenes showing her first trip to Balmoral are "factually all wrong".
What has Margaret Thatcher's biographer said about The Crown?
Speaking on Chopper's Politics podcast for The Telegraph, Charles Moore gave his opinion on The Crown's depiction of Margaret Thatcher and how Gillian Anderson brought her to life on screen. He reportedly stated: "I think it's very good on one thing and not very good on the rest". 
According to Charles Moore, Gillian Anderson, perhaps best known for The X Files, brilliantly captured the "incredible determination" of Margaret Thatcher.
He explained that Margaret Thatcher was: "the woman coming from nowhere as it were" who entered "this world of power and how difficult that was for her, and how determined she was, working her way through it".
"That's well done," he added.
What wasn't quite right about The Crown's depiction of Margaret Thatcher?
As Margaret Thatcher's biographer, Charles Moore is certainly in a position to recount his perception of the former Prime Minister. And when it comes to The Crown Season 4, there are several aspects that Moore isn't as convinced about.
"What [The Crown] doesn't have is any of the humanity of Margaret Thatcher, which was a big thing for those who worked with her," the author revealed. 
He later explained in more detail what he felt was missing suggesting that: "it doesn't explain that her passion was a direct communication with people who felt excluded by what had gone on in the 1970s".
Moore suggests these people were "ordinary trade union members who were being pushed around by trade union leaders". 
Speaking of the broader political account of the year in the show, he claimed it is "just rubbish".
What else did The Crown Season 4 get wrong about Margaret Thatcher?
That's not all as the biographer also delved into a particularly iconic scene shown in The Crown Season 4. The show shows Margaret Thatcher and her husband Denis' first visit to the monarch's Scottish home, Balmoral, in August 1979.
The show depicts Denis warning of "secret tests" that new guests can expect on a visit. Upon the couple's arrival, a series of social errors then unfold. This includes Margaret Thatcher arriving to go stalking in a bright blue skirt, blazer and dress shoes before the Queen, played by Oscar-winner Olivia Coleman, suggests she head back and change.
This scene in particular, Moore claims, is "factually wrong". He confirmed: "She certainly would not have gone stalking in a bright blue dress". And when it comes to the Queen's reaction to the Prime Minister, Moore added that "the idea the Queen would be rude to Margaret Thatcher is not believable".
Many viewers continue to question how much of what appears in The Crown is fact and what is fiction.
However, it seems clear that regardless of this debate, viewers around the world are still as intrigued as ever by the royal family's history.
The Crown Season 4 is available on Netflix.
Emma is Senior Lifestyle Writer for Goodto.com, womanandhome.com and Myimperfectlife.com and she loves sharing the latest lifestyle, royal, celebrity and entertainment news. Before joining Future, previously TI Media, Emma was a Freelance Editor and before that a Publisher for an independent digital publisher. When she's not writing about the next big lifestyle trend, she enjoys cooking, long walks and watching as many crime dramas as she can!