The best Christmas gifts for Mom – considerate and exquisite present ideas that will prompt squeals of joy!
Christmas gifts for Mom that will show her how much she means to you...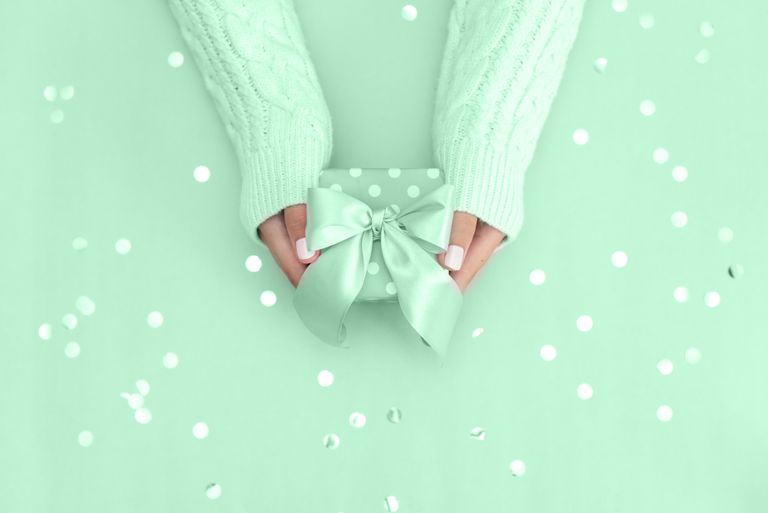 (Image credit: Getty)
Christmas gives us all a chance to say a big thank you to the most important woman in our lives - our moms. Take your time to mull through our ideas for Christmas gifts for Mom, there's certain to be something here to catch your eye that will also delight your mother.
What makes a thoughtful gift for mom?
A gift that mom knows has been chosen with her very much in mind is especially precious. If she tells you she doesn't need anything, consider upgrading something she already owns and uses a lot.
Luxurious fabrics like cashmere and pure wool can lift even the simplest gift, from scarves to gloves. If you know she has a favourite designer, check out their collections. A purse or bag in a familiar print combines style with utility.
Like to see your mom kick back and relax once in a while? Reading a book ticks all the boxes, so pick a great novel or autobiography that'll capture her interest.
If she's keen on keeping fit and healthy she'll appreciate handy gadgets to boost her exercise regime.
And you'll never go wrong with fabulous beauty gifts like a deliciously rich body cream, bath foam or dreamy scented candles.
Whatever her interests you're bound to find great Christmas gifts for Mom in our expansive list of ideas below...
Don't forget to check our woman&home vouchers site before you shop for the latest offers and discounts from your favourite brands - think, Robert Dyas, Next, Marks & Spencer, Boots, Hobbs and more.
Fashion gifts
Marks & Spencers Cashmere scarf
RRP £69
The ultimate cosy hero buy is cashmere. The soft fabric is ideal for the unpredictable Great British weather when it's all about wrapping up warm. This M&S scarf is an update on a classic in chic leopard print which will instantly transform any winter coat. It's not just any scarf, it's an M&S pure cashmere scarf.
Toast Fair isle mittens
RRP £35
Who doesn't love a cosy pair of mittens? This printed pair from Toast is made from 100% lambswool knitted in Scotland from Yorkshire-spun wool, so it's a true British product to be proud of. The wool design will also keep fingers warm in the winter while the fair isle print will brighten up outerwear in an instant.
Catherine Tough Hot water bottle and sock set
RRP £64.80
Treat mums to the care package of dreams with this hottie and sock set. The matchy-matchy print will make sure you always remember to use them both. Both the cover and the socks are made from a premium lambswool mix so they'll make sure winter nights are as cosy as possible.
Wool & the Gang blanket knitting kit
RRP £58
For the knitting beginners, this rainbow blanket is the place to start. Using the 'easy-peasy' garter stitch, the bold colours will create the rainbow blanket which will brighten up any space. The cotton you get in the pack in Shiny Happy Cotton made from hand-picked Pima cotton from Peru – apparently this one will take 20 hours to make. Let us know how you get on!
William Morris x August Berg watch
RRP £219
Fresh from the brand new collaboration between British Heritage art and design brand William Morris and Scandi watch label August Berg, this watch is one of our favourites. The luxurious blend of rose gold with the teal strap is what makes this timepiece one everyone will keep forever. Note: it also comes in different colours.
Cath Kidston zip wallet
RRP £35/ $56
Keep cash safe in style with this handy wallet by Cath Kidston. It's small enough to fit in most handbags but big enough to store lots of cards, coins and family photos in the clever compartments. We love how the elegant navy and cream spots will make a statement when you go to pay at the checkout.
Tory Burch Cosmetic case
RRP £95
A designer gift is kept for the most special people. Treat mums to a hint of Tory Burch with this stunning printed cosmetics bag. The logo style will also work as a travel bag for small toiletries and could even be turned into the most chic pencil case of all times. They will thank you for this one.
Rose quartz protect necklace
RRP £65/ $83
Wow this necklace is a piece to treasure forever. Named the 'protect necklace' it's made from rose quartz which brings comfort, serenity and restores calm to its owner.Perfect for turbulent times. The pendant style, with beaded chain, is a thoughtful gift which every mum would be overjoyed to receive. The necklace is also delivered in a beautiful white gift box so you won't even have to wrap it.
Homeware gifts
Emma Bridgewater X Russell Hobbs Toast & Marmalade kettle
RRP £79.99
Fans of the iconic Emma Bridewater painterly patterns will love the Russell Hobbs' collaboration that sees the favourite Toast & Marmalade range expanded to include a kettle and toaster. Treat your mum to a super stylish brew every morning with this sleek kettle. Why not buy her a matching set of mugs too?
Zigzag 22l backpack in chalk botanica
RRP £40/ $45
Practical mums will love this chic backpack that manages to be both stylish and useful. If she's into hiking or just likes to carry the world on her shoulders, literally, then this is the bag for her. Ditch the handbag hunt and opt for this stand-out design instead.
Neom wellbeing pod essential oil diffuser
RRP £90/ $100
Help your mom to unwind and relax during the hectic holiday season with this luxury diffuser and humidifier that infuses the air around you with heavenly scent. Pick out her favourite essential oil blends to encourage her to have better sleep, less stress or an energising mood boost.
Limited edition set of three scented candles
RRP $120
Celebrate Christmas in style with this trio of seasonal scented candles in moonlit fir, floral majesty and amber feather. The eye-catching designs include a majestic lion, serene swan and swift stag created by artist Ugo Gattoni. This is the kind of gift she only dreams about getting, so make those wishes a reality.
Beauty gifts
Scamp & Dude Make-up Bag
RRP £25
Everyone needs something stylish to keep their make-up essentials safe. This fun pouch will look chic all year round thanks to the always classic leopard print pattern. The perfect size to pop in her handbag and she'll never mislay her vital beauty bits again. Plus proceeds go towards helping sick children.
Soapsmith Bath Soak
RRP £25
A pampering treatment in a tub, this luxurious dead sea salt, coconut milk powder and essential oils combo will elevate bath-time to spa-like levels. Heavenly scented, her skin will be left as smooth as silk and delicately fragranced too.
La Librairie Skin Rose
RRP £12 for 30ml eau de toilette
Fans of rose fragrances will love this distinctive blend of pear, rose, amber and jasmine. The pretty packaging looks dressing-table worthy, but the affordable price won't break the bank.
Bloom & Blossom All Night Long Calming Sleep Spray
RRP £15
Give the gift of a great night's sleep with this gorgeous, calming blend of frankincense, rose flower water and linden blossom designed to help relax the body and mind. A few spritzes before bed on her pillow will take your mom to a night of uninterrupted slumber in no time.
Charlotte Tilbury Super Lipstick Matte Revolution in Super You
RRP $34
Every woman needs a chic lipstick in their handbag and this suits-all-shade in a beautiful bejewelled case is a fail-safe gift she wear again and again. The matte texture is modern and long-lasting too.
L'Occitane Verbena Mandarin Body Cream
RRP $39
A perfect way to revive dry winter skin. This nourishing blend of mandarin, smoky atlaswood and citrus verbena combine to create a warm, cosy fragrance that will envelope the skin and leave her feeling smooth and supple.
Jo Malone Fig & Lotus Flower Cologne
RRP $72.00
Treat your Mom to something special - she deserves it after all. This light floral fragrance combines notes of neroli for an uplifting scent that will have her dreaming of summer.
Chanel Les Chaînes D'Or de Chanel Illuminating Blush Powder
RRP $70
Score high with a little box from Chanel this Christmas. This beautiful powder highlighter is so pretty, it's almost too nice to use...but not quite! It gives skin a warm, luminous glow with a bronzy-rose shimmer.
Book gifts
Songteller by Dolly Parton and Robert K. Oermann
RRP £35/$39.86
This gorgeous book is a celebration of the much-loved country singer's life, told through 175 of her best-loved songs. With stunning images of never-seen before memorabilia and photographs to accompany her song lyrics, we discover more and more about her life - and what an inspirational life it is! For any Dolly or country music fan, this is a special gift acknowledging a very spectacular lady.
I Wish It Could be Christmas Everyday by Milly Johnson
RRP £8.99, $11.62
It's always an exciting moment when a new Milly Johnson novel arrives - and a festive one at that! And here we find ourselves in a small hamlet on the Yorkshire Moors. Forced to shelter from the snow, six people find themselves staying at the local pub where the magic of Christmas looks set to take hold. Will Jack finally recognise Mary for more than just her PA skills? Could being holed up together remind Bridge and Luke why they fell in love in the first place, and will Charlie and Robin get more than they bargained for at the Inn. Guaranteed to put you in the Christmas mood.
Home Stretch by Graham Norton
RRP £20, $25.79
Reasons to buy
+Empty List
Reasons to avoid
-Empty List
Graham Norton has done it again with his latest story of loss, acceptance and hope. This warm and engaging novel, set in 1987 focuses on a small Irish community - one in which two young people are about to get married. Only there's a crash the night before the wedding, and three out of the six young people die. Conor, the driver of the car, survives, but the shame of what he has done stays with him. Facing the fallout from the accident he moves away to Liverpool, then London before settling in New York. But of course, the past will always catch up with you, as we discover in this wonderful book that captures the charm of the Irish people. His best yet!
Health & wellness gifts
YourZooki Liposomal Marine Collagen
RRP £99
A 10-week pre-paid subscription of delicious citrus flavoured Liposomal Marine Collagen Zooki. What's so great about collagen? Not only does it give our skin, hair and nails a boost, but it can help prevent ageing too. These sachets contain an impressive 5000mg of hydrolysed Marine Collagen to help with skin and muscle rejuvenation. Just what mum needs after a busy year!
Aromatherapy Associates Inner Strength Candle
RRP £48
Give the gift of calm this Christmas with Aromatherapy Associates. This soothing and gentle frankincense and cardamom scent will promote peace of mind and add ambiance to any room. Your mum can unwind after a long day with 40 hours of burn time, perfect for those cold winter nights.
321 Strong 5 in 1 Foam Roller Set
RRP $42.99
Whether your mum is a fitness fanatic or suffers with aches and pains, this is the ultimate self-care package. With everything you need to stretch, massage and recover from exercise and soothe sore muscles, it will help improve range of motion, flexibility and performance.
Headspace Subscription
RRP $69.99 (paid annually)
For those in need of a daily dose of Zen, the science-backed Headspace app has made mindfulness accessible for all. The gift of an annual subscription offers all the benefits of Headspace's free basics pack and other bite-sized minis, but unlocks hundreds of extra meditations that can sort everything from stress to sleep.
Fitbit Inspire 2
RRP £89.99
Fitbit is known for their easy-to-use fitness watches that can help you reach your health goals. Tracking steps, clocking calorie burn, or understanding sleep is all possible with a glance to the wrist. The slimline Fitbit Inspire 2 is a great present for a newbie to fitness trackers. This updated model has plenty of new nifty features including 24/7 heart rate monitoring, Active Zone Minutes that allows you to see overall cardio fitness, and water-resistance of up to 50m. Includes free 1-year subscription to Fitbit premium giving access to a range of instructor-led activities.
Bala Bangles 1lb Weights
RRP $89.99
Strap these stylish, comfortable, wearable weights on to the wrists or ankles and benefit from the muscles working harder during exercise. More versatile than dumbbells, you can use the bangles when walking, running, during yoga, pilates, and regular cardio sessions – or even when folding laundry – to add extra effort to your activity. Available in a selection of sweet shades.
Sculpt hard-to-target areas like the inner thigh, lower butt and underarm with this nifty ball which uses an inflated ball and attached elastic band to deeply activate and tone. It's been designed to an exact diameter to fit between the thighs for optimal muscle activation. The ball comes with an adjustable elastic strap which fits around the thighs, with the ball fitting between the inner upper thighs.