Beloved poet Amanda Gorman reveals she was racially profiled outside of her home
Amanda Gorman reveals that she was racially profiled outside of her own home for looking "suspicious"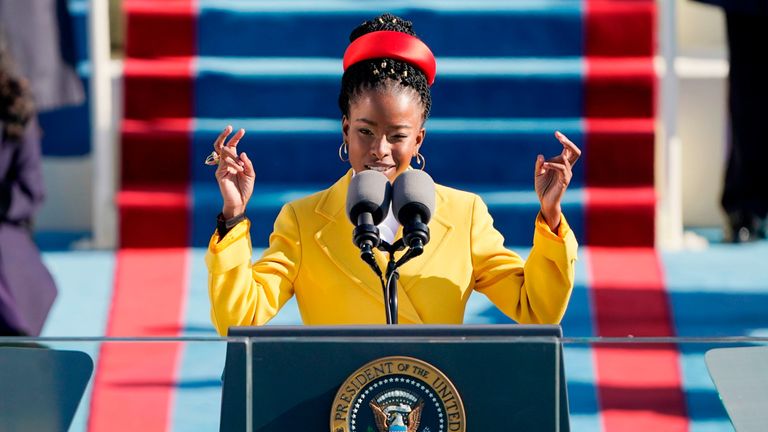 (Image credit: PATRICK SEMANSKY / Getty Images)
Amanda Gorman, the acclaimed poet who performed at the presidential inauguration, has revealed that she was the victim of racial profiling after she was tailed on her walk home by a security guard.
The poet revealed on Twitter that she was the victim of racial profiling after she was told that she looked "suspicious" by a security guard who stopped her. 
Amanda said on Twitter, "A security guard tailed me on my walk home tonight. He demanded if I lived there because "you look suspicious." I showed my keys & buzzed myself into my building. He left, no apology. This is the reality of black girls: One day you're called an icon, the next day, a threat."
Read more from woman&home:  
• Best pillow for a comfortable, pain-free night's sleep
• Best scented candles for a warm and cozy home this winter
• Best kindles for digital book lovers - we help you decide which one to buy
Fans have been shocked by this incident, and many took to Twitter to support the young poet. One fan said, "No one should walk in fear or suspicion, including the youngest poet laureate…" 
Another commented, "The security guard was clearly a racist asshole, regardless if you know who Amanda Gorman is or not, it doesn't give anyone the right to be a racist jerk.  Even though progress is being made in America, we still got lots of work to do."
Amanda attached this tweet to an article written by Nneka McGuire that spoke about the US being a 'contradictory' society. The writer said that the US simultaneously celebrated Amanda Gorman while also continuing to oppress black people.
Amanda tweeted about the article, "Wow, a fantastic @washingtonpost piece by @nnekamcguire. We live in a contradictory society that can celebrate a black girl poet & also pepper spray a 9 yr old. Yes, see me, but also see all other black girls who've been made invisible. I can not will not, rise alone."
The National Youth Poet Laureate continued to use her platform to talk about her experience and speak about inequality and racism in the US. Amanda said on Twitter, "In a sense, he was right. I AM A THREAT: a threat to injustice, to inequality, to ignorance. Anyone who speaks the truth and walks with hope is an obvious and fatal danger to the powers that be."
She then concluded the conversation by tweeting, "I am so thankful for the outpouring of support since the incident last night. It won't change the truth of what happened and continues to happen to Black Americans, but it reassures me of what I already know: There is always far more good in this world than bad. Love, Amanda"