Over 20,000 pet owners rave about this ingenious mini camera—and you can now snatch it up for under $120
Thanks to Amazon Prime Day, you can save $51 on the Furbo Dog Camera, which is regularly priced at $169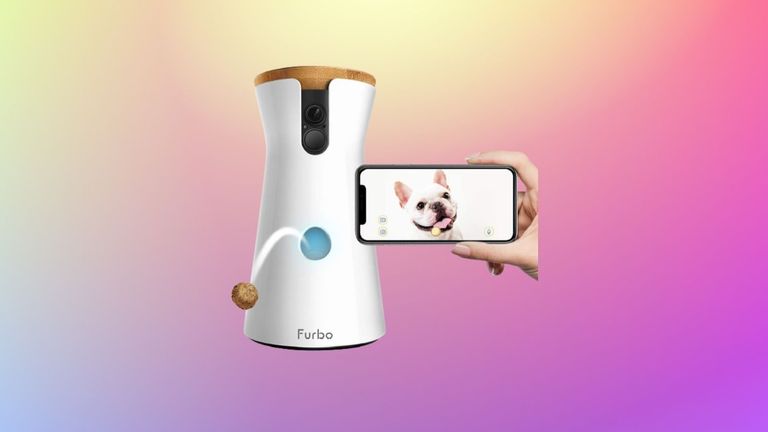 (Image credit: Future)
Calling all dog moms and furry-friend lovers—it's the perfect time to snag the Furbo Dog Camera, as it's discounted for Amazon Prime Day. After all, who doesn't want to stalk their dog?
Not all Prime Day deals are created equally. Sure, there are plenty of Amazon Prime Day tips to ensure you don't get duped (along with the very best GHD sales and Prime Day beauty deals worth every penny). 
That being said, we'd still argue that many within the vast selection can be downright gimmicky, bogus, or simply too good to be true.
The same, however, cannot be said for the fan-favorite Furbo Dog Camera, which goes the extra mile in terms of design, performance, smart features, and ease of use. Right now, you can scoop up this handy gadget for $118 and save 30% (or $51) along the way. 
But how does this deal triumph against the rest in its league, you ask? Well, for starters, it's Amazon's #1 best-seller in the Pet Cameras & Monitors category. What's more, this is the best price we've seen on the camera since January 2021. Needless to say, it's a bargain you don't want to gloss over.
---
The assembly process is simple and straightforward: First, plug the camera into a power outlet with its USB cord. Then, download the Furbo app and connect to your home Wifi. And that's it, seriously. No "but wait, there's more" moment. It's that easy.
Every camera comes with a 30-day free trial for Furbo Dog Nanny, a premium monitoring service that alerts owners to potential hazards and risks in real-time. After the free trial, this feature costs $0.99 for three months, followed by $6.99 per month, or $69 per year.  
Not surprisingly, the Furbo Dog Camera boasts a loyal fanbase of shoppers that's ever-growing and ever-obsessed with their canine pals (and we're proud to be part of it!). "As the owner of a new puppy, I couldn't imagine how anxious I would be able to leave the puppy for the day. 
"We have a dog walker coming in, but after a first bad experience (she pooped all over her crate because of nerves, I had to leave work early). I was in tears and thought that this just wasn't going to work out," shared one reviewer on Amazon. 
For this reviewer, the Furbo Dog Camera became a tried-and-true game-changer:
"Best. Purchase. Ever. It works like a dream. I was worried that it might not pick up because our wi-fi isn't the strongest or the fastest, no problem. The app (mine is on an iPhone) is very easy to use. The quality of the image, both regular and night vision, is excellent. It is such a huge relief to see her whine for just a few minutes and then settle into sleep for hours. I even talked to the dog walker through the camera when he arrived. The barking messages are great and Ginger Snap understands when those treats are going to fire. Customer service has been tremendous and the Facebook group is fun too."
Other reviewers on Amazon share similar sentiments, with a great appreciation for the camera's portability and ability to work in multiple rooms. 
"One of the things I like about this product that I did not see mentioned in other reviews is that it is very easy to move around the house after you do the first setup to connect to wifi using the app," effused one shopper. 
"I regularly move this camera around to different outlets to get various views of my dogs during the day and it has no problems reconnecting to the network provided I am within a reasonable range of the wifi signal the device is on."
If you're still on the fence about this camera, hop over and enjoy better days ahead.
Dominique (Dom) is a very online shopping writer at Woman & Home, where she covers products, sales/deals, and market news across categories. Before joining the team, she penned stories as an editorial fellow at Insider Reviews, the affiliate commerce team at Insider Inc./Business Insider. The bespectacled NJ transplant specializes in commerce journalism, women's lifestyle content, and hoarding makeup—much to her mother's dismay. 
Her foray into storytelling began in the early aughts, the era in which she developed a passion for fiction writing and an aversion to math. This passion, along with many failed math exams, led her to Marist College, where she studied public relations, creative advertising, and English. 
Aside from writing, she doodles in notebooks, crafts memes, and sleuths for homes out of her tax bracket on Zillow. Follow her adventures via the web:
Instagram: @dominiquemcintee / @drugstoredomi
LinkedIn: https://www.linkedin.com/in/dominique-mcintee-3a32ab9a/ 
To connect: dominique.mcintee@futurenet.com