How to clean a microwave quickly and easily—four simple steps
Mastering microwave maintenance is easy-peasy with our expert guide on how to clean a microwave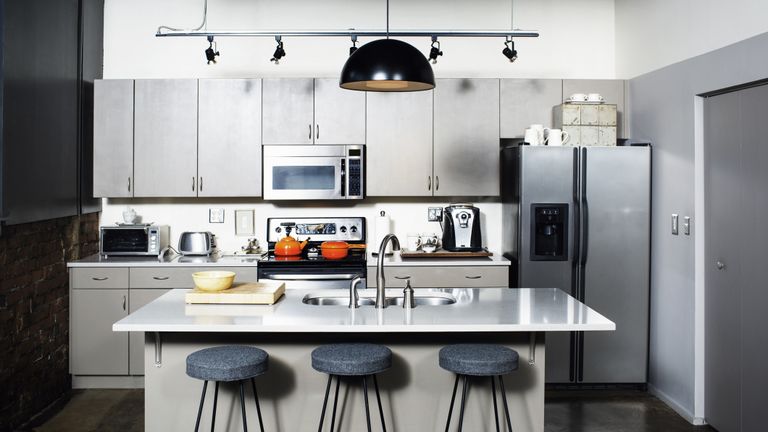 (Image credit: Getty Images)
It's the kitchen staple that makes meals that little bit easier to sort - but how much care and attention do you really give your microwave? Here's the low-down on how to clean a microwave properly to ensure it's as hygienic as possible for your use.
Giving your microwave a regular clean might not be the most obvious of tasks on your kitchen cleaning to-do list - after all, how much more than a quick swipe over the buttons and door can it need. Well - left uncleaned, your microwave can actually have the potential to harbor harmful bacteria - especially if splatters of food are left inside. So what can you do to make sure your microwave is in tip-top condition? Our fuss-free guide to cleaning your microwave is here to help.
How often should I clean my microwave?
Any foodie explosions should be cleaned up as soon as possible, with warm soapy water and a sponge or kitchen towel. As irritating as dealing with it instantly might be, your quick action will prevent food from drying to the interior of your microwave, as well as help to reduce the potential for bacteria to breed.
Unexpected cooking dramas aside, giving your microwave a quick once-over on a weekly basis is advisable.
How to clean a microwave
There are four fundamental steps to cleaning your microwave, namely:
Clean the exterior walls
Clean the inside of your microwave, including the inner walls, round plate, and arms
Remove lingering odors with either baking soda or an odor-eating gel
Once satisfied, leave the door open to allow the interior of your microwave to dry
1. Clean the exterior walls
If you use the top of your microwave for storage, it's important to clear it off before you begin, leaving you clear to wipe down all of the outside walls.
"Pull the microwave out slightly so you can clean the underneath as well," advises Lynsey Crombie, aka @QueenOfClean and author of The 15-Minute Clean, The Quickest Way To A Sparkling Home."Crumbs always seem to get trapped there! You might also want to clean the electrical cable - just make sure you turn the power off first."
2. Clean the interior
When you move onto the interior, don't just focus on the walls. The round plate can also benefit from a bit of regular TLC. "Remove the round plate and give it a clean in warm, soapy water," Lynsey recommends. "If the spinning arms come off, do the same with them as well before putting them back securely."
"Then, there are a few different ways you can clean your microwave," says Lynsey. "You can opt for a shop-bought specialized microwave cleaner, or, if you prefer, opt for a more natural method."
She continued, "My top tip for cleaning your microwave is to grab a microwave-safe bowl, fill it with water and add in four lemon slices. Pop it in the microwave on full power for five minutes. Lemon is a grease fighter, and this method and will loosen any built-up grime and grease, and will target every wall of your microwave, including the inner roof."
"Once the timer goes, grab a damp cloth and simply wipe over the walls. This method involves no scrubbing and no chemicals - your microwave will be squeaky clean and smell amazing."
3. Remove lingering odors
And what about those odors that simply won't shift? If your microwave is haunted by a distinctly burnt aroma, try mixing a heat-safe mug of water with a generous tablespoon of vinegar or lemon juice; heat it for up to five minutes, and the smell should be gone. Want an alternative to lemon or vinegar? Swap them for vanilla extract, coffee grounds, or even tea bags, which can all work wonders too.
Lighter food odors can also be tackled with baking soda; simply pop a bowl filled with it into your microwave, close the door and let the baking soda work its magic. Stronger scents might require something a little more heavy-duty; odor-eating gels can be found online or in your local supermarket and offer a fuss-free way to deodorize your microwave. Simply pop your product in your microwave and leave it to do its thing until you next need to cook!
4. Leave the door open
Once you've finished scrubbing and cleaning, it's advised that you leave the microwave door open to let it air out and dry.
And as with anything, using the right products is essential to avoid damage to your microwave. "Never choose an oven cleaner or a highly abrasive cleaner," advises Lynsey. "These will be too harsh and potentially cause damage. Instead of using a hard scrubber or wire wool, use a soft sponge or microfibre cloth."
How to remove grease from your microwave's exterior door
With regular daily use, the door of your microwave can easily become coated in greasy finger marks. Luckily, rectifying it couldn't be easier.
To clean the door, sprinkle a damp sponge with a little baking powder. Wipe this around the door and then rinse clean with a cloth. If the window needs a little TLC, a half-and-half mix of vinegar and water should do the trick; rinse with a cloth for a sparkling finish. This is also a great way to clean other kitchen appliances - such as your best blender or your best food processor.
Not working? Call in the big guns and consider a product like the aptly-named
Elbow Grease - carefully applied and removed with a cloth or a sponge.
How to get rid of smells and odors from your microwave
If you've recently cooked a particularly pungent food in your microwave, the chances are that there might be a lingering odor. So how can you shift it? Lighter smells can normally be reduced by leaving the door open; a bowl of baking powder can also help to absorb stubborn unwanted odors. If it's still not shifting, consider using an odor-absorbing gel product.
One way to beat those unwanted smells? Giving your microwave a chance to air after every use. "It's always advisable to leave the door open after use," Lynsey explains. "This allows smells from food to escape, as otherwise they can get trapped inside."
How to remove food stuck inside the microwave
In an ideal world, it's best to clean your microwave as soon you notice that food has been spilt - but of course, that's not always possible. So what can you do to get rid of those pesky hard-to-budge dried-on marks?
The good news is that it's a lot simpler than you might think. In addition to Lynsey's lemons-in-water trick above, you can also try a variation with vinegar, which is also great at getting hard-to-shift residue to disappear. Mix half a cup of water with half a cup of water, and pop it in the microwave in an appropriate container. Turn the temperature up and heat the liquid for a few minutes until it looks as if it might be about to boil.
Once the liquid has cooled a little, dip a cloth into it and wipe down the insides of your microwave; those hardened areas should have softened, making them easier to remove. Use a spatula to help you get more results on tougher areas.
And there we have it - it really is that easy to get your microwave squeaky clean!
Katie Byrne is a contributor to woman&home and a writer whose interests span everything from homes and interiors, to pop-culture, travel, business and self-development. A former digital editor, her freelance journalism has featured across a wide range of print and online titles, including Digital Spy, Grazia, Family Tree and more. She also previously edited the website KBB Ark, which focused on high-end interiors, decor and home improvements. When she's not writing, she loves reading (and has the groaning bookshelves to prove it...), dreaming up new décor ideas for her flat and devouring Netflix's latest true-crime series with her husband. You can find her on Twitter: @katie_b123.