How to keep a Christmas tree alive for longer this winter
Ever wondered how to keep a Christmas tree alive and fresh? It's simple with these expert tips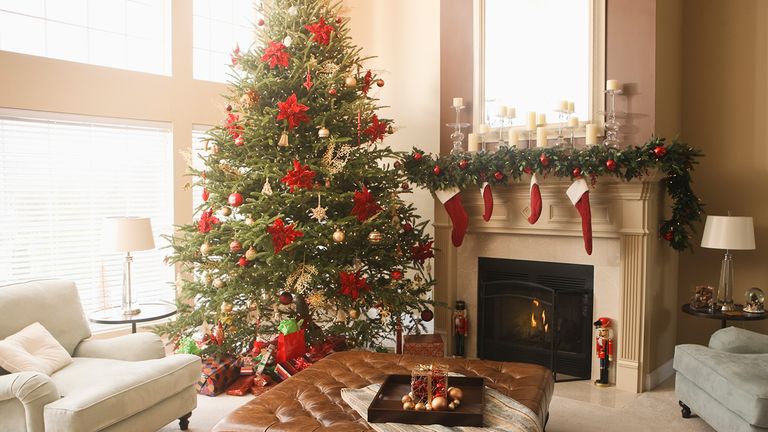 (Image credit: John Fedele/Getty Images)
The question of how to keep a Christmas tree alive is arguably one of the most important conundrums of the festive period. After all, nobody wants anything other than the most beautiful fresh, green Christmas tree gracing their home during the countdown to 25 December—and brittle branches and dried-up needles are simply not part of the festive décor scheme.
Of course, if you've opted for a fake Christmas tree (take a peek at our round-up of the best artificial Christmas trees if you're after some ideas), keeping it fresh isn't really a concern. However, if you've got your heart set on one of the best real Christmas trees—be it a Nordmann fir or a Norway spruce—ensuring your tree is in a healthy condition can require a little more effort. We've gathered together some of the best tips and tricks to ensure your Christmas tree will stay in tip-top condition for the whole of the festive period.
When should you buy your Christmas tree?
People are putting up their Christmas trees earlier and earlier—but while your instincts might compel you to put your Christmas tree up the moment Bonfire Night is out the way, it can pay to be patient.
"When we started delivering real Christmas trees around 10 years ago, the most popular delivery date was 14 December," says Will Kidger at SendMeAChristmasTree.co.uk. "Last year, it was 4 December—and a few early birds this year will be putting their trees up as early as the start of November."
Of course, the earlier your Christmas tree goes up, the greater the amount of work required to keep it looking festive and fresh.
"If you're buying a low-drop tree, like the Nordman fir, we'd recommend getting it no earlier than the end of November—around four weeks before Christmas," advises Kidger.
"The Norway spruce dries out quickly and sheds needles, so it's advisable to wait until mid-December for that variety. Even a tree that holds its needles well will eventually dry out though, so the longer you can bear to wait, the better your tree is going to look on 25 December. Around a week into December is a good bet if you want your tree to look fresh for Christmas."
How to keep a Christmas tree alive
The work required to keep your Christmas tree alive begins from the very moment you purchase it. However, if you follow these simple techniques from the experts, it needn't be difficult.
In short: choose the correct tree and look after it correctly, and you can be confident it will go the distance.
"You can expect a well-looked after Nordmann fir (the UK's most popular tree), to last a good four weeks," says Mark Rofe from ChristmasTrees.co.uk. "We had one customer last year who still had theirs still up in March, although this is extremely rare. Other trees, such as a Norway spruce, don't last as long and are better suited to those who like to put up their Christmas tree late."
Rofe also advises that considering the weight of your Christmas tree is also important. "Steer clear of a tree that feels significantly light as this could be a sign that it has gone into shock," he warns. "A good-quality, healthy Christmas tree will always be heavier. Also look at the needles: make sure they have a good shine. They shouldn't fall easily. Try picking up the tree and dropping it gently on to its stump. A few needle drops are to be expected but if lots drop, it's a sign the tree isn't fresh or is dehydrated."
And it doesn't end there. Once you've got your chosen tree home, there's plenty more you can do to keep your Christmas tree alive.
Read on for our round-up of the must-try tricks—your Christmas tree will thank you!
1. Trim your Christmas tree's trunk
Once you've brought your Christmas tree home, there's an easy trick you can enlist to ensure it can stay hydrated.
"Your tree is able to carry on taking up water for a while after being chopped down," advises Kidger. "If you can make it easy for the tree to do this, that will be a huge factor in prolonging its freshness."
Kidger advises a couple of key steps that will help your freshly-cut Christmas tree get off to the best possible start.
Ensure you have a Christmas tree stand that can hold a good amount of water—"you'll need enough to keep the bottom of the trunk submerged by about two inches," Kidger recommends.
Cut a small amount (around 3cm) from the base of the trunk before you put the tree up —this will ensure it can actually 'drink' the water. "This is the step a lot of people skip but it will make all the difference," notes Kidger.
If you can, buy a Christmas tree stand with a built-in water reservoir, Rofe advises.
"Ensure the reservoir is topped up with fresh water daily," he adds. "It's definitely better to over-water than under-water your tree." (And don't worry if the stand doesn't quite fit with your festive décor plans—that's what Christmas tree skirts are for!)

2. Choose the right place to display your Christmas tree
Picking the perfect place to position your Christmas tree is as vital for its wellbeing as it is for your festive aesthetic.
Factors to consider include:
Pets—do you need to account for pounce-prone cats or dogs?
Children—small children might feel compelled to grab your tree's twinkling branches.
The temperature—you should keep your tree away from sources of extreme heat.
"Christmas trees really don't like the heat," says Rofe. "If you want your tree to last as long as possible, it's best to keep it in your coolest room—for example, a conservatory, if you have one. Make sure your tree is kept away from direct heat, such as radiators and underfloor heating."
3. Keep your Christmas tree outside
Being freshly-cut, your Christmas tree will of course be more familiar with cooler outdoor conditions. So, if you have the space, consider keeping it outside for as long as possible so as to replicate the environment it's used to.
"Minimizing the amount of time your Christmas tree spends indoors can help to prolong its life," explains Rofe. "So keep it decorated outdoors, and only bring it inside when it is closer to Christmas."
As well as helping to keep your tree healthy, this is also one of the best Christmas decorating ideas, with the benefit of adding some extra festive sparkle to the exterior of your home. What's not to love?
4. Keep the tree hydrated for a fresh scent
The scent of a real Christmas tree is one of the most evocative aromas out there (there's a reason Yankee Candle has a product range inspired by it!), so keeping that fragrance fresh is key to adding to the 'healthy' vibe you want your Christmas tree to give off throughout December.
"Again, it's water that's key here," says Kidger. "Water uptake allows the tree to 'breathe' and your tree is much more likely to circulate that beautiful Christmas-y scent around the room if it's drinking."
And in case you were wondering...
The Nordmann fir doesn't actually have a distinctive scent (despite its popularity!)
The Norway spruce has a classic pine scent.
The Fraser fir has a sweet citrus aroma.
5. Keep on top of withered branches
Even if your Christmas tree is adorned with the best Christmas decorations, dried-up branches or brown needles will instantly detract from that festive magic. If you can spot either, it might be time to give your tree a trim.
"When you deadhead a living plant, it channels energy to the flowers or leaves that are lush and happy," explains Kidger. "It doesn't quite have the same impact with a cut Christmas tree but brown bits still don't look very nice—so trim away!"
6. Look out for dropped needles
A floor covered in needles could be a sign that all is not well with your Christmas tree. Another tell-tale indicator is dryness along the branches.
"If you notice either of these, you should check your tree is hydrated and away from heat sources," says Rofe.
He suggests:
Add ice cubes to the tree's water to help keep it cool.
Adding plant food to the water, for added nutrients.
Alternatively, add lemonade to the water for an easy-grab boost.
"Think of your tree as a cut flower," adds Rofe. "Eventually, it will wilt, and while you can't reverse the changes, you can prolong its life."
---
With thanks to Will Kidger of SendMeAChristmasTree.co.uk and Mark Rofe of ChristmasTrees.co.uk for sharing their expert advice for this feature.
Katie Byrne is a contributor to woman&home and a writer whose interests span everything from homes and interiors, to pop-culture, travel, business and self-development. A former digital editor, her freelance journalism has featured across a wide range of print and online titles, including Digital Spy, Grazia, Family Tree and more. She also previously edited the website KBB Ark, which focused on high-end interiors, decor and home improvements. When she's not writing, she loves reading (and has the groaning bookshelves to prove it...), dreaming up new décor ideas for her flat and devouring Netflix's latest true-crime series with her husband. You can find her on Twitter: @katie_b123.