A Couch to 5K for swimming has launched to get you ready for your summer dip
The new Couch to 5k for swimming will train you to cover the impressive distance in just three months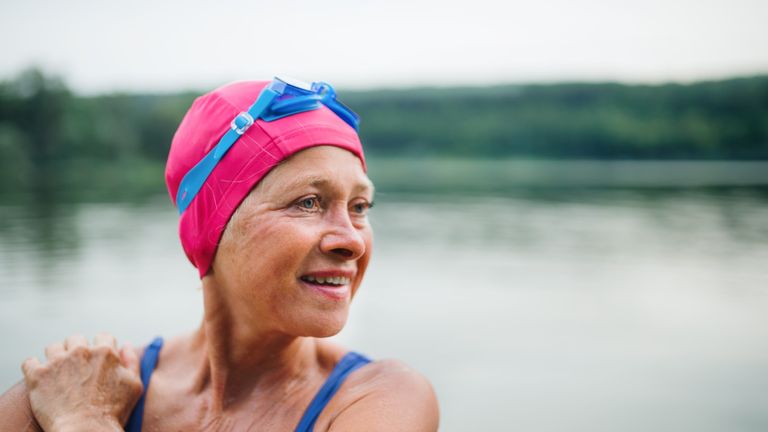 (Image credit: Halfpoint Images/Getty)
Get your swimming cossie out – it's time to hit the open waters.
With gyms closed and travel restricted over lockdown, millions of people around the world downloaded the Couch to 5k app to inject their daily dose of endorphins.
The popularity of the beginners' running plan has since inspired the launch of a program for a slightly colder activity – swimming. That's right, that waterproof fitness tracker is about to come in handy.
The Swim Couch to 5k app has been designed by the Open Swimming Society to encourage folks to get off their sofas and into their bathing suits as the hotter months approach and water temperatures warm up.
Read more from woman&home:
• Best yoga mats for stretching, meditation, beginner and advanced workouts
• Best fitness trackers to help you monitor activity, sleep and health metrics
• Best bras to support, lift and shape your bust
Aimed at those with moderate swimming ability, it challenges users to train for a midsummer 5k race in the sea, lake, river or, if feasible, a lido or pool over the course of three months. The program consists of three training sessions a week until 21st June, with the first stage dedicated to building fitness on dry land. Participants will focus specifically on the front crawl when they enter the water, keeping in mind the goal of performing the stroke with 'fluid' endurance.
Kate Rew, the founder of the OSS and mastermind behind the project, was motivated to create the program when she noticed some of her friends following the Couch to 5k app. As she watched them find success with the straightforward eight-week course, she realized there was no reason a similar plan could not be applied to swimming.
"I thought it would be really lovely for swimmers to have a plan to follow to get us out of the doldrums and off our couches to pave us towards midsummer," she said.
The OSS Couch to 5k may be targeted at amateurs, but that doesn't mean it's easy.
Written up by Daniel Bullock, director of Swim for Tri, this detailed guide isn't for the faint-hearted.
Swimmers will be brought to their limits weekly, with each session testing their endurance, fitness and technique. Participants will learn to speak a new lingo of Glute Kick and Torpedo Drills as they work to increase their strength and cardiovascular health over the demanding course. On days when there's no way to make it to the water, followers of the plan can compensate by cycling, rowing or running. By the end of the challenge, participants should be able to swim continuously for a total of 50 mins.
Sounds like an adventure? We'll see you in the water.
Emma is a news writer for woman&home and My Imperfect Life. She covers the Royal Family and the entertainment world, as well as the occasional health or lifestyle story. When she's not reporting on the British monarchy and A-list celebs, you can find her whipping up vegan treats and running the roads to cheesy '90s pop music...but not at the same time, obviously.