The best whitening toothpaste for a brighter smile, recommended by dentists and tested by us
Achieving a whiter smile doesn't have to be costly. We've found the best whitening toothpaste to help brighten your teeth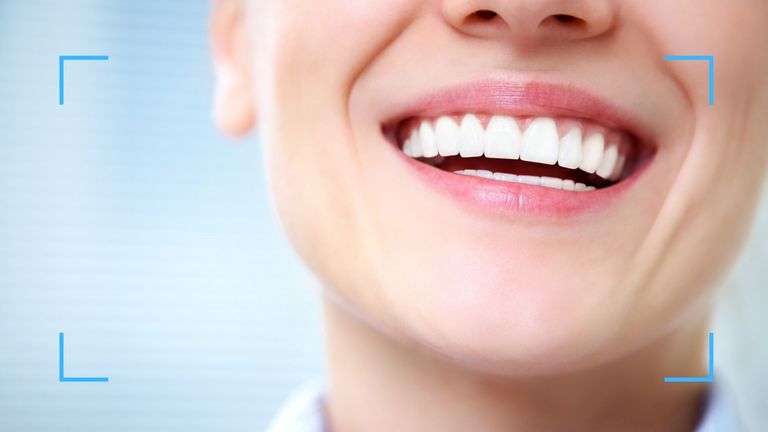 (Image credit: Future/Getty Images)
Many of us want to find ways to make our teeth look whiter and brighter, and while a whitening toothpaste may not alter the color of your teeth dramatically, it can help lift surface stains.
"If you do want to whiten your teeth, it is important to first identify what is causing the discoloration, keeping in mind that teeth naturally vary in shade due to your unique makeup," says hygienist & therapist, and founder of London Hygienist, Anna Middleton. When looking for whitening toothpaste, you should keep in mind your overall dental needs. Do you want to build enamel while whitening? Do you want fluoride-free toothpaste? Do you want toothpaste that can whiten without an abrasive formula?
"There are many different brands of whitening toothpaste available on the market," says Dr Hanna Kinsella of Kiln Lane Dental. "But you may also want to invest in one of the best electric toothbrushes, as these are more effective for keeping teeth clean and removing stains." To help you work out what whitening toothpaste is right for you, we asked the experts and tested products from the leading oral health brands so that you can find the best toothpaste for your needs.
HOW WE TESTED THE BEST WHITENING TOOTHPASTES
We tested the products recommended by dental experts and the most popular brands out there. Each product was tested based on the brand's recommendations (for example, for a product claiming to help whiten within four weeks, we tested that product for the time prescribed by the brand), and assessed the products based on the following criteria.
Whitening results—did the toothpaste lift stains and deliver a whiter smile with continued use? A caveat to this is that you shouldn't expect to see results quickly. It can take up to two to six weeks to see a noticeable difference in the color of your teeth when using a whitening toothpaste for the first time. "When used twice a day whitening toothpaste can take from two to six weeks to change the color and appear whiter," says Dr Payal Bhalla, lead dentist and clinical director of Quest Dental Clinic. "Again, this is dependent on the type of toothpaste being used and the strength of the whitening ingredient within the fluoride."
Fluoride quantity—it's important that all toothpaste contain fluoride for cavity protection and overall oral health. According to The Oral Health Foundation, you should expect to see 1350ppm to 1500ppm of fluoride in most toothpaste.
Product claims—did the product deliver on claims to lift stains and whiten the teeth?
Taste—did the toothpaste leave a fresh taste after brushing? Did the freshness last?
THE BEST WHITENING TOOTHPASTE AS CHOSEN BY OUR EXPERTS
1. Colgate Total Whitening Toothpaste Gel
Best overall whitening toothpaste
Specifications
RRP: $26/£20
Fluroide: Y (1450ppm)
Flavor: mint
Features: enzyme boosted, removes deep stains, enamel-shield technology
Reasons to buy
+
Brand's first enzyme-boosted toothpaste
+
Protects enamel
+
Removes deep stains
Claiming to whiten teeth by removing deep stains, Colgate Max White Ultimate Renewal Toothpaste is the hero whitening toothpaste from well-known brand Colgate. With a pleasant texture, this toothpaste makes your mouth feel squeaky clean after use and leaves your breath smelling fresh for a good while afterward. This toothpaste has been formulated to help protect enamel while whitening to prevent any wear.
The brand promise to reverse up to 15 years of discoloration with continued use, and while we can't vouch for that just yet, the early signs are promising. As far as whitening results, this toothpaste had a significant effect on our tester's teeth after just two weeks of use and is great for reaching the areas that you might struggle to catch just by using whitening strips.
2. Arm & Hammer Extreme Whitening Toothpaste
Best budget whitening toothpaste
Specifications
RRP: $8.33/£3
Fluroide: Y (1100 ppm)
Flavor: clean mint
Features: low abrasion formula, fluoride cavity protection, tartar control agent
Reasons to buy
+
Removes surface stains
+
Contains classic whitening ingredients
Reasons to avoid
-
Less fluoride than other toothpastes
Arm & Hammer Extreme Whitening Toothpaste is a classic brand that uses ingredients such as baking soda and peroxide to help whiten teeth. Our tester found this to be a great toothpaste for stain removal as it reduced the appearance of those tricker, darker surface stains that would normally take a professional whitening treatment to fix. However, it didn't leave testers' breath smelling as minty fresh as some of the other products and it also left a chalky aftertaste.
Don't expect this toothpaste to foam as much as a standard toothpaste—the texture is of a thinner consistency, and sometimes more was needed in order to achieve a clean-feeling mouth. It's also worth noting that in comparison to other toothpaste, this has a lower quantity of fluoride, meaning it won't protect you from cavities as well as those with a higher quantity of fluoride.
3. Crest 3D White Whitening Therapy Enamel Care Toothpaste
Best premium whitening toothpaste
Specifications
RRP: $8.99/£12.99
Fluroide: Y (1100ppm)
Flavor: mint
Features: remineralises to rebuild weakened enamel, lifts surface stains
Reasons to buy
+
Fresh mint flavor
+
Builds enamel
Reasons to avoid
-
More expensive than others
This is a pricier option compared to other whitening toothpaste on the market, but it's a fantastic product for those looking for something a little more premium. For our tester, the best thing about this formula was that it helps to strengthen the enamel, as well as whiten your teeth.
For those who have tried to whiten their teeth in the past by using more abrasive toothpaste, this is a good product for building overall teeth strength and protecting enamel. Whitening results may be minimal at first, but you can take comfort in knowing you're not damaging or eroding your teeth with this product.
4. Spotlight Oral Care Toothpaste For Whitening Teeth
Best vegan whitening toothpaste
Specifications
RRP: $9.99/£9.50
Fluroide: Y (1450ppm)
Flavor: spearmint
Features: vegan, contains hydrogen peroxide, PETA-approved
Reasons to buy
+
Strong spearmint flavor
+
Gradual whitening formula
Reasons to avoid
-
Taste can be overpowering
Spotlight's Toothpaste For Whitening Teeth works to resolve stains and gradually whiten, leaving your mouth feeling clean and fresh after use. This product has a very strong mint taste, so for those who like spearmint-flavored toothpaste, this one could be a winner.
It took two weeks for our tester to see an improvement in the color of their teeth, but its eco-friendly credentials and smooth texture make this toothpaste worth spending a little extra money on.
5. Sensodyne Pronamel Gentle Whitening Toothpaste
Best tasting whitening toothpaste
Specifications
RRP: $6.99/£4
Fluroide: Y (1450ppm)
Flavor: alpine Breeze or cool mint
Features: acid protection formula, formulated for people with sensitive teeth, dentist-recommended
Reasons to buy
+
Dentist-approved
+
Practical desgin
The Sensodyne Pronamel Gentle Whitening Toothpaste (another brand recommended by Dr Solanki), has a formula that leaves your breath smelling super-minty-fresh after use. It also contains ingredients such as glycerin and sorbitol, which help stop your mouth from feeling too dry or chalky.
As far as whitening was concerned, our tester saw minimal effects when it came to removing staining. Overall, we felt this was a great product for rebuilding the health of your teeth and reducing bad breath, but if you're looking for a whitening toothpaste to help lift surface stains, there are other products on the market that can do a better job.
6. Oral-B Pro Expert Whitening Toothpaste
Best value-for-money whitening toothpaste
Specifications
RRP: $9.99/£3
Fluroide: Y (1450ppm)
Flavor: Clean mint
Features: removes surface stains, helps prevents enamel erosion, 24-hour protection
Reasons to buy
+
Dentist reccomended
+
Strong minty flavor
Reasons to avoid
-
Takes a while to see whitening results
A brand favorite of dentists, including Dr Solanki and Dr Bhalla, Oral-B's Pro Expert Whitening Toothpaste contains ingredients such as soluble fluoride, stabilized stannous, and polyphosphate to strengthen teeth, while whitening.
This was a favorite amongst our testers and easy to see why it's such a popular choice amongst professionals—the formula left breath smelling minty fresh after use. However, our tester saw little color difference. It wasn't until a month of use that there was a slight change in the appearance of some surface stains on the front teeth.
7. Icy Bear Diamond Whitening Toothpaste
Best fast-acting whitening toothpaste
Specifications
RRP: $24.55/£17.99
Fluroide: Y (1450ppmm)
Flavor: Ice mint
Features: contains diamond dust, not too abrasive, strengthens tooth enamel and protects against cavities
Reasons to buy
+
Contains diamond dust
+
Fast-acting
+
Fresh taste
Reasons to avoid
-
Taste could be overpowering
The brainchild of celebrity dentist Dr Hanna Kinsella, the Icy Bear range promises quick results with little abrasiveness. The Icy Bear formula uses dust from ground diamonds to effectively reduce stains. Diamond dust is a natural abrasive agent that reduces staining whilst polishing the surface of the enamel to restore teeth to formal their natural whiteness. Results are faster than other whitening toothpaste, with our tester seeing a difference after just one week.
Thanks to its extremely low abrasiveness, tooth surfaces are gently cleaned and stains reduced with no damage to the tooth surface. Creator Dr Hanna Kinsella says, "As a dental specialist, it was so important to me to create a unique dental product range that not only enhanced and maintained the appearance of the teeth but also delivered a high standard of oral care."
What are the whitening ingredients to look out for?
There are a few key ingredients to have on your radar when looking for whitening toothpaste. "Whitening toothpaste usually contains a small amount of whitening product such as hydrogen peroxide, along with abrasive material for a more determined scrub," says Dr Kailesh Solanki, dentist for Dental Phobia. "Whitening toothpaste which contains blue optic brighteners coats the teeth giving a brighter effect, but this still won't penetrate into the deeper layers of the enamel to change the color of the teeth."
Hydrogen peroxide is a bleaching agent found in cleaning and household products, but don't panic, the concentration of this is often small; in fact, a tiny amount can have a noticeable effect on the color of your teeth. "Hydrogen peroxide is an active ingredient and can be found in many drugstores whitening fluoride," says Dr Bhalla. "Carbamide peroxide is a whitening agent is similar to hydrogen peroxide, however, it has been found to produce faster results. Some toothpaste may contain mild abrasives such as magnesium carbonate, calcium carbonate, or hydrated aluminum oxides which help remove surface stains and keep teeth from yellowing."
Hydrated silica is another common ingredient, and it works as an abrasive (in a similar way to baking soda) to scrub the stains from your teeth. "Check if your whitening toothpaste is suitable for daily use and follow the instructions provided, as many types of whitening toothpaste are abrasive, and if overused, could gradually wear away your enamel," says Dr Elizabeth Claire Borland at Bupa Dental Care, Malin Bridge.
DOES CHARCOAL TOOTHPASTE WORK?
In recent years, activated charcoal has become a popular choice for people looking to whiten their teeth at home. However, according to research from the Journal of the American Dental Association, there isn't enough evidence to show that it works.
"Charcoal toothpaste has become a tooth whitening trend, but it's a myth that it can replace your regular toothpaste," says Dr Borland. "It rarely contains fluoride and is often too abrasive for daily use."
If you're still looking to whiten your teeth, then there are other ways, such as oil pulling and at-home whitening kits. See our guide on how to whiten teeth at home for more information.
---
w&h thanks Dr Elizabeth Claire Borland at Bupa Dental Care, Malin Bridge, Dr Hanna Kinsella of Kiln Lane Dental, Dr Payal Bhalla of Quest Dental Clinic, and Dr Kailesh Solanki, a dentist for Dental Phobia for their time and expertise.
Stacey Carter is a health and wellbeing writer, who works across UK health titles including Natural Health Woman and Health & Wellbeing Magazine. In her spare time, she freelances for other lifestyle brands, including Womanandhome.com.