10 of the best health books for transforming your wellbeing
From books exploring the menopause to mindful eating, here are 10 health books worth buying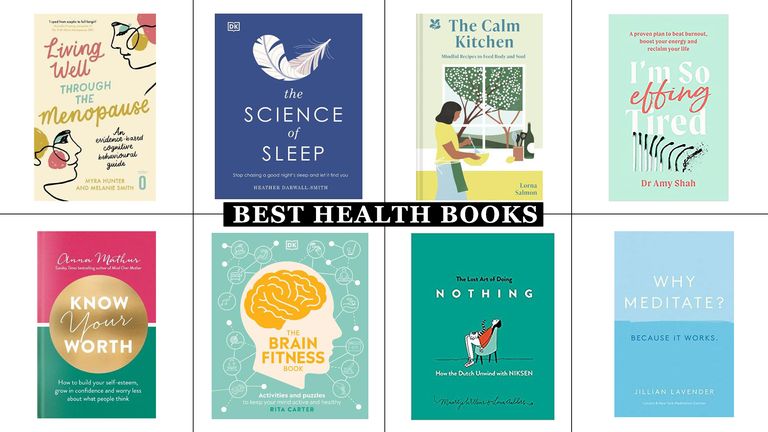 (Image credit: Future)
If you're looking to get your body and mind into shape, you might want to snap up one of the best health books around. 
Whether you prefer reading on one of the best kindles or you like good old-fashioned paperbacks, getting your hands on a health book could give your health and wellbeing the ultimate boost. That's right, whether you want to sleep better, worry less, or sail through menopause, there's a health book out there to help you.
"Health books are popular because we're interested in our psychological, emotional, physical, and mental health," says award-winning author and relationship and lifestyle strategist Rainie Howard. "People want to take ownership of their wellbeing, and health books can make readers feel empowered." 
Do health books really work?
Switching your usual best thriller books for one of the best health books could transform your health and wellbeing. In fact, Rainie believes they can be like having a therapist on speed dial, without the hefty hourly charge. "We're constantly going through challenging times in our lives, whether it's our stress levels shooting through the roof, poor health, or struggling with menopause symptoms. But often we're not comfortable talking about these challenges with another person, which is why many turn to books," says Rainie. "Reading a book written by an author that relates to their circumstances, while guiding them through their challenges."
Health books can benefit anyone wanting to improve an element of their health and wellbeing. "They can help readers feel more in control of their life," says Rainie. However, Rainie believes there are times when self-help or health books should be used with the guidance of a professional. For example, someone dealing with addiction, mental illness, poor health, or even weight loss issues should also seek advice from a professional therapist or medical expert. 
The best health books to give your body and mind a lift
---
---
---
---
---
---
---
---
---
How to pick the right health book for you 
Pick a book that focuses on a specific topic or area of your life that you want to work on. Research and read reviews to get a clear understanding if the book can benefit you personally.
Look for books that interact with you and ask you questions to encourage your views and thoughts as you read. Great health books can give the same benefits of working with a life coach. 
Ask yourself these questions: Can you easily relate to the book? Does the author understand your problems? How can the advice help you?
Go in with an open mind. Health books are more helpful when the reader is invested in reading them and applying the helpful advice.