The Best Apps For Busy Women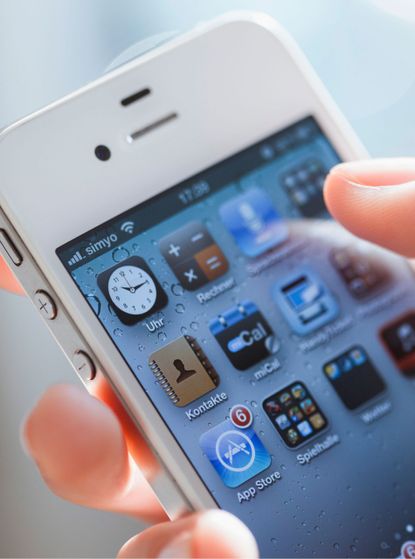 Lift your mood, improve your sleep or learn something new with our guide to the best lifestyle apps...
Are you forever using your smartphone to check your email or Facebook but little else? Us too, but we've recently discovered a whole host of apps that can make life so much easier.
As busy women, we spend so much of our time planning our schedule, doing the weekly food shop, trying to get enough sleep and - occasionally - squeezing in the odd half-hour of pampering. But life doesn't have to be so hectic. There are thousands of apps out there that are designed to make life easier, and even save you money.
We've scoured the app store to find the tech that truly makes a difference, and after testing them, we rely on a few handy apps to beat stress, improve sleep and even identify that mysterious garden plant we were wondering about! Don't go another moment without checking out our favourites - all available to download from the Apple app store or Google Play.
From the at-home bra fitting app that'll make underwear shopping so much easier, to the beauty app that will ensure you're feeling pampered even if you only have an hour spare, these are the best apps to download right now...
ThirdLove: For an at-home bra fitting
We've all experienced the awkwardness of a bra fitting in the unflattering light of a department store changing room but this embarrassing practice could be a thing of the past with a new app which allows you to determine your bra size - without leaving home. ThirdLove is an app that can accurately determine your bra size, when supplied with a handful of well-posed 'selfies'. Developed by a San Francisco woman and ex-employee at Google who was fed up of the uncomfortable experience of being measured for her bra by a stranger, all that's needed is a smartphone. Users must take two photos of themselves in front of a mirror, one from the front and one from the side and upload it to the app which uses computer vision technology to analyse body size in relation to the size of your iPhone. Over a year in development, a representative from ThirdLove explained: 'Our sizing technology is accurate to a half an inch, which, based on testing with focus groups, is more accurate than an experienced tailor using a measuring tape'. According to the company, 80% of us are wearing the wrong bra size and frequently find that our size increases after a fitting. If the at-home process sounds daunting, an automated female voice sounds when you open the app and guides you through a 4-step guide of how to take the best selfie. And at the final step, ThirdLove offers the option to buy from its online store - but be warned, sizes from F upwards are not yet available on the site. While it may take some getting used to and isn't for everyone, we're willing to bet plenty of us would prefer to ditch the strip lighting of a poky changing room over the space and comfort of our bedrooms!
Sleep Cycle: To monitor your shut-eye
If like us, you're obsessed with the amount of sleep you are - or are not getting, you set the alarm, you pop your phone under your mattress (the app explains where and how), and then it tracks your sleep problems using the movement sensor in your smartphone. Clever stuff!
MySupermarket: For cheaper food shops
MySupermarket compared thousands of prices from different supermarkets, so you can always get the best deal. Prices are updated daily, and with all major supermarkets including Sainsbury's, Tesco, Asda, Morrisons, Aldi and Ocado being covered, you can stock up knowing you've paid less.
Gratitude Journal: To boost wellbeing
It's easy to forget just how lucky we are. That's why the Gratitude Journal app is great to use every day to note down anything you're thankful for - from coffee with a friend to starting a new book or craft project.
Pretty in my Pocket: For finding the perfect beauty buy
Beauty addicts shouldn't be without this handy app. Simply scan the barcode of a product while you're shopping, and you'll instantly be giving thousands of reviews from real women to help you make your choice. There's also examples of make-up looks from artists - a real saviour!
Headspace: To help you meditate
Always wanted to learn to meditate but haven't gotten around to it yet? Sign up for a free 10 day trial and let 'Andy' guide you through the process. Then simply plug-in your headphones to get some me-time wherever you are.
Moves App
No surprise that Miranda has a fair few exercise apps to keep her motivated! Her favourite? Moves, which instantly tracks your lifestyle - from the food you're eating to those all-important activity levels. Great if you're looking to tone up.
PlantNet: For any budding gardeners
This free app will make you a pro-gardener in minutes! Simply take a photo of that plant that's puzzling you then upload. PlantNet will identify instantly using its comprehensive botanical database. Perfect for adding some new species to your garden.
Treatwell: For beauty and wellness treatments
In need of a last-minute massage after a busy week? Or need to book in for a blowdry on the same day? Treatwell - formerly Wahanda - is essentially a salon speed dial. You'll get access to local beauty salons, and you can book treatments through the app - plus you'll get access to off-peak prices.
Goodreads: For book lovers
Constantly searching for your next great read? Goodreads helps you to find new and interesting books by browsing personalised recommendations, plus keep track of your read-list and see which books your friends are enjoying. Alternatively, if you want to be part of a book club community, why not join our w&h Reading Room? Find the page on Facebook (opens in new tab), where you'll join regular discussions with fellow members, and read a new book each month.