How To Stay Calm: Wellbeing Experts Reveal Their Top Tips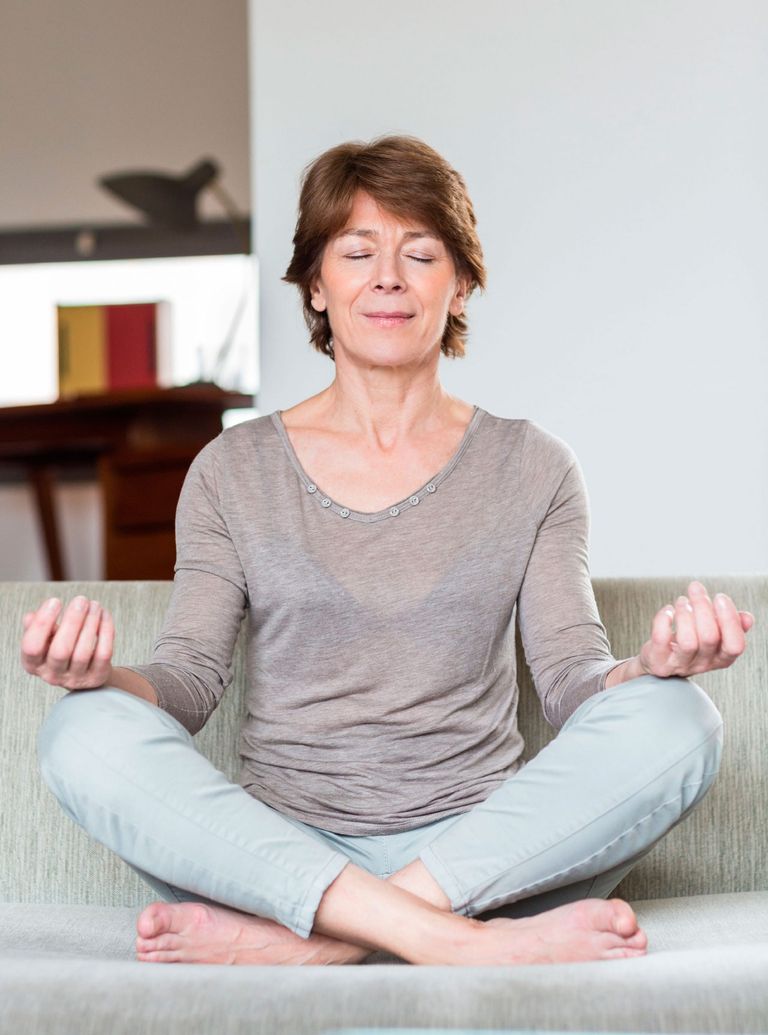 (Image credit: Rex Features (Shutterstock))
It's hard to imagine a wellbeing expert getting stressed, tense or anxious, but take it from us - they do! We might rush to find a supplement but they would rather indulge in a soothing handmade mindfulness ritual that fixes things surprisingly fast. Feeling a bit overwhelmed yourself? Choose from their stay-calm menu...
1 Relax with a mask
Capitalise on that direct route to the brain via the nose, and raise the status of beauty mask application to a mind-soothing therapy. Margo Marrone, co-founder of The Organic Pharmacy, has a gem.
Margo's secret? "I have a lot of de-stressing tactics but my favourite is to cleanse my skin, then slather on a deeply nourishing honey and jasmine face mask, and pop on an eye mask," says Margo. "I then focus on my breath for ten minutes, and allow thoughts to come and go. The eye mask stops me using my phone and the beauty mask not only calms and uplifts me (jasmine is a natural de-stresser), but it's also pampering." How smart is that?
Make Margo's mask by mixing 1tbsp of classic Greek yogurt, 1tsp honey and 2 drops of jasmine essential oil. Or buy: Organic Pharmacy Honey & Jasmine Mask, £37.95 for 40ml
2 Embrace nature
Fresh air is nature's own Prozac, so wellbeing experts are first out the door when stress mounts. "I find nothing more soothing than being outside when work overwhelms me," says herbalist Tipper Lewis. "Green spaces, walking and gardening all help me relax."
Tipper's secret? "Recreate the scent of the outdoors with essential oils; I love blending pine, rosemary, vetiver and bergamot in a diffuser for a relaxing foresty vibe!" says Tipper. Make her "forest" by blending 6 drops bergamot, 4 drops pine, 3 drops rosemary, 1 drop vetiver and adding to a diffuser, which creates a soothing and hydrating mist. Essential oils, from £7.70 for 10ml; Esta diffuser, £50 from Neal's Yard.
3 Touch away tension
Touch has magical properties, helping to release tension wherever it gathers. "A lot of tension and stress manifests in the most powerful joint in the body - the jaw," says Bowen Technique expert Nikke Ariff, "reflecting the physical and emotional states we're experiencing."
Nikke's secret? "The fastest way to restore calm, stay grounded and banish muscular tension is to..."Rest your index fingers behind your ears and allow the rest of the fingers to rest on the sides of the face." "Slowly move your hands up and down, lightly stroking from where the top of the ear joins the face, and all the way down to the edge of the jaw. Repeat about eight times until a wave of calm cascades through you. You can repeat this as often as you need and want," says Nikke.
To experience Nikke's expert touch, visit mindbodypositive.com
4 Get into a routine
Rescue, the UK's number one emotional wellbeing brand suggests having a routine as a great way to stay productive. It can also help you create a calming environment at home by making your mind and body familiar with daily responsibilities. Set a regular routine by splitting your day up into different parts and aiming to stick to them.
Adapting your routine as you go along is totally fine – just find what works best for you in order to bring regularity and calm into your days:
Wake up and go to sleep at the same time every day: this will help you regulate your body's natural clock, allowing you to wake up more naturally as the days go on.
Create a morning routine: have breakfast, get some fresh air, work out, shower and get yourself ready for the day ahead.
Find time for hobbies: try to spend one to two hours a day, whether that's in the morning, afternoon or evening, to get creative and explore your favourite hobbies and pastimes.
Create an evening routine: cooking, a nice dinner, self-care, reading or anything else that can help you get your mind off things, relax and take care of yourself before you settle down for the night!
5 Set goals
The experts at Rescue also suggest setting small goals throughout the day as this can help you avoid getting ahead of yourself and panicking. Write a rough outline of what you'd like to achieve in the next month then split it into more manageable daily and weekly tasks. By focusing on those smaller tasks, rather than the larger end goal, you'll be able to see daily successes that will eventually lead to the bigger monthly success.
6 Stretch to sleep
Easier said than done, but Super Sleep Yoga creator Lisa Sanfilippo has a pre-sleep ritual. "When I'm trying to get to sleep and my mind is hyperactive, the best way to calm it is with yoga stretches," says Lisa. "Eighty per cent of the nerve messaging between the body and brain is the body telling the brain how to interpret its posture and surroundings. So I make sure that those messages are 'calm' and 'safe' using grounding stretches." Lisa's secret lies in her sequence of stretches to open the heart and lungs. Like to try them? Go to supersleepyoga.com to see them for free.
Lisa also likes to... Turn down the lights at least 30 minutes before bed. Wash feet with warm water and apply a calming oil like Yogandha's Relax Body Oil or simple untoasted organic sesame oil. Pop on some woolly or cotton socks, then jot thoughts and ideas in her journal to make sure her mind is clear.
Find Lisa at supersleepyoga.com. Try Yogandha Relax Body Oil, £25 for 125ml
7 Love a foot rub
It can chill you out as much as a full body massage. Aromatherapy guru Glenda Taylor does it with her fave essential oil.
Glenda's secret? "Chamomile! It's the calming royalty of aromatherapy. Just add 5 drops of chamomile to 1tbsp of sweet almond oil." Here's her ritual.."Feet are the mirror of the body," says Glenda, "so massage the corresponding areas with chamomile oil to soothe aches and relieve stress." The big toe reflects the head, and the base of big toes the neck, so giving that area a good rub and gentle rotation will ease a tense neck. Under the arch of the foot is the tummy. Massaging this area clockwise can be seriously relaxing.The bony joint below the little toe is the shoulders. The line along the instep is the spine and reflects upper and lower back - upper being nearest the big toe. Massaging these areas of the foot will soothe and ground you.
Want to feel more chamomile love? Try Cottage Chamomile Bath Melts, £8 for four.
8 Breathe out stress
We wouldn't be doing our job if we didn't mention breathing as a speedy route to calm. Myofascial Release expert Lyn Breakwell knows its power.
Lyn's secret? "If I'm overwired I remember to breathe fully into the lower abdomen, side ribs and chest. I then reverse it out from the chest and all the way back to the lower abdomen," says Lyn.
Here are her tricks... If you're stressed, breathe in for a count of 4 and out for 4 through the nose. Repeat until you feel calm. If you're panicked or hyper-tense do the same, but breathe out through pursed lips. We tried this and it's brill – just like steam from a kettle!
Find Lyn on Facebook or email listening-touch@lyn.bodywork
9 Meditate
Experts at Rescue suggest being mindful and focusing on the present, rather than worrying about the future, as this can be an important step in helping you feel calm.
Learning how to meditate may help you stay positive, balance your emotions, reduce stress, help your ability to introspect, and help you feel more productive. There are also some meditation apps on the market such as Headspace, Calm and Aura that are great options if you want to set a reminder or build towards a certain goal.
10 Press away stress
Acupuncture is a sure-fire tension-relieving success, but when you need an on-the-spot fix, acupressure is the way to go. "It's a brilliant age-old technique that is used to calm the mind," says top aromatherapist Colleen Harte, creator of the gorgeous Lucy Annabella skincare collection.
Colleen's secret? A couple of wonderfully simple techniques.
Soothe your mind: "Apply gentle but firm pressure in a clockwise motion to the middle of the palm side of the wrist, at the natural crease," suggests Colleen."By stimulating this point, you will calm the mind while softly grounding your thoughts."
Ease tension: "A great second point is 'joining the valleys'," says Colleen. "This is my go-to point for calming when life is manic.It's on the web between your thumb and index finger. Squeeze your thumb against the base of the index finger to relieve tension."
Breathe: "Use a mindful blend of spearmint and lemongrass essential oils. These two combine to release endorphins while also grounding us," says Colleen. Mix a couple of drops of each and add to a soothing bath. Better still... try adding Lucy Annabella Cloud Nine Organic Bath Milk, £43 for 125g
11 Write off the pressure
Feeling a bit overwhelmed by the daily grind? You can lift yourself up without a pill or supplement. Aromatherapy expert Annee de Mamiel has a soothing duo that works in the gentlest way.
Annee's secret? A great cup of chamomile tea. "I love it, but it has to be whole flower bud tea. It's pungent and wonderfully calming," enthuses Annee. "I also try and empty my head by writing down thoughts - I write every morning if I can. It's very relaxing." How simple is that?
At the other end of the day she likes to use her own award-winning Altitude Oil, with its mix of pine, peppermint and lemon myrtle. "I always pop a few drops onto my pillow, it encourages me to breathe deeply and calmly - deep breathing calms the whole nervous system and it's one of the best ways to give the body time to calm and rebalance." Try Jing Chamomile Flowers, £2.25 for 10g, or £34 for 100 tea bags, and De Mamiel Altitude Oil, £28 for 10ml
12 Try a home workout
The team at Rescue highlight that there are other benefits to physical exercise, other than just getting fit! Working out will cause an increase in endorphin levels, the body's 'feel-good' chemical. It can help you feel more self-confident and energised, can help you sleep better and can also create a sense of clarity and calm post-workout. You don't need any equipment to workout at home, you can simply use your own bodyweight!
13 Soak away the stress
A bath can be as good as a spa for de-stressing. This Works creator Kathy Phillips is an expert in calm...
Kathy's secret? "Simple pleasures are my route to relaxation and calm," says Kathy. First of all, silence. "I once spent a week in silence and it was bliss." Then a good cup of tea - it doesn't even have to be herbal. Crisp white sheets, plump pillows and a view of the garden are next. And then, a yoga class with its post-class glow, followed by a long bath with essential oils of lavender, vetiver and chamomile. Gathering together our own simple pleasures is an effortless way to create a ritual. Enjoy a relaxing soak with This Works Deep Sleep Bath Oil, £80 for 100ml.
14 Mix up a "calmtail"
OK, it's tempting to rifle the booze cabinet when you're stressed, but this is a wellbeing feature so don't push it! Nutritionist Rick Hay has a mocktail that does the relaxing biz perfectly.
Rick's secret? "When you fancy a drink to take the edge off a mind frazzling day, try a mocktail version of a Long Island Iced Tea instead," says Rick. "It mixes like a cocktail, looks like a cocktail and, thanks to the theanine in the tea, will promote alpha waves and contribute towards a feeling of wellbeing."
So how do you make a Long Island Iced Tea Mocktail? Into a jug, pour... 300ml filtered water, a whole lemon cut up, few sprigs of mint, small piece of ginger, 2 or 3 tea bags, ice cubes. Leave to infuse in the fridge until chilled then strain into a tall glass. Add more mint and ice cubes. The bonus? Along with the theanine, vitamin C supports the adrenals, and ginger and mint are both nervous system tonics. Visit rickhay.co.uk