Shocking new survey shows nearly half of doctors have had to buy own PPE or rely on donations
Almost two thirds said they only felt partly or not at all protected from COVID-19 at work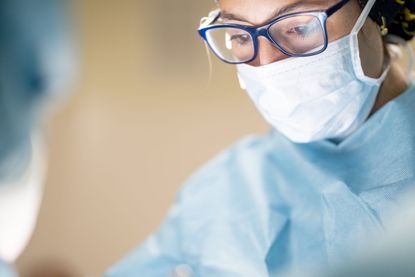 A shocking new survey has shed light on the catastrophic equipment shortages medical staff in the UK are facing.
According to a survey by the British Medical Association (BMA), almost half of doctors have had to buy their own personal protective equipment (PPE) or have received it through a donation.
It found that 48 per cent of doctors reported having bought PPE directly for themselves or their department, or had received donations from a charity or local firm.
In addition to this, 65 per cent of medics - out of the 16,000 doctors surveyed - said that they felt only partly or not at all protected from COVID-19 at work.
Many of these doctors said they had not spoken out about PPE because they thought nothing would happen if they did.
One doctor wrote in the space left for a comment that the PPE situation had been 'an outrage for all staff'.
The survey also found that 28 per cent told the BMA they were suffering from depression, anxiety, stress, emotional distress or other mental health conditions related to or made worse by their work.
Commenting on the survey results, BMA council chair Dr Chaand Nagpaul said they were 'a damning indictment of the government's abject failure to make sure healthcare workers across the country are being supplied with the life-saving kit they should be.'
He added that while there have been improvements, the government still has a lot of work to do - in order to protect healthcare staff.
He said, 'Six weeks into this crisis, how can the government be confident that this condition is anywhere near being met, or that the pandemic is under control, when the very people on the frontline are not being made safe?'
At the press briefing on Thursday, Boris Johnson said that there had been difficulties in securing enough PPE, but that those in charge were 'throwing everything at it, heart and soul, night and day, to get it right.'
Lizzie Thomson is a regular contributor to woman&home, and also contributes to Metro.co.uk, Ideal Home, Culture Trip, and Evening Standard, covering all things lifestyle.